Stop the Bleeding Coalition
Working together, we can save more lives.
Stop the Bleed is a national campaign to cultivate grassroots efforts that encourage bystanders to become trained, equipped, and empowered to help in a bleeding emergency before professional help arrives. The Stop the Bleeding Coalition's goal is to support Stop the Bleed.
Why it Matters
Uncontrolled bleeding is a major cause of preventable deaths. Approximately 40% of trauma-related deaths worldwide are due to bleeding or its consequences, establishing hemorrhage as the most common cause of preventable death in trauma.
The Stop the Bleeding Coalition is focused on raising awareness of how, with the proper training and materials, death from bleeding can be prevented. Simple measures can save many lives.
About Us
Mission 
The mission of the coalition is to support the Stop the Bleed campaign by providing resources that enable collaboration and cooperation between the many people and organizations working on training and equipping the nation to reduce the loss of life due to traumatic bleeding.
Who are we?  
The Coalition consists of people and organizations who want to save lives.  We are healthcare professionals, first responders, teachers, parents, teenagers, veterans, government officials and many others.
Stop the Bleeding Coalition is an IRS-approved, tax-exempt, 501(c)3 charitable organization.
Our Goal
Our goal is to develop a collaborative community of like-minded people and organizations to help train and equip the nation.
Take Action
Get Kits
Purchase Bleeding Control Products for direct delivery. Rally your community by organizing a charity drive to get the products you need.

About our Bleeding Control Kits. Our kits are assembled using military-grade components and are based on the standards established by the American College of Surgeons. They provide important supplies and special bleeding control tools for those critical initial minutes when a person is injured and bleeding. These are physician-approved supplies frequently used by professional first responders and the military. 

Kit Contains: C-A-T tourniquet, QuikClot® Bleeding Control Dressing, 6″ Responder emergency trauma dressing, CPR MicroShield mask, nitrile gloves, trauma shears, 7.25″, permanent marker – black, and bleeding control instruction card.
Get Trained
Access best-in-class Stop the Bleed training resources at no cost. Learn how to save a life! Become a trainer and teach others!

Many of the Coalition's colleagues are actively engaged in helping to bring Stop the Bleed to communities around the country. 

The American College of Surgeons bleeding control program, also known as the Stop the Bleed Course, is designed to teach the lay public the fundamentals of recognizing and intervening upon severe bleeding. 
Get Involved
Tell us about yourself or your organization by filling out the contact form. We'll be in touch with all of the ways you can help. 

Educate your organizations and government leaders on the importance of being prepared to Stop the Bleeding.

Connect with the media in your area to share Stop the Bleeding information

Collaborate with your local schools, first responders, law enforcement, and medical professionals to amplify your voice.

Use social media – Facebook, Twitter, etc. to spread the word about the need for tourniquets, hemostatic agents, gloves, and other tools in your community.
Essential Health Care Documents and Forms
People tend to avoid talking about death, serious illnesses, and everything connected with the risk to their lives. However, we live in an unpredictable world, and it's crucial to be prepared for the worst. As a part of our goal, we aim to train and equip the nation regarding health issues. That's why we've gathered the essential healthcare documents for our community to be well aware of legal instruments to manage their medical care. 
Living Will
Another essential medical document is a living will form. A living will, known in some states as an advance health care directive, allows a person to outline the end-of-life care and life-sustaining treatments they want or do not want to receive if they become seriously ill or incapacitated. The life-sustaining treatments include cardiopulmonary resuscitation (CPR), nutrition or hydration by tube, ventilation machine, dialysis, blood transfusions, and organ transplants. Although the terms living will and advance directive are used interchangeably, these documents are not the same. Advance directives are broader and usually include both living wills and medical power of attorney. 
Living wills are of great assistance to the relatives of the terminally ill person unable to communicate their wishes regarding the treatment. With the living will in hand, the relatives won't have to think whether to use this or that life-sustaining procedure – they will know for sure. Thus, a living will is a solid legal instrument every person should consider having. 
A living will form is recognized and applied in all states. However, some signing requirements may vary depending on the local laws. 
A living will in Florida can be used as a separate document or go along with a health care surrogate designation, appointing a health care proxy, and an anatomical donation form, indicating that a person wants to donate all of a part of their body. According to Section §765.302 of the Florida Statutes, living wills are applicable if a person has a terminal or end-stage condition or is in a persistent vegetative state. A Florida living will must be signed in the presence of two witnesses, and one of them should not be the person's blood relative or spouse. 
If you live in Ohio, you may be interested in an Ohio living will form, known as the State of Ohio Living Will Declaration. As stated in § 2133.03 of Ohio State law, the declaration can be applied only to individuals in a terminal condition or a permanently unconscious state. A living will form may include information about the anatomical gift, describing what body parts the person is ready to donate. An Ohio living will must be signed in the presence of two witnesses or a notary public. Note that this document will not be valid if the person is pregnant. 
In Texas, you will need to use a Texas living will, also known as Directive to Physicians and Family or Surrogates, to outline your preferences regarding end-of-life care. In addition, the Texas form gives the person an option to name individuals who'll be able to make health care or treatment decisions with the physician (if the person does not have a medical power of attorney). Like the Ohio form, a Texas living will requires two witnesses or notary public to be present when signing the document. Also, the living will is not valid if the person is pregnant. 
A Maryland living will protects a person's right to decide what kind of treatment they wish or do not wish to receive if they are seriously ill or in a persistent vegetative state. A Maryland advance directive is usually divided into three parts. The first part provides the designation of a health care proxy, the second one outlines the treatment preferences, and the third is related to the signing details. The final document comes into effect only if the person is unable to make or communicate their wishes anymore. Two witnesses are required to be present when signing a Maryland advance directive. 
If a person lives in New York, a New York living will form will come in handy for managing medical end-of-life care. A New York Living Will covers such essential information as preferred or undesirable life-sustaining procedures and donation of organs. It's possible to add any additional instructions if necessary. Also, the New York may be used along with medical power of attorney, designating an individual responsible for health care decisions. The document must be signed in the presence of two witnesses to be effective. 
If you are looking for other state-specific forms, check the list below: 
Living Will Form Sample Preview

DNR Order
Sometimes, people confuse living wills and Do-Not-Resuscitate orders (DNR order form). These documents are not the same. A living will is used when a person is alive but cannot make or convey their health care wishes. At the same time, a DNR form is designed for situations when a person is dead, and the form prevents emergency medical technicians from saving that person. Simply put, a DNR form states that if the person's heart stops, healthcare providers should not try to revive them. DNR orders are prepared and signed by the patient and the patient's physician. 
Medical Power of Attorney 
A medical power of attorney form is closely connected with a living will. A medical POA allows a person to designate a healthcare agent, also known as proxy or surrogate, who will make medical decisions on behalf of the person if the latter is no longer capable of doing it. If there is a living will, it serves as a guide to the healthcare proxy – they should follow these instructions when making any medical decisions. It's crucial to appoint a trusted and reliable person as your healthcare representative since they have the authority to make essential decisions related to the person's wellbeing and life. 
The purpose of the document and its structure are similar in all states. However, some requirements may vary depending on local laws. That's why we've gathered some state-specific forms for your convenience. 
California residents are encouraged to benefit from a California medical power of attorney, which allows you to choose your medical representative. However, there are certain limits on who is allowed to be the representative. Thus, you cannot appoint your health care provider or any employee of a healthcare facility where you are receiving treatment. In California, a medical POA must be signed before a notary public or two witnesses. The designated agent or person's healthcare provider cannot be witnesses to the medical POA. A California medical POA can become effective on a specified date, but most commonly, the document becomes effective when the person is incapacitated. 
If you live in Texas, you should consider creating a Texas medical power of attorney. This document is used to appoint a health care proxy who will act on behalf of the person regarding medical issues. In Texas, a medical POA becomes effective only if the person is no longer capable of making health care decisions by themselves. To be valid in Texas, a medical POA must be signed in the presence of a notary public or two witnesses. The witnesses cannot be the agent, blood relative, spouse, health care provider, or employee of a healthcare institution where the person receives treatment.
A New York health care power of attorney is designed for New York residents who want to appoint their medical proxy. The proxy will act on your behalf and make essential health care decisions if you become incapacitated or terminally ill. That's why you need to consider and choose your agent thoroughly. Note that a medical POA can either give the proxy full authority or limit it to specific powers. Like most POAs, the form must be signed in the presence of two witnesses who are 18 years or older at the moment of signing. These witnesses cannot be any of your agents (original or alternate). 
In Florida, you are recommended to use a Florida health care power of attorney form. This form allows a person to appoint a relative or friend to act on their behalf if they cannot make their own medical decisions. A Florida medical power of attorney is usually accompanied by a living will providing specific instructions to the health care agent. The person can appoint both the original agent and alternate agent (to represent them if the original one is unwilling or unable). A Florida health care surrogate form must be signed before two competent witnesses. The person designated as the surrogate is not allowed to act as a witness.
More detailed information on state-specific forms you can find below:
Medical Power of Attorney Sample Preview
Medical Records Release Forms
One of the most widely used healthcare documents is a medical records release form, also known as a HIPAA release form. The federal Health Insurance Portability and Accountability Act of 1996 (HIPAA) ensures that the patient's medical data is used only by authorized parties and protected from unauthorized usage by third parties. According to the Act, healthcare providers can use the health records without an individual's consent for treatment or healthcare operations. However, the patient must sign a consent form or consent form to release the medical information, for example, to an insurance underwriter or employer. If the patient is a minor, a Child Records Release Form must be signed by a minor's parent or guardian. Any medical release form can be revoked at any time. 
If a person needs to release medical records from one dental practitioner to another, they should use a specific release form—a dental records release form. This records release form allows the patient to choose what kind of data may be released and for what period of time (usually one year), as well as the purpose of the disclosure. The form is essential for accurate and efficient treatment of the patient since it allows the dentist to use the patient's up-to-date dental records and understand the patient's wellbeing. 
Medical Records Release Form Sample Preview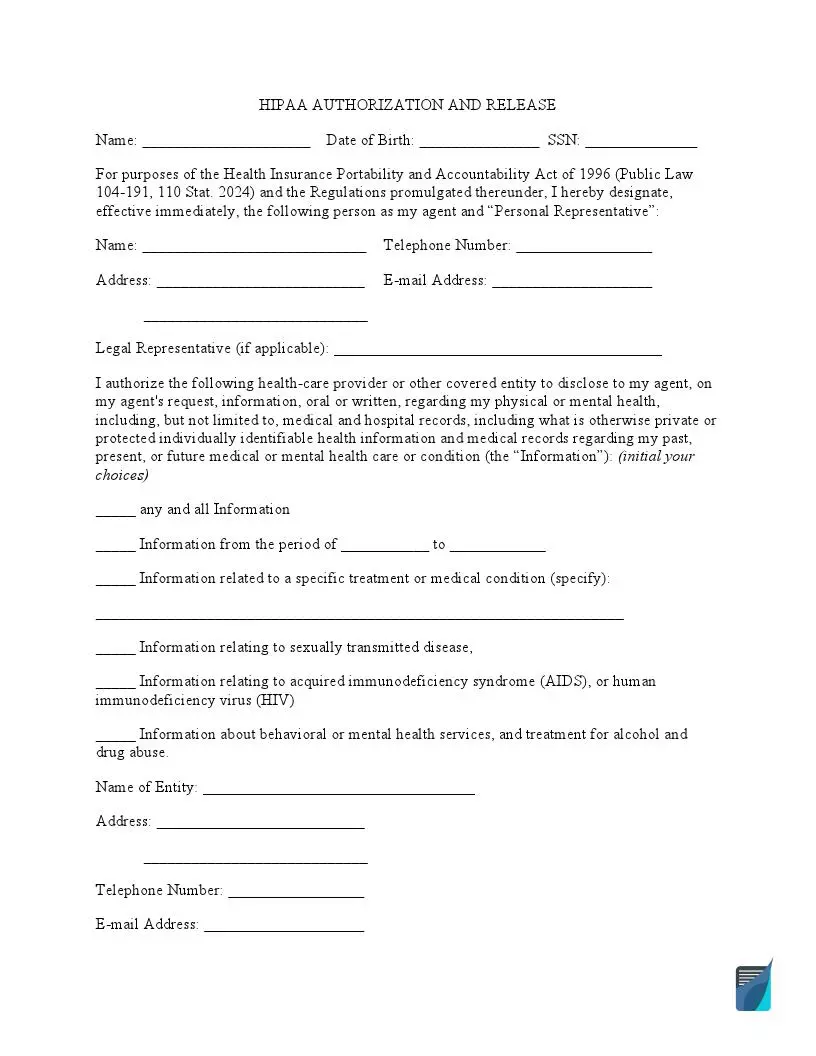 Centers for Medicare & Medicaid Services (CMS) PDF Forms
The Centers for Medicare & Medicaid Services (CMS) is a federal agency of the United States Department of Health and Human Services (HHS). This agency aims at empowering patients to work with their health care providers to choose and receive the most appropriate and quality care and treatment. There are various relevant fillable PDF forms that we've gathered for you to fulfill this purpose. 
The CMS-1500 form is designed to submit claims for medical services provided. This form is used by medical professionals and physicians to claim billing. Thus, the form should include the client's information, their insurance policy, and their treatment plan. 
The CMS L564-R297 form, also known as Request for Employment Information, proves that you have group medical plan coverage through your or your spouse's current employment. The form should be completed both by your employer and you. You should fill in your name and your data. At the same time, your employer will complete the details about your coverage and employment (or the person's employment based on which you have that health coverage). This form may be needed for the Medicare entry application.
The CMS-40B form is used when a person has enrolled in Part A of Medicare (Hospital Insurance) and seeks enrollment in Part B (Medical Insurance). It's possible to apply online or mail the form to the local Social Security office. The Form CMS-40B should include your name, personal data, medicare number, date of application, signatures of witnesses. Note that along with this form, you may need to prepare the Request for Employment Information (CMS L564) and proof of employment, Group Health Plan (GHP), or Large Group Health Plan (LGHP).
The CMS-1763 form, known as Request for Termination of Premium Hospital and/or Supplementary Medical Insurance, is used to record a person's desire to end their premium hospital treatment coverage. Two competent witnesses must be present when signing the form to prove that such a decision is made voluntarily and in sound mind. The Form-CMS-1763 includes the following components: person's or their representative's name, personal data, medicare number, when the insurance ends, reasons for termination, and relevant signatures.