Using PDF forms online is definitely a breeze with this PDF tool. You can fill out nys acs form here with no trouble. Our tool is consistently evolving to give the very best user experience possible, and that's because of our commitment to continuous enhancement and listening closely to comments from users. Starting is simple! All you have to do is adhere to the next basic steps directly below:
Step 1: First, open the editor by clicking the "Get Form Button" at the top of this page.
Step 2: Once you access the tool, you will find the document ready to be completed. Aside from filling out various blank fields, it's also possible to do many other things with the file, that is adding your own textual content, modifying the initial text, inserting graphics, placing your signature to the PDF, and more.
This PDF form will need some specific details; to ensure consistency, take the time to take heed of the recommendations below:
1. When submitting the nys acs form, be sure to include all needed blanks in the associated form section. It will help to facilitate the process, which allows your information to be handled without delay and appropriately.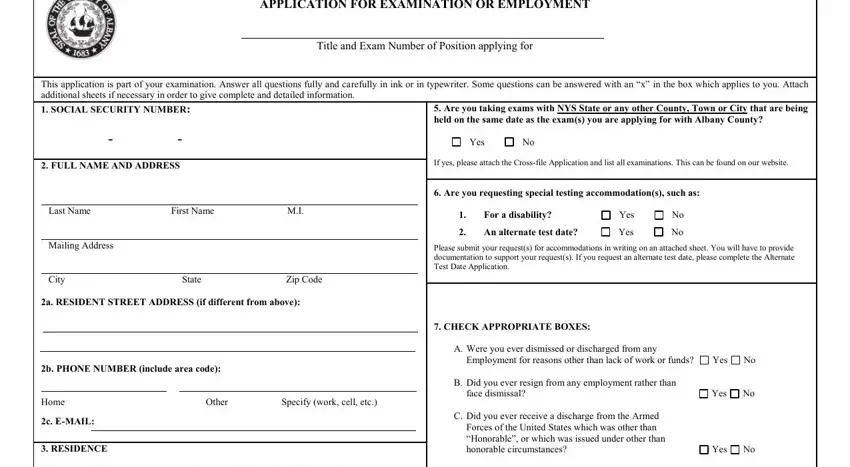 2. The third stage is to fill out all of the following fields: RESIDENCE If you are applying for, City or Village, Town, County, State, Name of School District, Yes, CITIZENSHIP AGE If you are not a, Yes, Mo Day Year, If you answer YES to any of, SERVICE IN ARMED FORCES, Have you ever served in the armed, Yes, and If your answer is yes please go to.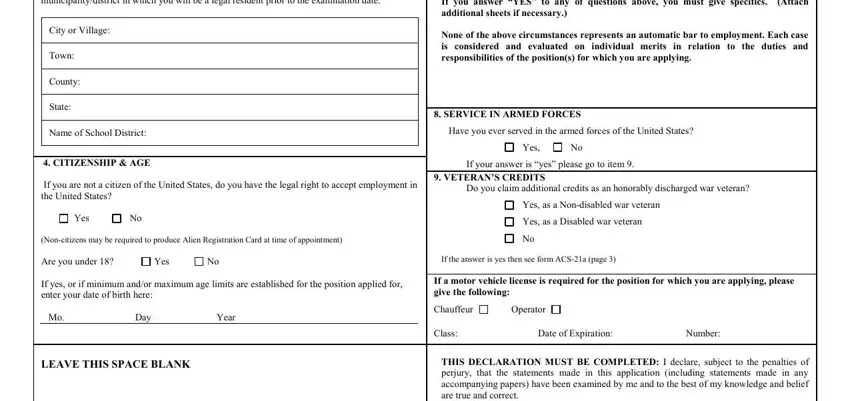 3. In this specific step, look at THIS DECLARATION MUST BE COMPLETED, LEAVE THIS SPACE BLANK, Exam Number Date Received Fee , Approved by Pending, Disapproved by, and Signature of applicant Date State. Every one of these must be filled out with highest accuracy.

4. It is time to fill in this fourth part! Here you have these Do you have a high school diploma, Yes, No Name and Location of High School, Or a High School Equivalency GED, Yes, CollegeUniversity, Education, Name of School and City in which, Dates of attendance, MonthYear, From To, Type of Course, of Major, Number of College Credits Received, and Did you Graduate form blanks to do.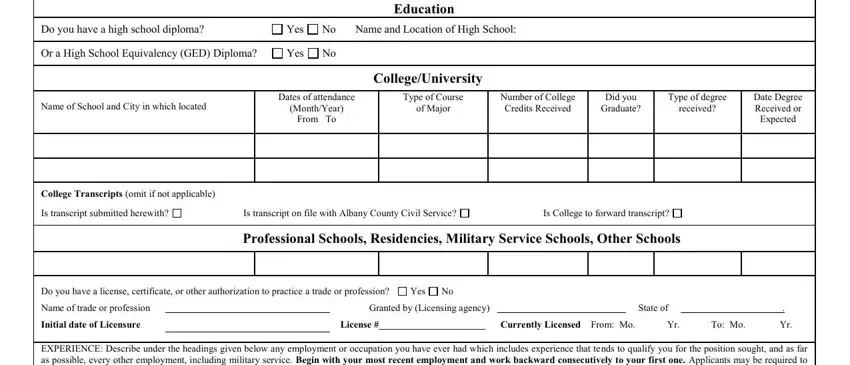 5. To conclude your form, the last subsection includes a couple of additional fields. Typing in Initial date of Licensure License , Length of Employment From Mo Yr To, Name of Employer, Address, City and State, Paid Yes No, of hoursweek, Type of business, Title, Name and title of Supervisor, Describe duties, Reason for Leaving, Length of Employment From Mo Yr To, Name of Employer, and Address will certainly conclude the process and you can be done in the blink of an eye!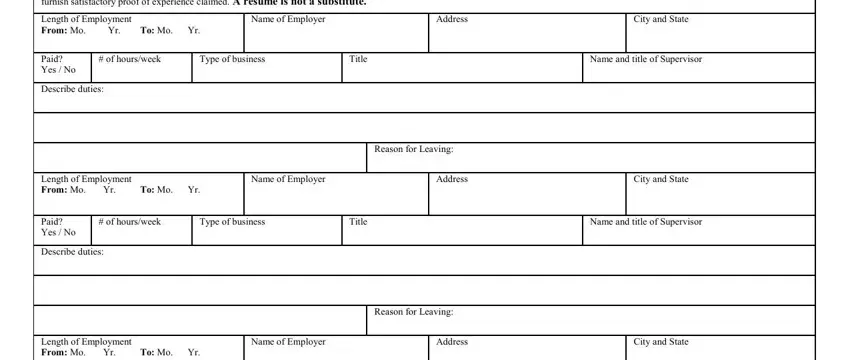 As to Length of Employment From Mo Yr To and Length of Employment From Mo Yr To, ensure you review things in this current part. Those two are considered the most significant ones in the file.
Step 3: When you have reviewed the information in the blanks, click on "Done" to conclude your FormsPal process. Right after registering a7-day free trial account at FormsPal, it will be possible to download nys acs form or email it at once. The form will also be easily accessible from your personal account with all of your edits. FormsPal guarantees your data privacy by having a protected method that never saves or shares any sort of private information provided. Be assured knowing your documents are kept confidential any time you work with our editor!