Working with PDF documents online is very simple using our PDF tool. Anyone can fill out alaska monthly report here within minutes. In order to make our editor better and less complicated to utilize, we consistently come up with new features, taking into account suggestions coming from our users. This is what you will want to do to get started:
Step 1: Firstly, access the tool by pressing the "Get Form Button" at the top of this page.
Step 2: With the help of this online PDF tool, you are able to do more than merely fill in blank fields. Try all of the features and make your documents look professional with custom text put in, or modify the original content to perfection - all that comes with an ability to insert your own graphics and sign the document off.
This PDF form will need specific details to be typed in, thus be sure to take your time to enter what is requested:
1. It's essential to fill out the alaska monthly report correctly, hence be attentive while filling out the sections including all of these blanks: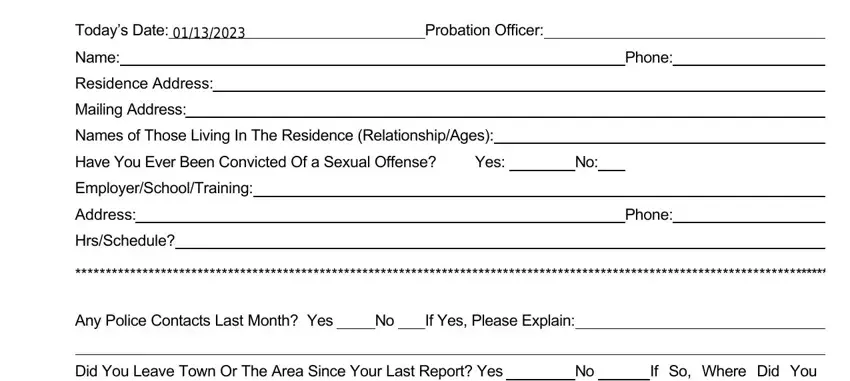 2. Your next stage is usually to submit the following fields: Did You Leave Town Or The Area, Do You OwnDrive A Vehicle Yes, MakeModelYearColor, IdentificationDrivers License , License Plate, Registered Owner , Insurance Carrier, Money Received, Your Pay From WagesSalary, Unemployment Compensation, Money Spent, Child Support, Restitution, Other If You Are Ordered To, and Fines .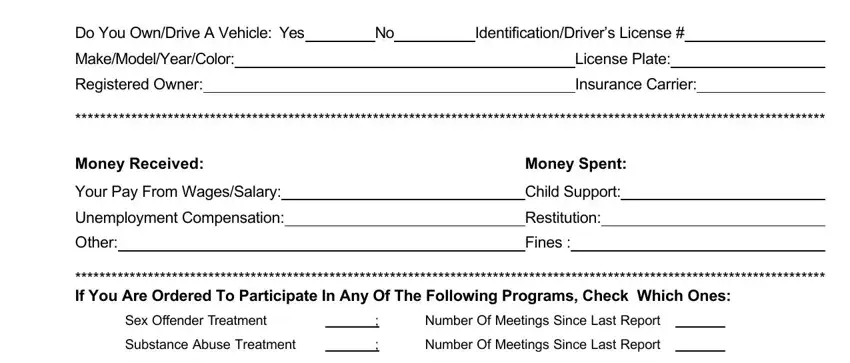 3. Throughout this step, examine AA Meetings, Mental Health, Other, Community Work Service, Number Of Meetings Since Last, Number Of Meetings Since Last, Number Of Meetings Since Last, Number of Hours Since Last Report, and Department of Corrections Form A. All these must be completed with utmost attention to detail.

In terms of Number Of Meetings Since Last and Number Of Meetings Since Last, make sure that you do everything properly in this section. The two of these are surely the most significant fields in the page.
4. Filling out Comments Are you having any, roommates marital status Do you, This Monthly Report Is True And, PROBATIONERPAROLEE SIGNATURE, For Office Use Only, TIME RECEIVED, and RECEIVED BY is vital in the fourth section - ensure to take your time and take a close look at every empty field!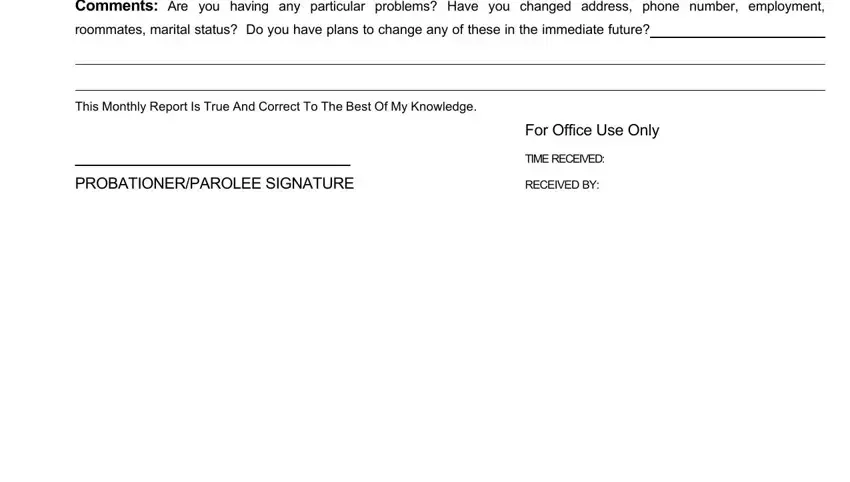 Step 3: Ensure that your information is right and simply click "Done" to continue further. After creating a7-day free trial account at FormsPal, it will be possible to download alaska monthly report or email it promptly. The PDF form will also be at your disposal through your personal account menu with your modifications. We do not sell or share the information that you provide when dealing with documents at our website.