Arkansas Form Ar4Pt can be filled out without difficulty. Just use FormsPal PDF editor to perform the job without delay. Our editor is consistently developing to deliver the best user experience possible, and that is thanks to our commitment to constant improvement and listening closely to comments from users. All it takes is several easy steps:
Step 1: Press the "Get Form" button above on this page to access our editor.
Step 2: The editor will give you the opportunity to modify your PDF document in various ways. Improve it by adding customized text, adjust what's already in the PDF, and include a signature - all when it's needed!
This PDF form will require specific information to be filled out, therefore ensure you take some time to enter what's required:
1. It's vital to complete the Arkansas Form Ar4Pt accurately, therefore pay close attention when working with the areas containing all of these fields: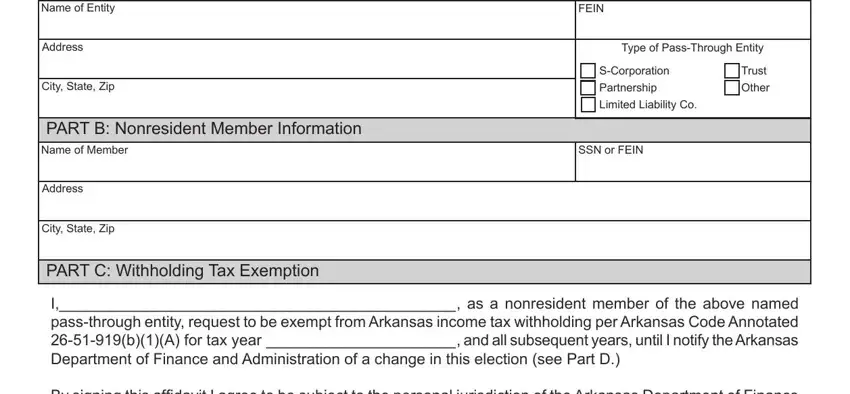 2. Just after this part is done, go to type in the suitable details in these: PART D Withholding Tax Exemption, I as a nonresident member of the, At this time I request to be, PART E Signature, Signature of Nonresident Member, Date, Daytime Telephone Number , and ARPT R .
It's simple to make an error when filling out your PART E Signature, thus ensure that you look again before you'll send it in.
Step 3: Always make sure that the information is right and click on "Done" to complete the project. Create a 7-day free trial plan at FormsPal and get direct access to Arkansas Form Ar4Pt - download, email, or change in your personal account page. Here at FormsPal, we do everything we can to be certain that all of your details are maintained secure.