It is possible to prepare ANG effectively with our PDFinity® PDF editor. Our tool is continually developing to grant the very best user experience attainable, and that's because of our commitment to constant enhancement and listening closely to customer opinions. Getting underway is effortless! All you have to do is take these easy steps below:
Step 1: Press the "Get Form" button in the top part of this page to get into our PDF editor.
Step 2: After you start the editor, you'll notice the form prepared to be completed. Aside from filling out various blanks, you could also do other things with the file, such as adding your own words, editing the original text, inserting images, affixing your signature to the PDF, and more.
This document requires specific information to be entered, thus you need to take some time to type in what's expected:
1. While completing the ANG, ensure to include all of the essential fields within its corresponding section. It will help facilitate the work, allowing your details to be handled promptly and appropriately.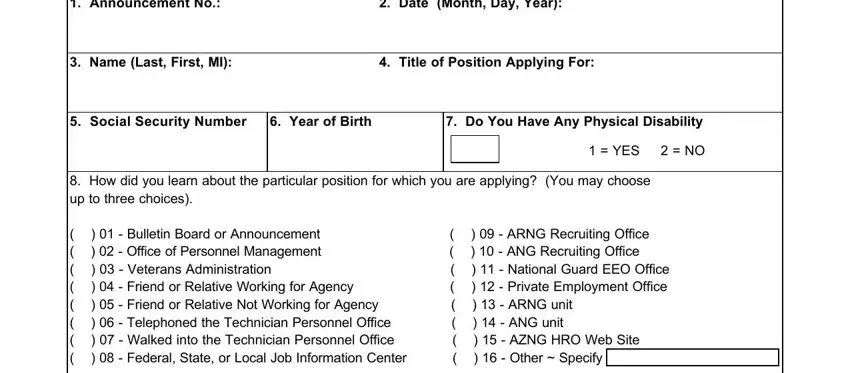 2. Once your current task is complete, take the next step – fill out all of these fields - place the RACEETHNIC Code which, A American Indian or Alaskan, D Hispanic E White Not of, Hispanic Origin, SEX, M Male F Female, RACEETHNIC CODE, and AZNG Form R Apr with their corresponding information. Make sure to double check that everything has been entered correctly before continuing!

Always be really attentive when filling out AZNG Form R Apr and place the RACEETHNIC Code which, because this is the part in which many people make a few mistakes.
Step 3: Make sure that your details are correct and just click "Done" to conclude the task. Try a 7-day free trial account with us and gain immediate access to ANG - which you'll be able to then make use of as you wish from your personal cabinet. When you use FormsPal, you can easily fill out documents without worrying about personal data leaks or entries getting shared. Our secure software helps to ensure that your private details are kept safe.