bad check complaint form can be completed online very easily. Just make use of FormsPal PDF editor to complete the job fast. Our expert team is ceaselessly working to develop the editor and help it become even faster for clients with its cutting-edge functions. Take your experience to a higher level with continually developing and unique opportunities available today! If you're looking to begin, here is what it takes:
Step 1: Press the "Get Form" button above on this page to get into our tool.
Step 2: When you launch the tool, you will notice the document prepared to be filled in. Besides filling out different blanks, you may also do some other things with the Document, including writing custom words, modifying the original textual content, inserting images, affixing your signature to the document, and more.
If you want to fill out this PDF document, be sure to provide the required details in every single area:
1. It's essential to fill out the bad check complaint form properly, so take care while filling in the segments that contain these particular blank fields: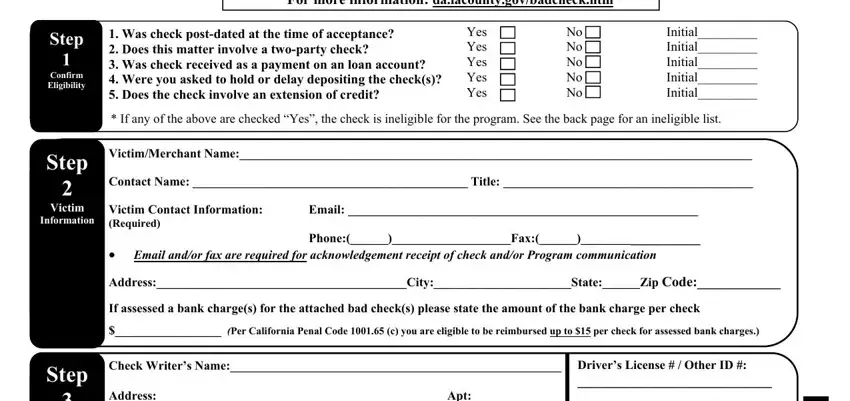 2. Once the last part is complete, you should add the required particulars in Check Writer, Information, Check Writers Name Address Apt, Drivers License Other ID State, Courtesy Notice must be sent to, Can the check, e r e h, k c e h c e t u t i t s b u s d e, i g i r o, e l p a t S, Step, Check, Information, Step, and Victim so you can progress to the next part.
3. The following segment is focused on Date Dear Check Writer You are, Bad Check Program Information, As a victim of a bad check you may, The following types of checks are, Twoparty checks Payroll credit, Partially repaid checks Postpre, and Fraudulent or stamped - fill in each one of these blank fields.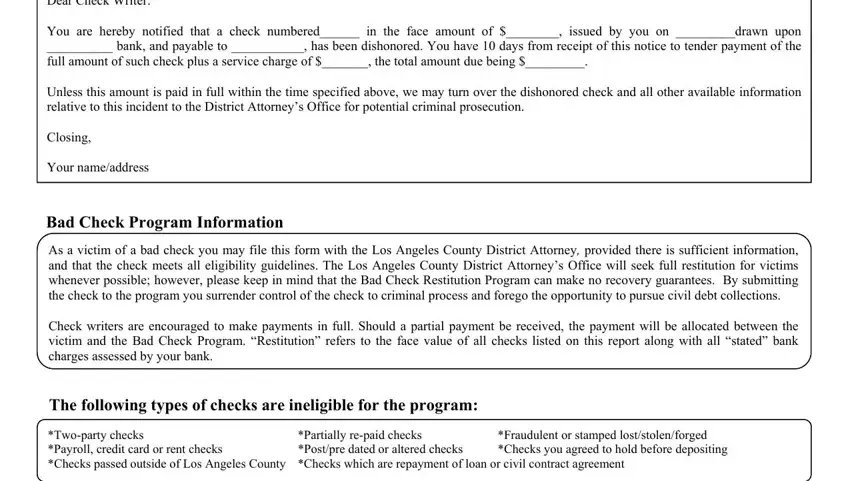 As to Date Dear Check Writer You are and As a victim of a bad check you may, make certain you do everything right in this current part. Those two are considered the most significant ones in the document.
Step 3: Soon after rereading your form fields you've filled out, press "Done" and you're good to go! Try a 7-day free trial account with us and get immediate access to bad check complaint form - accessible in your personal account. Here at FormsPal, we do everything we can to guarantee that all of your details are stored secure.