Cbp Form 3171 can be filled out online in no time. Just make use of FormsPal PDF editor to finish the job fast. To retain our tool on the forefront of practicality, we strive to implement user-driven features and enhancements on a regular basis. We're always grateful for any feedback - join us in reshaping how we work with PDF files. All it takes is several simple steps:
Step 1: Access the PDF doc in our tool by clicking the "Get Form Button" in the top part of this page.
Step 2: With our handy PDF tool, you can accomplish more than merely complete blanks. Edit away and make your forms appear faultless with customized text added in, or tweak the original input to perfection - all that supported by an ability to add almost any photos and sign the PDF off.
To be able to finalize this document, ensure you type in the necessary information in every single field:
1. The Cbp Form 3171 usually requires particular details to be typed in. Be sure that the following blank fields are completed: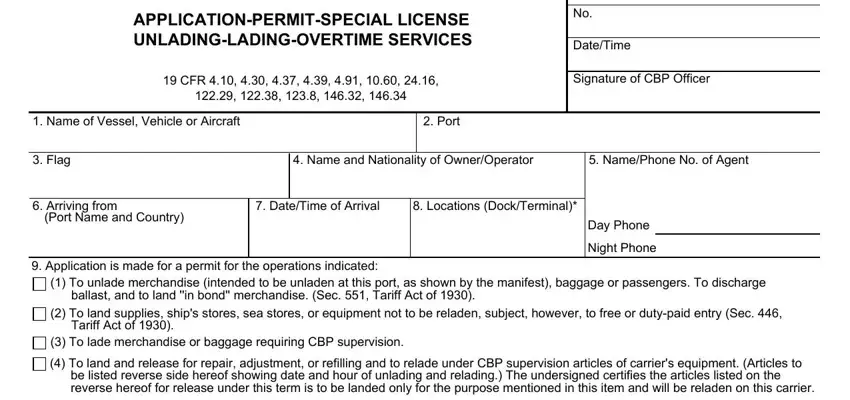 2. The subsequent step is to complete the next few blanks: Other, Itinerary of VesselAircraft show, TYPE OF CARGO, Container, Break Bulk, Bulk, Other Specify, List all carriers including, SCAC, AMS, CBP Paperless, SCAC, AMS, CBP Paperless, and Application is made for a special.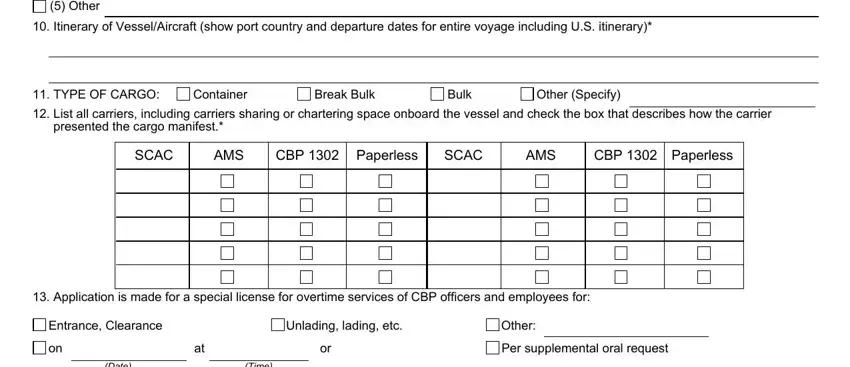 3. This next step is simple - complete all of the fields in Bond No, Application is made for a Term, Principal on Bond, Surety Company Code, Amount of Bond, Date of Bond, From, Importer Number Party to be, Address of Agent, Signature, Date, This PERMIT is not valid until, use back for additional space, and CBP Form in order to complete this process.

4. To go forward, this next step involves typing in a couple of empty form fields. Examples include Signature, Company, Continued from additional, Continued from Other, Continued from additional, Continued from additional SCAC, SCAC, AMS, CBP Paperless, SCAC, AMS, and CBP Paperless, which are integral to moving forward with this particular PDF.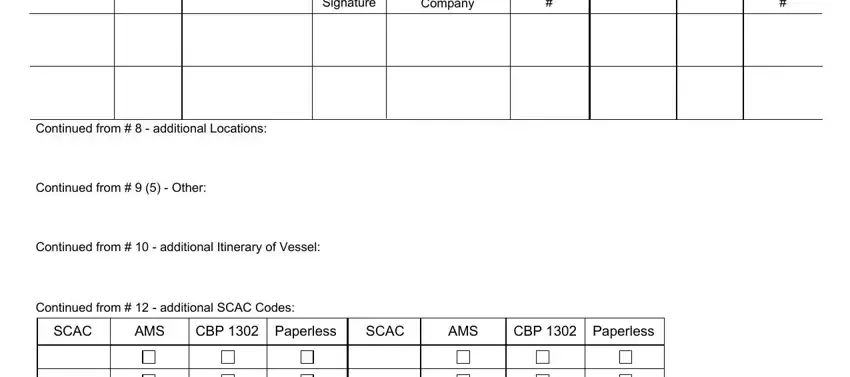 5. The final notch to complete this form is essential. Be sure you fill in the mandatory blanks, for example INSTRUCTIONS, CBP Form shall be filed in, Name or number of vessel vehicle, Show port country and sailing, Port at which application is filed, Check the appropriate boxboxes, Flag of vessel, Name of shipping company airlines, Name and daynight phone numbers, Name of port or place and country, Give the date of arrival or, List all places of lading, List all carriers including, Indicate purpose for which, and SelfExplanatory, before finalizing. Otherwise, it might generate an incomplete and probably nonvalid form!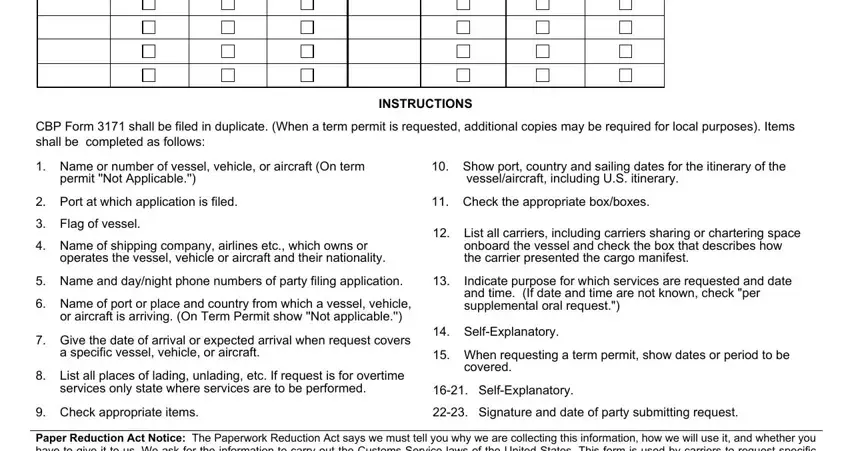 You can certainly get it wrong while filling out your List all places of lading, thus you'll want to take a second look before you'll submit it.
Step 3: Prior to moving on, it's a good idea to ensure that all form fields have been filled out the proper way. When you're satisfied with it, click "Done." After setting up afree trial account at FormsPal, you will be able to download Cbp Form 3171 or send it via email immediately. The document will also be accessible in your personal account page with your each and every edit. We do not share the information you use whenever working with forms at FormsPal.