Submitting documents with our PDF editor is simpler compared to anything. To update ched scholarship 2021 the form, there is nothing you should do - merely continue with the actions listed below:
Step 1: Choose the "Get Form Here" button.
Step 2: You will discover all of the options which you can take on the template after you have accessed the ched scholarship 2021 editing page.
Get the ched scholarship 2021 PDF and enter the information for each area: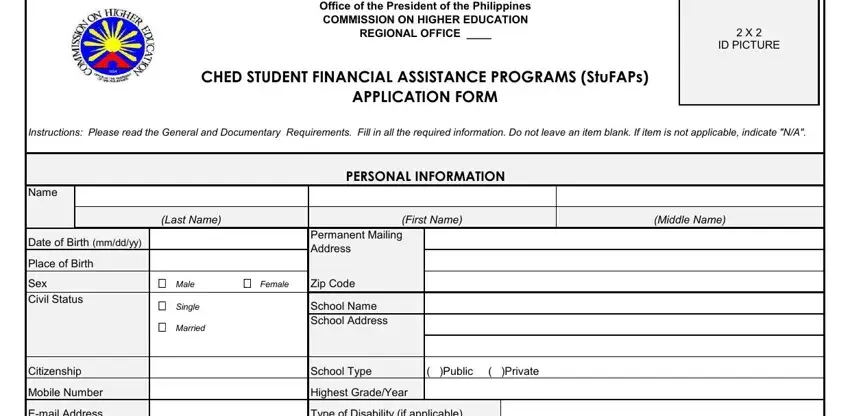 Type in the data in the Father: ( ) Living ( ) Deceased, Mother: ( ) Living ( ) Deceased, Name, Address, Occupation, Educational Attainment, Total Parents Gross Income, School Intended to enroll in, School Address:, Type of School:, Course:, ( ) Public, ( ) Private, ( ) Priority ( ) Non-Priority, and (Signature over Printed Name of field.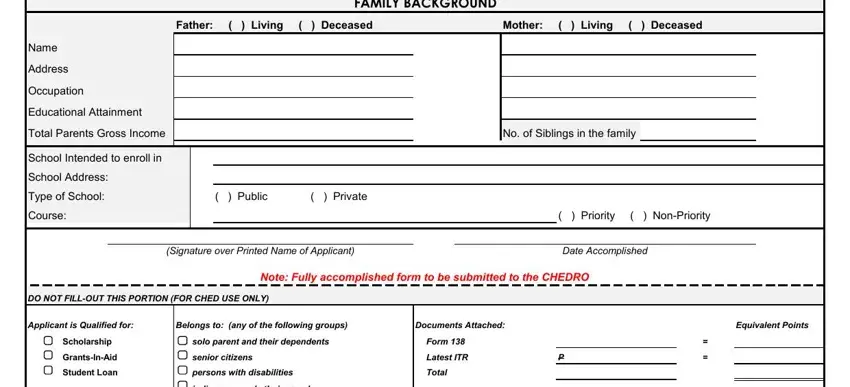 The application will require data to easily prepare the field CHED StuFAP Coordinator, GENERAL REQUIREMENTS, Must be a high school graduate;, graduation; with earned units in, passer of ALS/PEPT;, DOCUMENTARY REQUIREMENTS, Academic Requirement:, Must have a combined annual gross, parents/guardian not to exceed, Thousand Pesos (P300, Must avail only one CHED, assistance program; and, OTHER REQUIREMENTS:, *In highly exceptional cases where, and the Bureau of Internal Revenue.

Step 3: Click the Done button to be sure that your finished file can be transferred to each device you want or delivered to an email you indicate.
Step 4: You will need to generate as many copies of your file as you can to prevent future issues.