Filling in the 2015 form da form is a breeze using our PDF editor. Keep up with the next steps to prepare the document without delay.
Step 1: Initially, select the orange button "Get Form Now".
Step 2: At this point, you are on the file editing page. You can add text, edit present information, highlight certain words or phrases, insert crosses or checks, add images, sign the document, erase unrequired fields, etc.
In order to prepare the template, type in the content the program will request you to for each of the appropriate sections: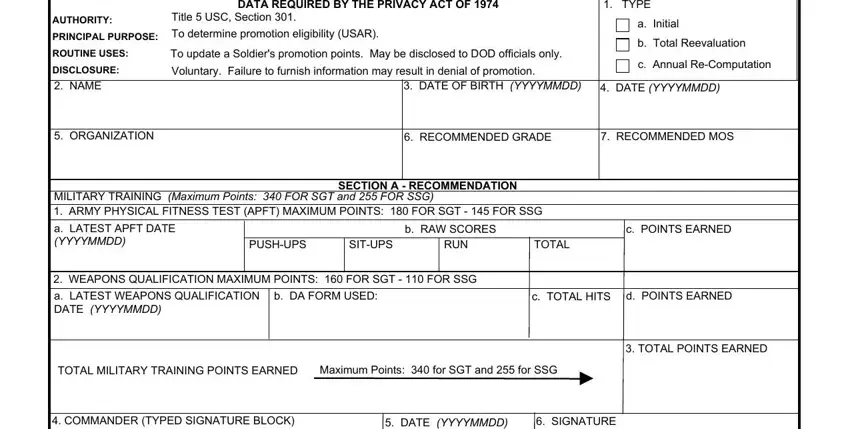 Enter the demanded data in DATE YYYYMMDD, RECOMMENDED SOLDIERS SIGNATURE, DATE YYYYMMDD, SIGNATURE, PROMOTION BOARD RECOMMENDATION, YES, BOARD PRESIDENT TYPED SIGNATURE, DATE YYYYMMDD, SIGNATURE, SECTION B ADMINISTRATIVE POINTS, AWARDS DECORATIONS BADGES COAS, List awards include order number, and Include Airborne Advantage points area.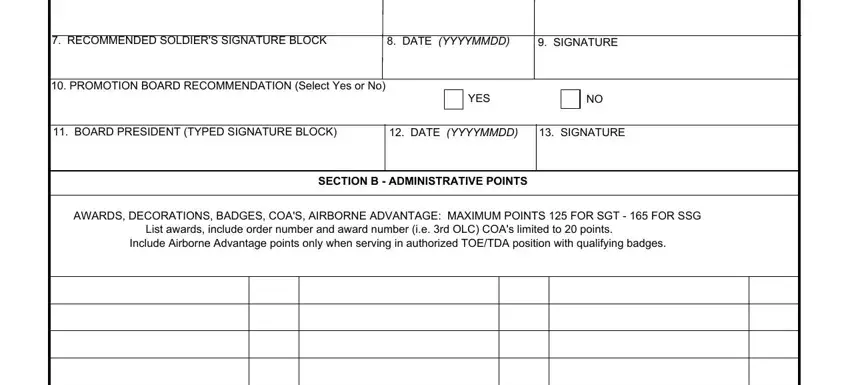 The program will request for more information with the intention to quickly fill in the part TOTAL AWARDSDECORATIONS POINTS, for SGT for SSG, DA FORM DEC, PREVIOUS EDITIONS ARE OBSOLETE, and Page of APD LC vES.

The NAME, DATE OF BIRTH YYYYMMDD, MILITARY EDUCATION Maximum Points, SECTION B ADMINISTRATIVE POINTS, TOTAL MILITARY EDUCTION POINTS, TOTAL POINTS EARNED, CIVILIAN EDUCATION Maximum, TOTAL CIVILIAN EDUCTION POINTS, TOTAL POINTS EARNED, and SECTION C TOTALS POINT COMPUTATION field is the place to add the rights and obligations of all sides.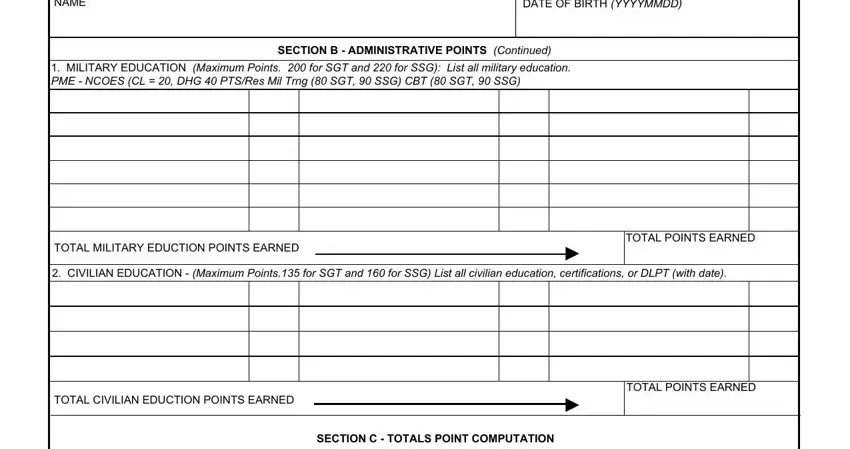 End by analyzing the next sections and filling them out accordingly: CATEGORY, POINTS EARNED, MAXIMUM, POINTS EARNED, MILITARY TRAINING, AWARDDECORATIONS, MILITARY EDUCATION, CIVILIAN EDUCATION, TOTAL, SECTION D AUTHENTICATION, I certify that the above total, TYPED OR PRINTED NAME AND, GRADE, DATE YYYYMMDD, and TYPED OR PRINTED NAME OF.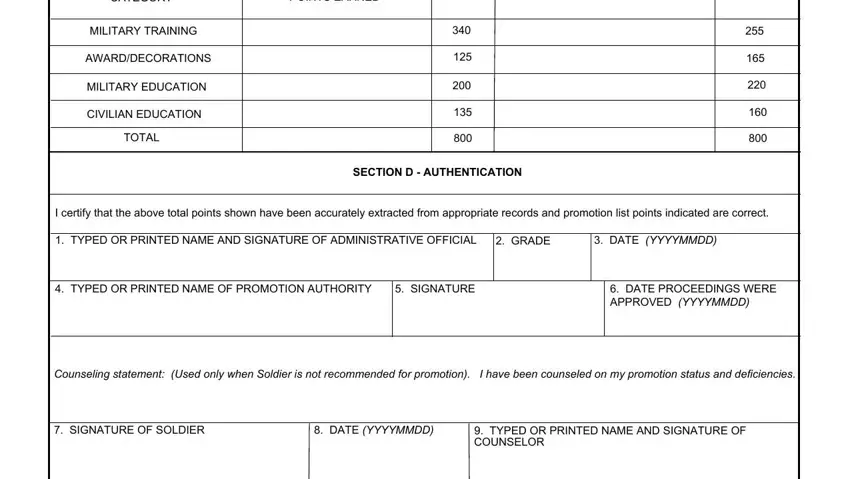 Step 3: Hit the Done button to save the file. Then it is accessible for transfer to your device.
Step 4: In avoiding possible forthcoming issues, be sure you obtain minimally two or three copies of each file.