Using PDF documents online is surprisingly easy with our PDF tool. Anyone can fill out form t seas online here and use many other options available. To maintain our tool on the forefront of efficiency, we strive to adopt user-driven capabilities and enhancements regularly. We're at all times happy to receive feedback - help us with revampimg PDF editing. With just several basic steps, you may start your PDF journey:
Step 1: Click the "Get Form" button above on this webpage to get into our editor.
Step 2: After you start the tool, you'll see the document ready to be completed. Besides filling in various blanks, you can also do other things with the file, particularly putting on your own textual content, editing the initial textual content, inserting graphics, signing the PDF, and more.
This document requires particular details to be entered, thus make sure you take the time to type in precisely what is required:
1. It is crucial to fill out the form t seas online properly, therefore be careful when filling out the areas that contain all of these blank fields: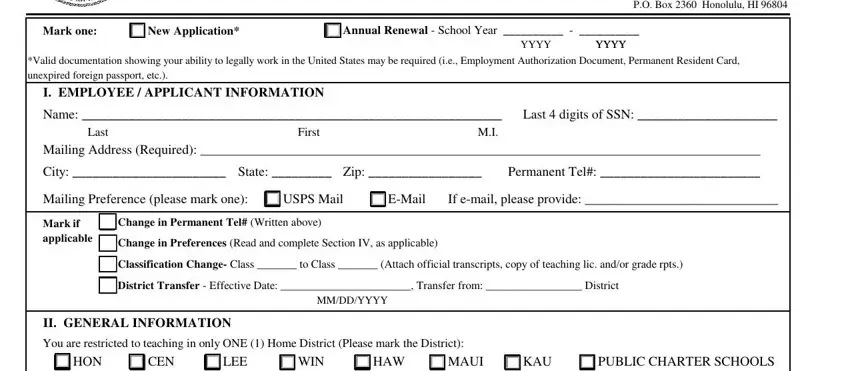 2. Once the last segment is completed, you're ready to add the required specifics in You are on at least one school, PrincipalDesignee Signature, Date, MMDDYYYY, PrincipalDesignee Name Print, Title, You completed the annual, Exact date completed, LocationChannel Viewed, MMDDYYYY, Did you complete the Hour, Yes Date Location, MMDDYYYY, Anticipated Completion Date, and MMDDYYYY in order to proceed further.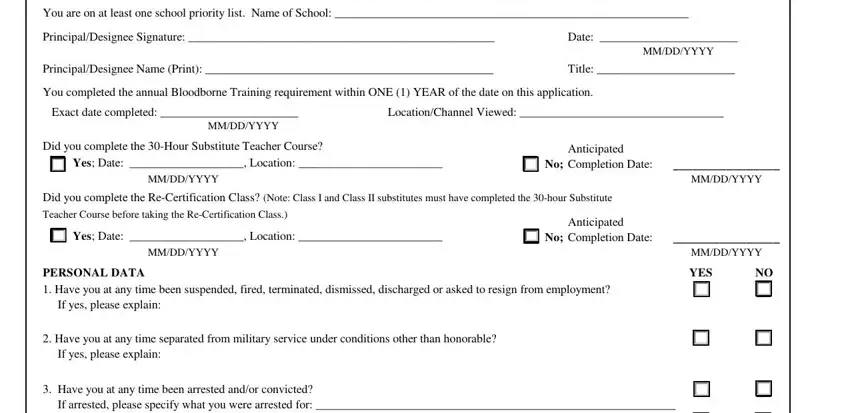 3. This third segment is quite easy, If arrested please specify what, Have you at any time had a, If yes please explain, Note Conviction or termination, Distribution Original Personnel, and Page of - all of these form fields needs to be filled out here.

4. Filling out DOE OHR Last Revised Former DOE, Name, Last digits of SSN, Last, First, III QUALIFICATIONS New Applicants, Educational and Professional, CollegeUniversity, Location CityState, From, Sem Hrs, Degree, Date, Major, and Student Teaching andor Intern is paramount in the next step - make certain that you take your time and be attentive with every single blank!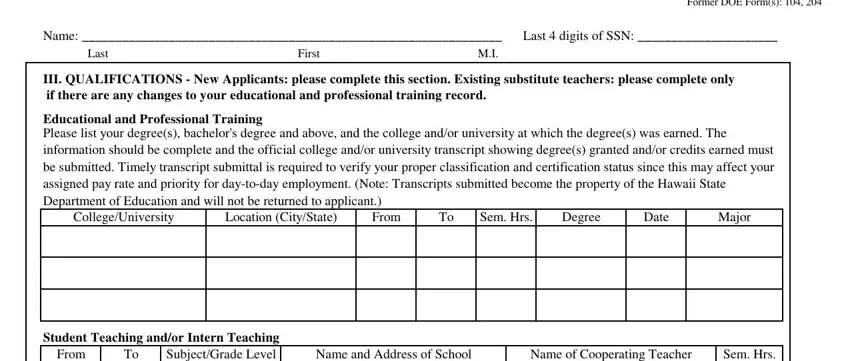 5. To finish your form, this particular section features a number of extra blank fields. Completing Student Teaching andor Intern, From, Name and Address of School, Name of Cooperating Teacher, Sem Hrs, Professional Certification, Type of Teaching Certificate, State, Date Issued, Expiration Date, Professional Experience in Hawaii, Name of School, Location CityState GradeSubject, From, and Type of Employment Contract or will finalize the process and you will be done quickly!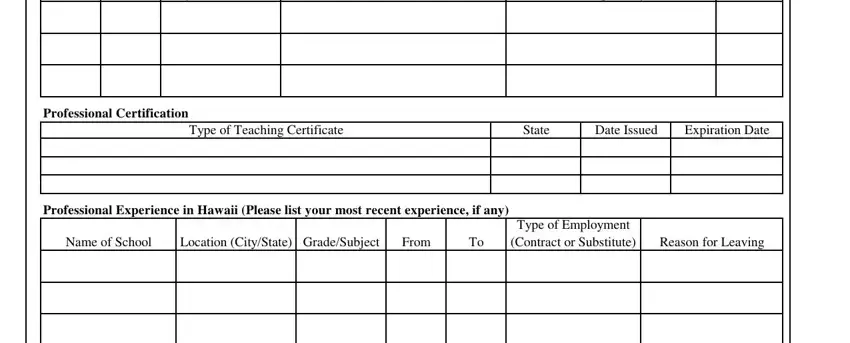 People who use this PDF generally make mistakes when filling out From in this section. Remember to read again what you type in right here.
Step 3: Soon after double-checking the fields and details, press "Done" and you're done and dusted! Create a free trial account at FormsPal and gain direct access to form t seas online - downloadable, emailable, and editable from your FormsPal cabinet. FormsPal ensures your information privacy by having a protected system that in no way saves or distributes any type of personal data used in the PDF. Feel safe knowing your docs are kept protected each time you work with our service!