When working in the online tool for PDF editing by FormsPal, you can fill in or modify NOV here. To maintain our tool on the cutting edge of efficiency, we work to implement user-oriented features and enhancements on a regular basis. We're routinely looking for suggestions - join us in revolutionizing PDF editing. It just takes several easy steps:
Step 1: Open the PDF in our tool by clicking the "Get Form Button" at the top of this webpage.
Step 2: The editor will let you change your PDF in a range of ways. Transform it with personalized text, adjust what's originally in the document, and include a signature - all within the reach of several mouse clicks!
This document will need you to type in some specific details; to ensure accuracy, please be sure to take heed of the subsequent suggestions:
1. Firstly, while filling out the NOV, begin with the area that features the subsequent blanks: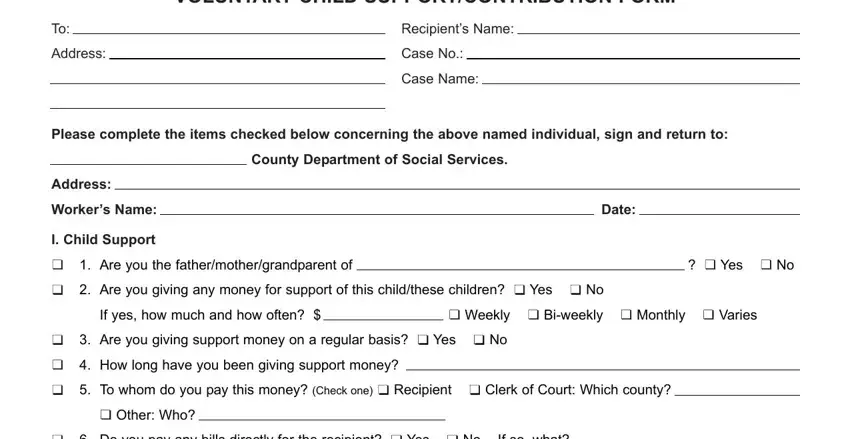 2. Once your current task is complete, take the next step – fill out all of these fields - cidcidcidcid Do you pay any bills, Date, Amount Given, Date, Amount Given, cidcidcidcid Do you have, If yes tell us the companys name, cidcidcidcid Do you have a, Companys Address, Companys Telephone No, Your Printed Name, Your Signature, and Telephone No with their corresponding information. Make sure to double check that everything has been entered correctly before continuing!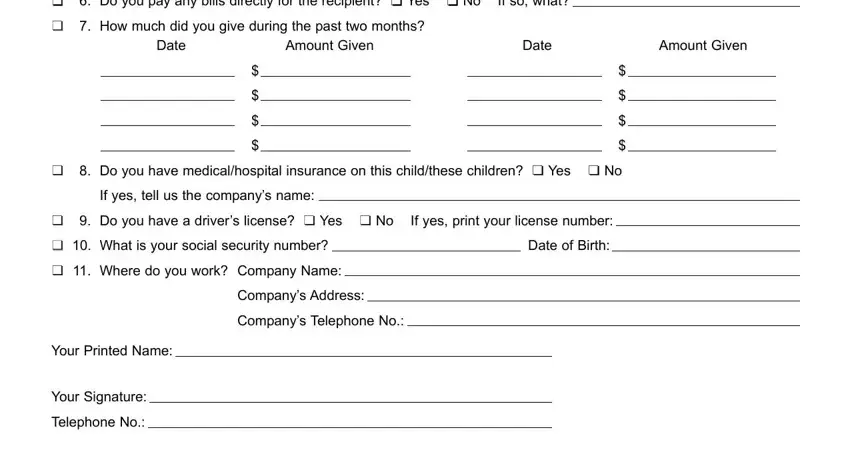 3. In this part, examine II Contributions cidcidcidcid Do, If so what, cidcidcidcid How much did you, Date, Amount Given, Date, Amount Given, cidcidcidcid How long have you, If a loan when do you expect to be, Is this money a gift cidcidcidcid, Your Printed Name, Your Signature, and Telephone No. Each of these need to be filled out with greatest attention to detail.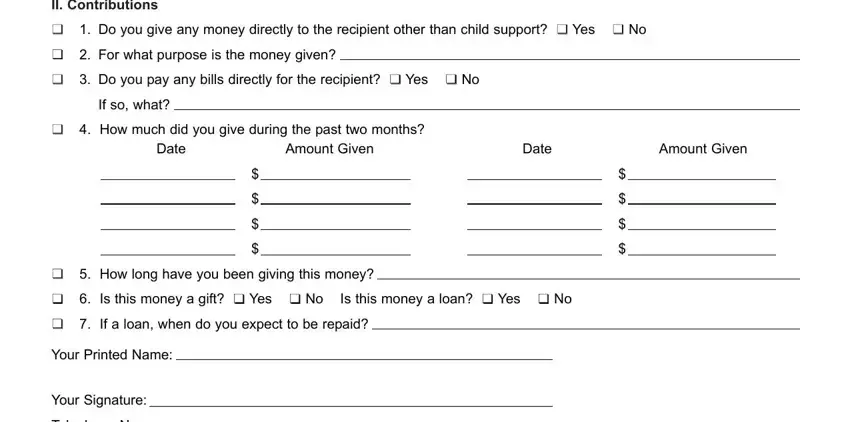 In terms of Telephone No and Is this money a gift cidcidcidcid, be certain that you take a second look here. These could be the most significant fields in this file.
Step 3: Prior to finalizing this file, it's a good idea to ensure that form fields were filled out correctly. The moment you verify that it is correct, click on "Done." Sign up with us today and instantly obtain NOV, prepared for download. Every single modification you make is conveniently preserved , meaning you can change the pdf at a later time if required. We do not sell or share the information you type in when dealing with documents at our site.