You could prepare INSTALLATIONSUSE effortlessly with our PDFinity® online PDF tool. In order to make our tool better and more convenient to work with, we constantly implement new features, with our users' feedback in mind. With just several basic steps, you may begin your PDF editing:
Step 1: Click on the "Get Form" button above. It's going to open up our pdf tool so you can begin filling out your form.
Step 2: After you start the online editor, you'll see the document ready to be completed. Other than filling in different blanks, you may also do other actions with the PDF, that is writing custom text, changing the initial textual content, inserting images, signing the document, and more.
This PDF form requires particular information to be entered, hence make sure to take some time to type in what's asked:
1. The INSTALLATIONSUSE involves specific information to be entered. Make sure the following fields are finalized: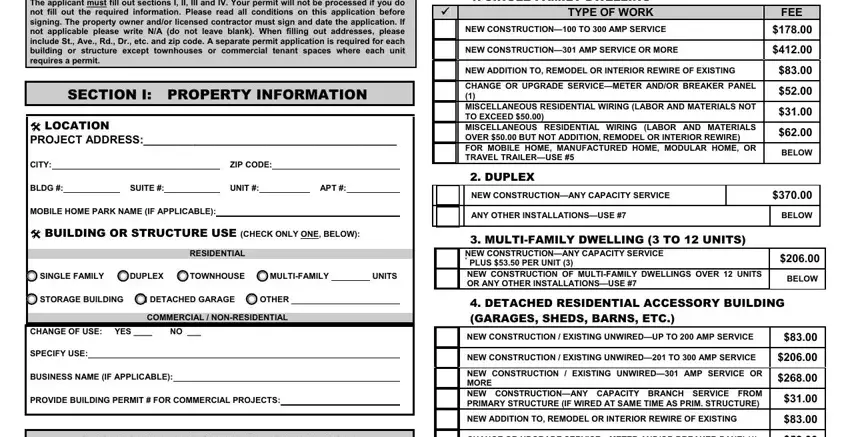 2. After the previous section is filled out, proceed to enter the applicable information in all these - SECTION II PEOPLE INFORMATION, NAME, STREET ADDRESS, PROPERTY OWNER, PHONE, CITY, STATE, ZIP CODE, CONTRACTOR SAME AS OWNER, BUSINESS NAME, STREET ADDRESS, PHONE, CITY, STATE, and ZIP CODE.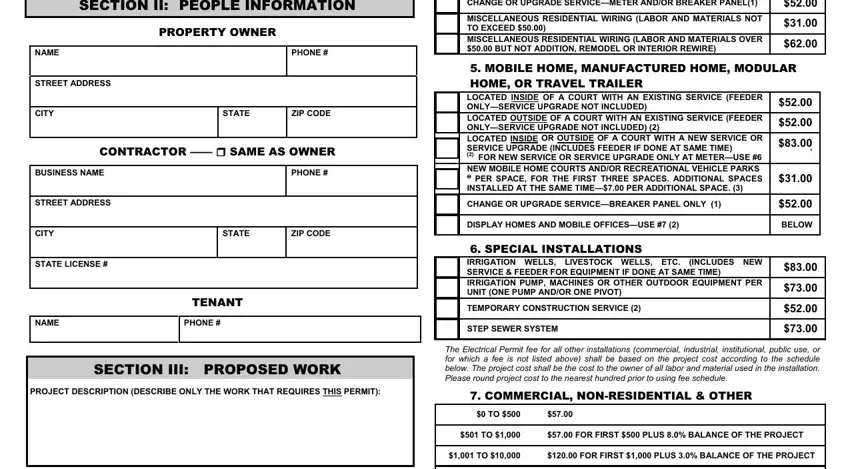 3. Throughout this stage, check out It shall be the duty of the person, A homeowner may secure a permit, This permit was not reviewed for, The individual who signs this, work performed as specified herein, SIGNATURE OF PROPERTY OWNER, SIGNATURE OF ELECTRICAL CONTRACTOR, DATE, DATE, SERVICE, CAPACITY, NUMBER OF AMPS EXISTING, NUMBER OF AMPS PROPOSED, NUMBER OF UNITS IN MULTIFAMILY, and OR NEW SPACES IN MOBILE HOME COURT. All of these have to be filled out with highest precision.

Concerning DATE and SIGNATURE OF ELECTRICAL CONTRACTOR, make sure you get them right in this current part. Both these could be the most important fields in the document.
Step 3: Revise everything you've entered into the blanks and then click on the "Done" button. Create a 7-day free trial account with us and get direct access to INSTALLATIONSUSE - with all changes kept and accessible from your FormsPal account page. We don't share or sell any information that you enter whenever filling out forms at our site.