With the help of the online PDF editor by FormsPal, you can complete or change lash consultation form right here and now. To keep our editor on the forefront of practicality, we strive to put into practice user-driven capabilities and improvements regularly. We are at all times looking for feedback - play a vital role in revolutionizing PDF editing. By taking some simple steps, you may begin your PDF journey:
Step 1: Access the PDF doc inside our tool by hitting the "Get Form Button" above on this webpage.
Step 2: As soon as you start the tool, you will see the document all set to be filled in. Other than filling in different blank fields, you could also perform some other actions with the file, specifically writing any words, changing the original text, inserting images, affixing your signature to the form, and more.
This PDF doc will need you to type in some specific information; to ensure accuracy, don't hesitate to heed the following suggestions:
1. To begin with, once filling out the lash consultation form, begin with the section with the next blank fields: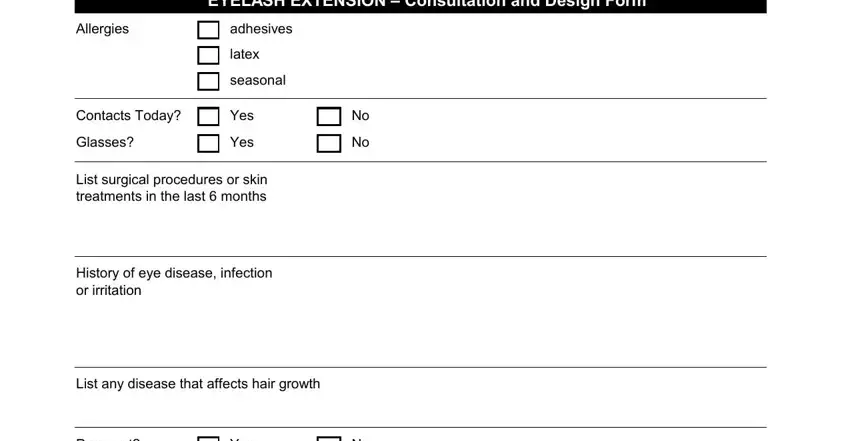 2. Soon after filling in the last section, go on to the next step and complete all required details in these blanks - Natural Lash, Curls, DESIGN, PackagePrice, Diameter, RELEASE, I have discussed after care with, I understand that there are risks, and I having read and understood the.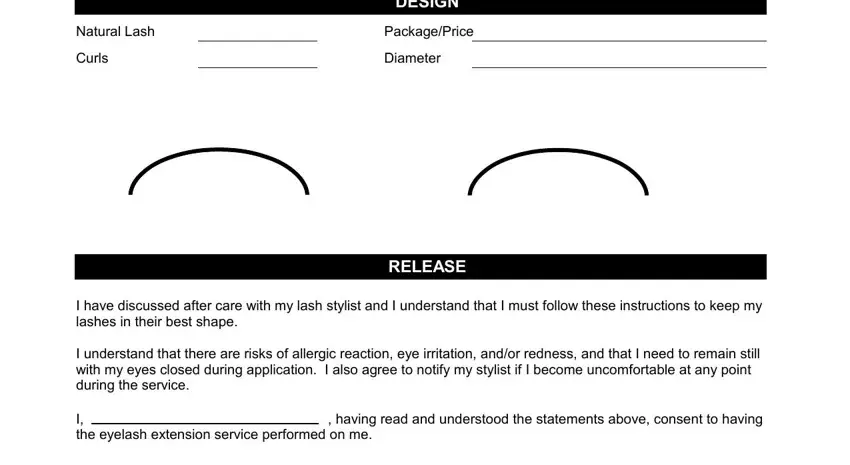 In terms of RELEASE and DESIGN, be certain you don't make any mistakes here. These two are viewed as the key fields in the form.
Step 3: Confirm that your details are right and press "Done" to complete the task. Right after registering afree trial account here, it will be possible to download lash consultation form or email it at once. The file will also be at your disposal via your personal account menu with all your modifications. FormsPal guarantees your information confidentiality via a secure method that never saves or shares any private data typed in. Be assured knowing your paperwork are kept confidential when you work with our service!