The PDF editor was developed with the aim of making it as effortless and user-friendly as possible. All of these actions can make filling out the superbill template simple.
Step 1: The first thing requires you to hit the orange "Get Form Now" button.
Step 2: When you have entered the superbill template edit page, you'll discover all actions you may undertake concerning your template at the top menu.
Type in the required information in each one part to complete the PDF superbill template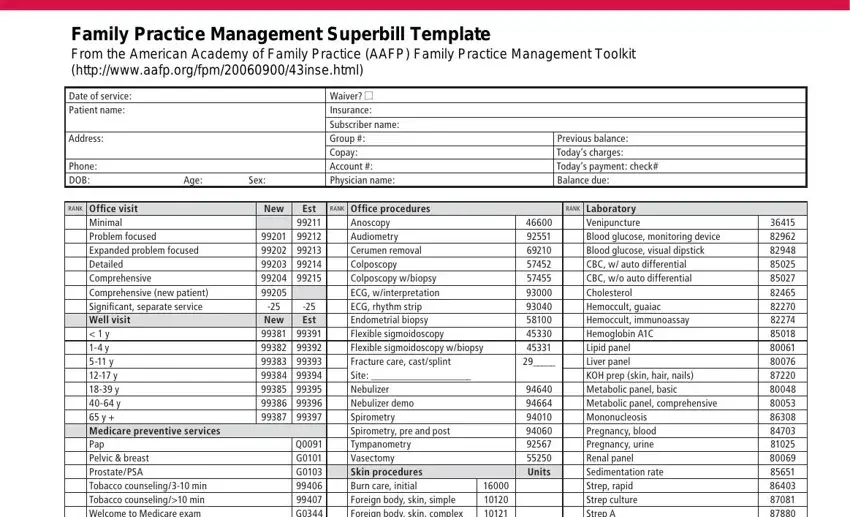 In the Minimal Problem focused Expanded, Q0091 G0101 G0103 99406 99407, 99050 99051 G0180 G0179 99024, Diagnoses, Next office visit Recheck, Prev, PRN, D W M Y, Referral To:, Instructions:, Anoscopy Audiometry Cerumen, Units, J0290 J3420 J0170 J3301 J2001, 90702 90701 90700 90657 90658, and RANK Laboratory Venipuncture Blood area, put down your information.

The system will demand you to provide certain valuable information to easily complete the field Instructions:, Physician signature, and RANK Laboratory Venipuncture Blood.

Step 3: As soon as you've clicked the Done button, your document is going to be readily available transfer to each device or email you identify.
Step 4: Get a copy of each document. It's going to save you time and enable you to avoid worries in the long run. Keep in mind, your information will not be distributed or viewed by us.