When using the online PDF editor by FormsPal, you can fill in or modify fcc forms 605 right here and now. The editor is continually updated by our team, getting awesome functions and turning out to be greater. In case you are looking to get started, this is what you will need to do:
Step 1: Open the PDF form in our editor by clicking the "Get Form Button" at the top of this webpage.
Step 2: This tool offers the ability to work with most PDF documents in a variety of ways. Transform it by including customized text, adjust what's already in the file, and put in a signature - all possible in minutes!
This document will need specific info to be typed in, therefore be sure you take some time to enter precisely what is required:
1. Fill out the fcc forms 605 with a number of essential fields. Gather all of the necessary information and make certain absolutely nothing is omitted!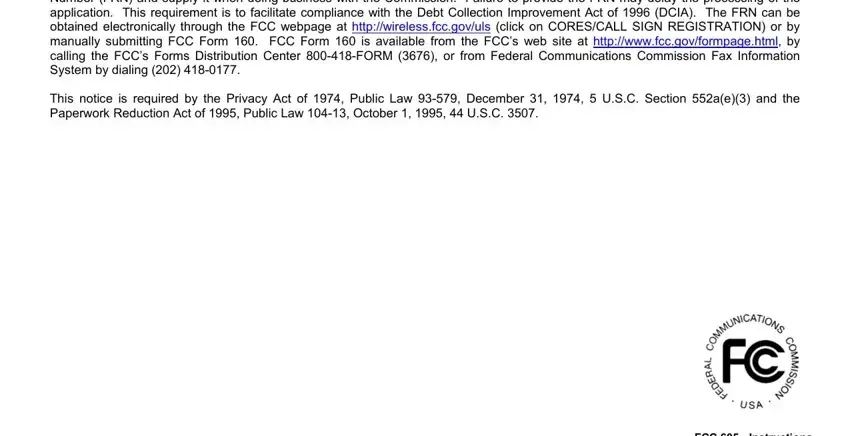 2. The subsequent part would be to submit these fields: Refer to Subpart G of Part of the, and Paper applications requiring a fee.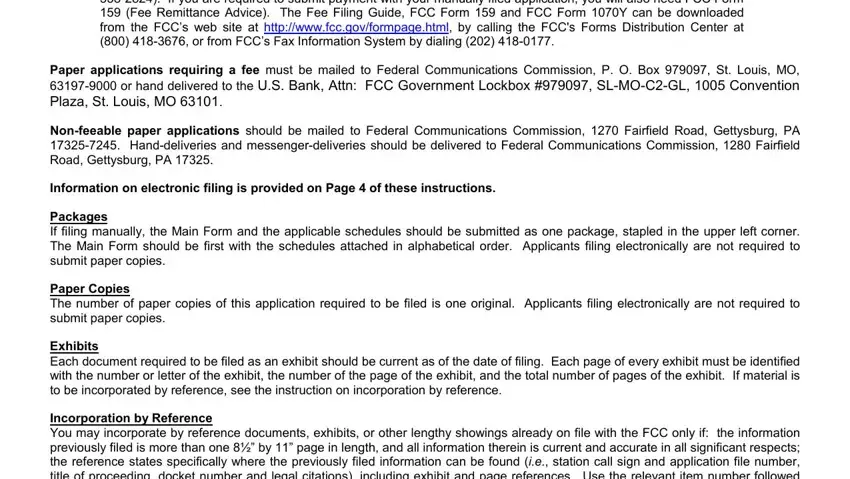 3. This next segment will be focused on Radio Service Code, Application Purpose Select only, NE New RO Renewal Only WD, RM Renewal Modification DU, If this request is for, D S NA, If this request is for an, If this request is for a, If this request is for a New, requested expiration date of the, Does this filing request a Waiver, ApplicantLicensee Information, File Number, Call SignSerial, and MM DD - complete every one of these blanks.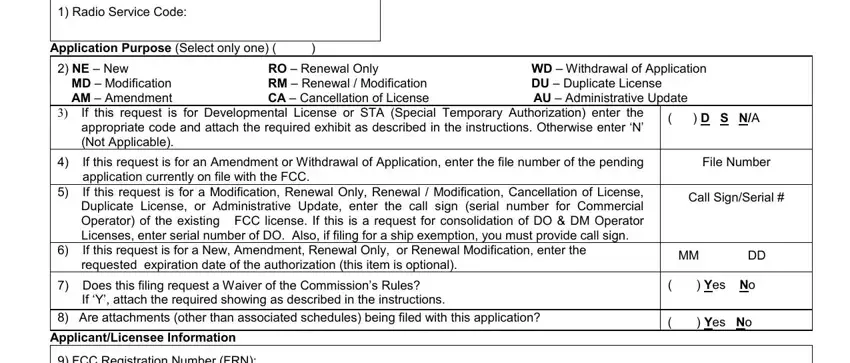 It's easy to make an error when filling in the File Number, so you'll want to take another look before you decide to finalize the form.
4. The subsequent part will require your attention in the subsequent parts: FCC Registration Number FRN, First Name if individual, Last Name, Entity Name if other than, Suffix, If the Licensee name is being, and for which proper Commission, Attention To, PO Box, AndOr, Street Address, City, State, Zip CodePostal Code, and Country. It is important to fill in all of the requested details to go further.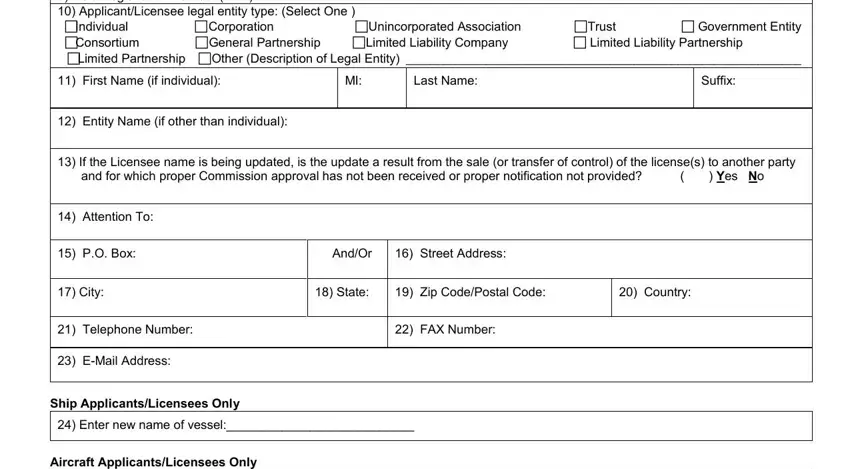 5. And finally, the following last part is what you'll have to complete prior to submitting the form. The blank fields in this case are the next: Fee Status, Is the ApplicantLicensee exempt, Is the ApplicantLicensee exempt, General Certification Statements, The ApplicantLicensee waives any, The ApplicantLicensee certifies, incorporated by reference are, Neither the ApplicantLicensee nor, The ApplicantLicensee certifies, Amateur or GMRS ApplicantLicensee, Amateur ApplicantLicensee, Certification Statements For GMRS, and ApplicantLicensee certifies that.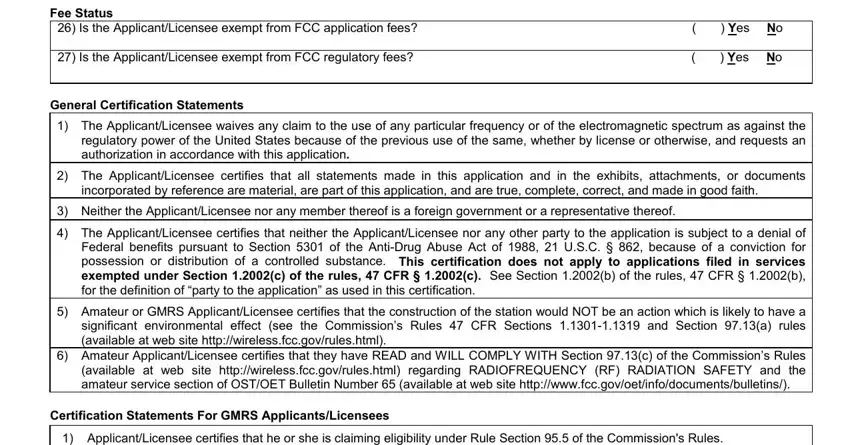 Step 3: Spell-check everything you've inserted in the blank fields and click the "Done" button. Make a free trial plan at FormsPal and gain immediate access to fcc forms 605 - download, email, or edit from your FormsPal cabinet. FormsPal guarantees your data confidentiality by having a protected system that in no way records or distributes any personal data provided. Feel safe knowing your files are kept safe when you use our tools!