With the help of the online editor for PDFs by FormsPal, you're able to complete or change fema mt 1 form 3 page 5 here and now. To have our editor on the forefront of practicality, we strive to put into operation user-driven capabilities and improvements regularly. We are routinely looking for feedback - play a pivotal part in remolding the way you work with PDF docs. For anyone who is seeking to get going, here's what you will need to do:
Step 1: Just hit the "Get Form Button" at the top of this site to open our pdf editing tool. Here you'll find everything that is required to fill out your document.
Step 2: With the help of our online PDF editing tool, it is possible to do more than merely complete forms. Edit away and make your docs seem perfect with custom text incorporated, or tweak the file's original content to perfection - all that comes with an ability to add stunning images and sign it off.
This document needs some specific details; in order to ensure correctness, don't hesitate to take note of the subsequent tips:
1. First of all, once filling in the fema mt 1 form 3 page 5, start with the part that features the next blanks: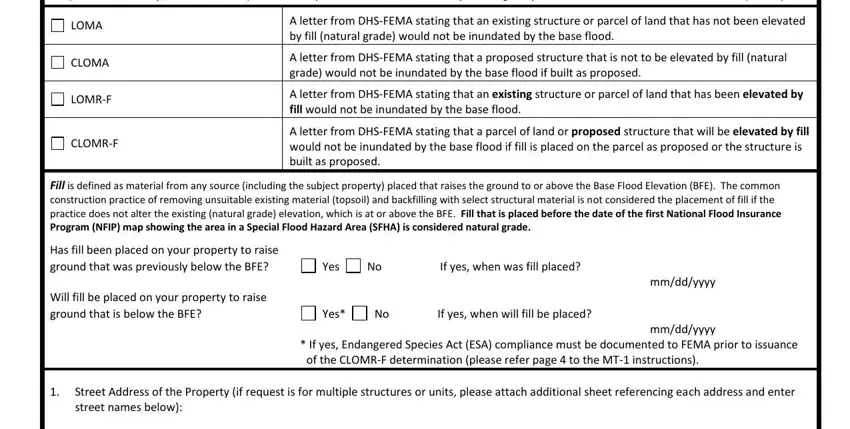 2. After this segment is done, it is time to include the essential details in Legal description of Property Lot, Are you requesting that a flood, Structures on the property What, A portion of land within the, The entire legally recorded, Is this request for a check one, Single lot, Multiple structures How many, Multiple lots How many lots are, DHS FEMA Form FEB, Property Information Form, and MT Form Page of in order to move on further.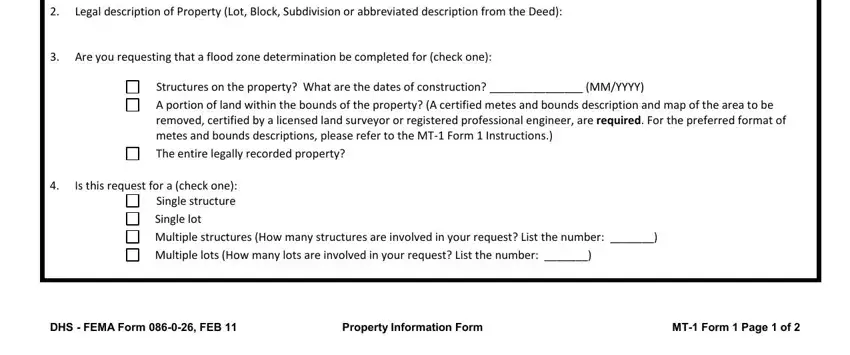 3. This third section is usually relatively uncomplicated, In addition to this form MT Form, Copy of the effective FIRM panel, regulatory floodway will require, Copy of the Subdivision Plat Map, Copy of the Property Deed with, Form Elevation Form If the, Please include a map scale and, For LOMRFs and CLOMRFs the, Form Community Acknowledgment, For CLOMRFs the following must be, Documented ESA compliance which, Please do not submit original, DHSFEMA encourages the submission, and Incomplete submissions will result - all of these blanks needs to be completed here.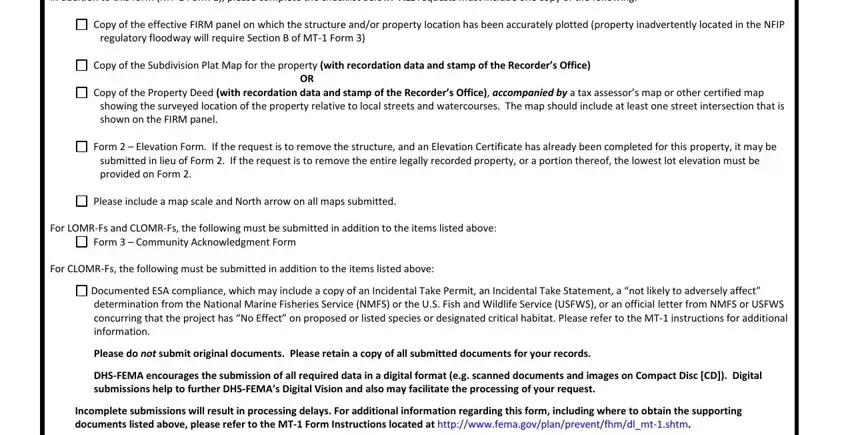 4. The next part needs your information in the subsequent parts: Check the fee that applies to your, single lotstructure LOMRF, single lotstructure LOMRF, single lotstructure CLOMA or, multiple lotstructure LOMRF, multiple lotstructure LOMRF or, Please submit the Payment, All documents submitted in support, pplicants Name required, Mailing Address required, EMail Address optional, By checking here you may receive, Date required, Company if applicable, and Daytime Telephone No required. Make sure that you enter all requested info to move onward.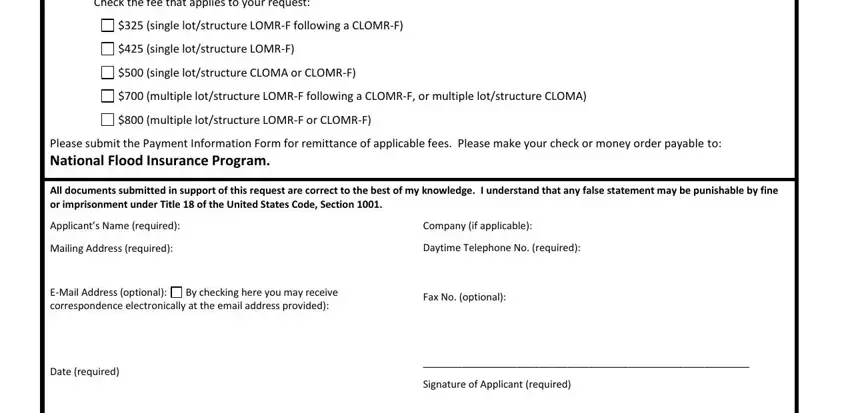 5. The document must be finalized by filling in this area. Here there can be found an extensive list of blanks that need specific information for your form submission to be accomplished: For requests to remove a structure, Property Name or Address, NFIP Community Number, Are the elevations listed below, existing or, proposed conditions Check one, For the existing or proposed, crawl space, basementenclosure, other explain, slab on grade, Has DHS FEMA identified this, If yes what is the date of the, Other explain, and monthyear.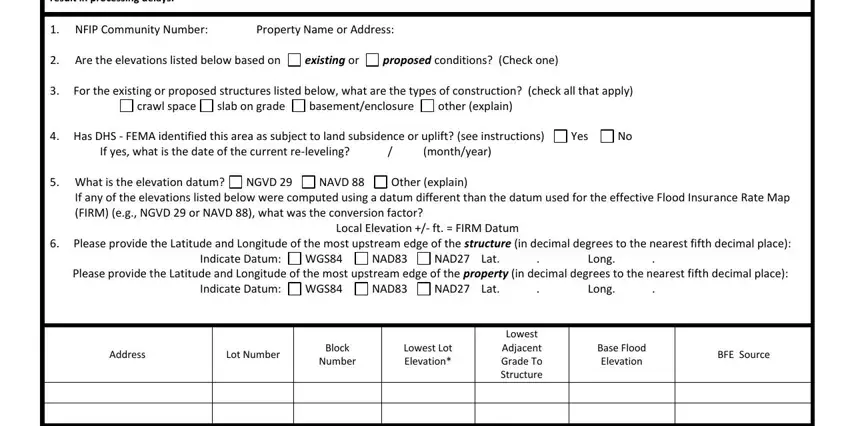 Many people generally make mistakes when filling in For requests to remove a structure in this part. Don't forget to review everything you enter here.
Step 3: Proofread the details you've inserted in the blank fields and click on the "Done" button. Try a 7-day free trial subscription at FormsPal and gain immediate access to fema mt 1 form 3 page 5 - which you can then work with as you wish inside your personal cabinet. With FormsPal, you're able to fill out forms without stressing about database breaches or entries being distributed. Our protected software makes sure that your private data is kept safe.