Creating files using our PDF editor is easier than anything. To update 26 6393 the document, you'll find nothing for you to do - just stick to the steps below:
Step 1: Click the button "Get form here" to access it.
Step 2: Now you are able to edit 26 6393. You have a variety of options thanks to our multifunctional toolbar - you can include, eliminate, or customize the content, highlight the particular elements, and conduct many other commands.
For each section, fill in the information requested by the platform.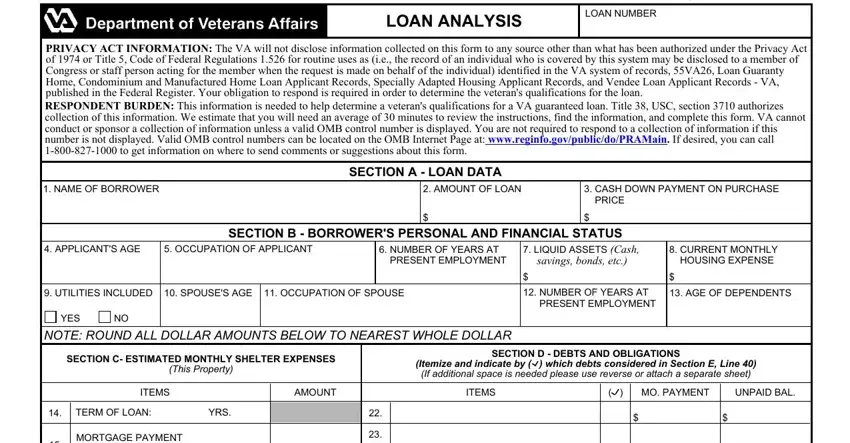 In the MORTGAGE PAYMENT Principal and, REALTY TAXES, HAZARD INSURANCE, SPECIAL ASSESSMENTS, MAINTENANCE UTILITIES, OTHER HOA Condo fees etc, TOTAL, JOB RELATED EXPENSE eg child care, TOTAL, SECTION E MONTHLY INCOME AND, SPOUSE, BORROWER, GROSS SALARY OR EARNINGS FROM, FEDERAL INCOME TAX, and STATE INCOME TAX area, write down the information you have.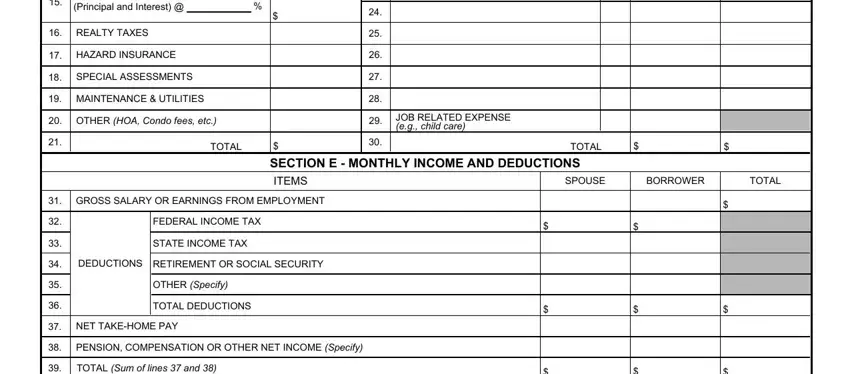 Put down the expected data while you're on the TOTAL Sum of lines and, LESS THOSE OBLIGATIONS LISTED IN, TOTAL NET EFFECTIVE INCOME, LESS ESTIMATED MONTHLY SHELTER, BALANCE AVAILABLE FOR FAMILY, RATIO Sum of Items and, sum of Items and, GUIDELINE, PAST CREDIT RECORD, DOES LOAN MEET VA CREDIT, SATISFACTORY, UNSATISFACTORY, YES, REMARKS Use reverse or attach a, and A VALUE segment.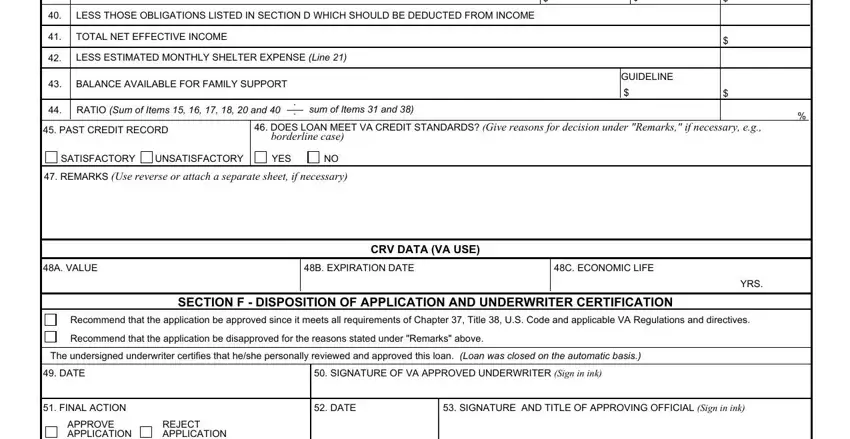 Step 3: When you pick the Done button, your finished file is simply transferable to each of your devices. Or, you may deliver it by using mail.
Step 4: Create a copy of each single form. It should save you time and assist you to remain away from issues as time goes on. Keep in mind, the information you have isn't shared or monitored by us.