CBT-100 can be filled in online with ease. Simply try FormsPal PDF editing tool to finish the job promptly. Our professional team is ceaselessly working to enhance the tool and make it much faster for people with its multiple functions. Take your experience to the next level with continually improving and exciting opportunities available today! By taking a few easy steps, you are able to begin your PDF editing:
Step 1: Press the "Get Form" button in the top part of this webpage to open our PDF tool.
Step 2: When you open the file editor, you'll notice the form all set to be filled out. Apart from filling out various blanks, you may also perform other sorts of things with the PDF, specifically writing any words, changing the original textual content, adding illustrations or photos, putting your signature on the document, and more.
This PDF requires specific info to be filled in, hence make sure to take your time to fill in what is requested:
1. The CBT-100 usually requires specific information to be typed in. Make sure the following blank fields are completed: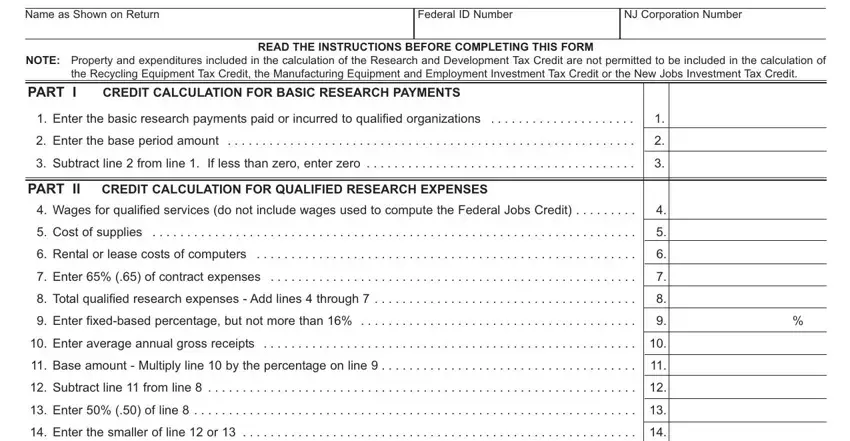 2. Once your current task is complete, take the next step – fill out all of these fields - PART III, TOTAL RESEARCH AND DEVELOPMENT TAX, Enter the total of line and line, Enter of line, Research and Development Tax, Total Research and Development, PART IV CALCULATION OF THE, Enter tax liability from page, Enter the required minimum tax, Subtract line from line, Enter of the tax liability, Enter the lesser of line or line, Tax credits taken on current, a Urban Transit Hub Tax Credit, and b Grow New Jersey Tax Credit with their corresponding information. Make sure to double check that everything has been entered correctly before continuing!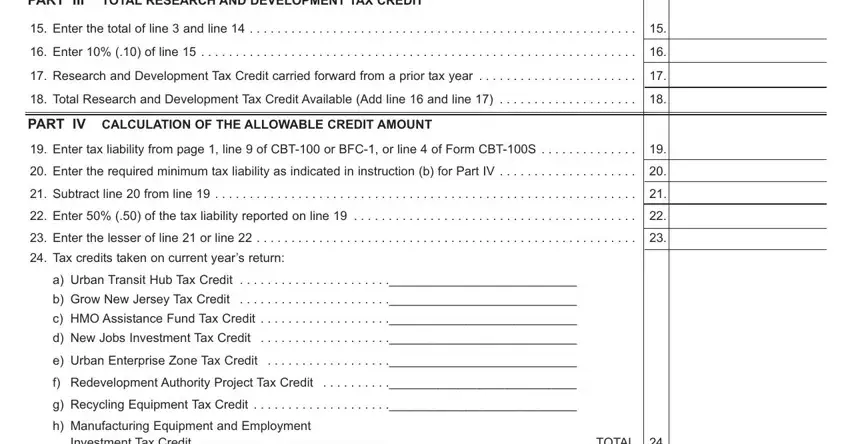 3. Within this part, look at Investment Tax Credit, Subtract line from line If the, Allowable credit for the current, Schedule A of the CBT the CBTS or, and ATTACH COPY OF FEDERAL FORM FILED. All of these need to be filled in with greatest focus on detail.

4. Now start working on this next part! Here you'll have all of these Enter amount from line, Enter amount from line, and Research and Development Tax fields to fill in.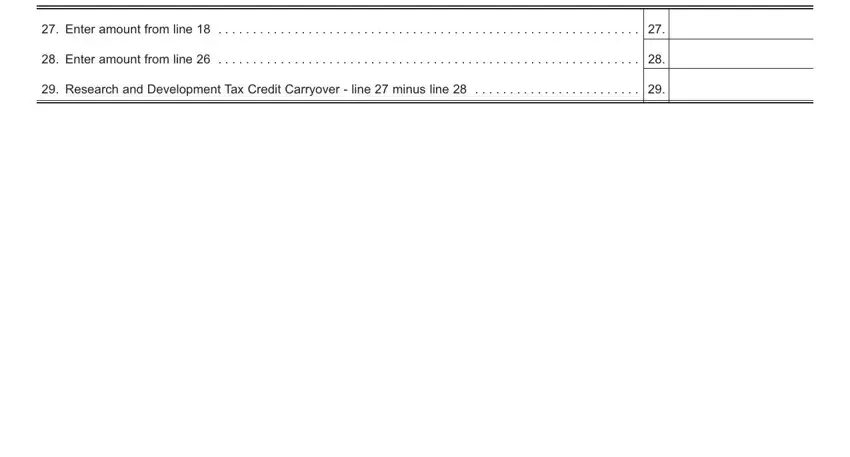 It's very easy to make a mistake when filling out the Enter amount from line, thus be sure to look again before you'll submit it.
Step 3: Proofread all the information you have entered into the form fields and then hit the "Done" button. Find the CBT-100 as soon as you sign up for a free trial. Readily view the document inside your personal cabinet, together with any modifications and changes automatically preserved! When you work with FormsPal, you can certainly fill out forms without having to be concerned about personal data breaches or entries getting distributed. Our protected software helps to ensure that your personal details are stored safe.