Handling PDF files online is actually easy using our PDF tool. You can fill in Michigan here and use various other options we offer. FormsPal development team is constantly working to improve the editor and ensure it is even better for people with its handy features. Discover an endlessly revolutionary experience today - take a look at and find out new opportunities along the way! For anyone who is seeking to start, this is what it will take:
Step 1: Open the PDF form inside our tool by clicking the "Get Form Button" in the top part of this webpage.
Step 2: With our advanced PDF tool, you're able to do more than merely fill in blanks. Express yourself and make your documents seem high-quality with customized text added, or tweak the original input to excellence - all that supported by an ability to incorporate your own pictures and sign the PDF off.
It is actually simple to finish the document with our practical guide! Here is what you need to do:
1. The Michigan will require particular details to be typed in. Be sure that the next fields are completed: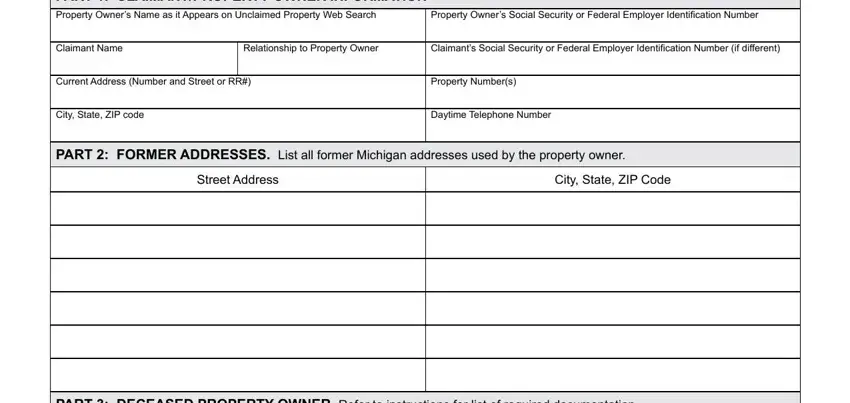 2. After this selection of blank fields is completed, proceed to type in the applicable information in all these: PART DECEASED PROPERTY OWNER, Did the Decedent have a Will, Did the Decedent have a Trust, Did the Decedent have a Probated, PART CLAIMANT CERTIFICATION, Yes, Yes, Yes, b Is the Trust open, b Is Probated Estate open, Yes, Yes, Under penalties of perjury I, SUBSCRIBED AND SWORN TO BEFORE ME, and SIGNATURES OF CLAIMANTS.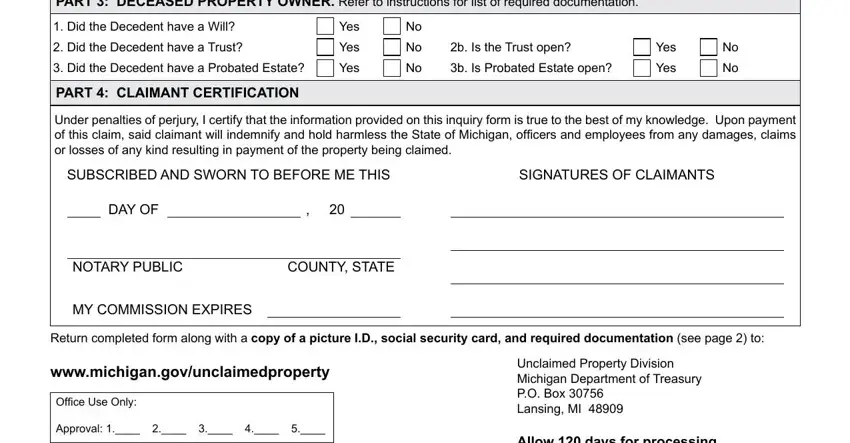 It's very easy to get it wrong when filling out the Did the Decedent have a Will, therefore make sure to take a second look before you decide to send it in.
Step 3: Revise the details you've typed into the blanks and then click on the "Done" button. Right after starting a7-day free trial account here, it will be possible to download Michigan or email it without delay. The PDF file will also be easily accessible through your personal account menu with your every single edit. FormsPal is focused on the personal privacy of our users; we make sure all information entered into our system remains protected.