Making use of the online editor for PDFs by FormsPal, you'll be able to fill in or modify form 4054 here. Our team is continuously endeavoring to improve the editor and ensure it is much faster for people with its multiple functions. Enjoy an ever-evolving experience today! Getting underway is effortless! All you need to do is adhere to the following basic steps below:
Step 1: First, access the pdf tool by clicking the "Get Form Button" above on this site.
Step 2: The tool will allow you to work with PDF files in various ways. Enhance it by including personalized text, correct what is already in the document, and place in a signature - all at your disposal!
When it comes to blanks of this precise PDF, this is what you should know:
1. Complete the form 4054 with a selection of necessary blanks. Gather all the information you need and ensure not a single thing left out!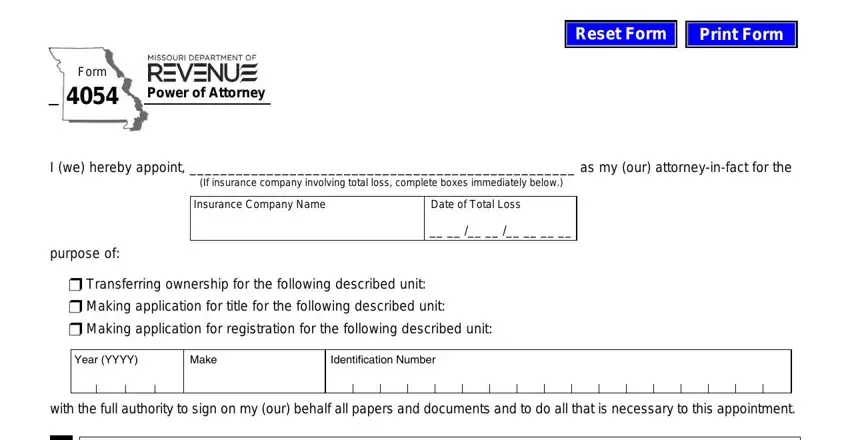 2. Once the last array of fields is done, you're ready insert the needed details in Owners Printed Name, Owners Signature, Date MMDDYYYY, Note License Office notary service, Embosser or black ink rubber stamp, Subscribed and sworn before me this, State, day of, year, County or City of St Louis, My Commission Expires MMDDYYYY, Notary Public Signature, Notary Public Name Typed or Printed, n o i t a m r o f n, and y r a t o N so that you can proceed further.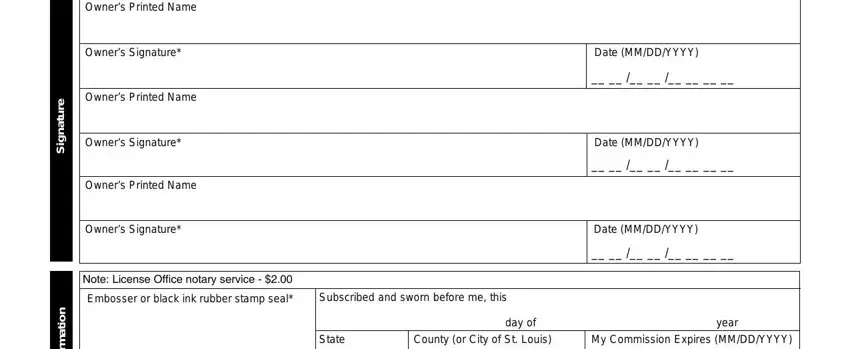 Always be very careful when completing Owners Signature and Subscribed and sworn before me this, as this is where a lot of people make errors.
Step 3: Once you've reviewed the details in the document, press "Done" to conclude your document creation. Make a 7-day free trial option at FormsPal and obtain instant access to form 4054 - downloadable, emailable, and editable from your personal cabinet. We do not share or sell the details that you type in when completing forms at FormsPal.