Form Ab 123 can be filled in without any problem. Just try FormsPal PDF editing tool to complete the task without delay. The tool is consistently maintained by us, receiving cool features and turning out to be greater. Here is what you will need to do to start:
Step 1: Simply press the "Get Form Button" at the top of this webpage to start up our form editing tool. Here you will find everything that is necessary to work with your document.
Step 2: This tool will allow you to change most PDF forms in various ways. Change it with customized text, adjust existing content, and put in a signature - all manageable in no time!
It is easy to finish the document with our practical tutorial! This is what you have to do:
1. The Form Ab 123 requires certain information to be inserted. Make sure the next blank fields are complete: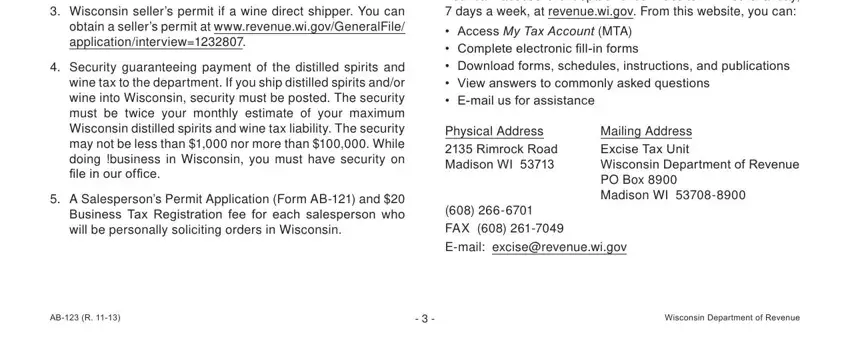 2. After the previous section is complete, you need to put in the needed particulars in return For outofstate shippers of, A Name Change Send us, New application Form AB showing, change, This report and any tax owing is, A rider from your surety bonding, your new business name, BRAND AND TYPE LISTINGS, CONSOLIDATED REPORTS If you hold, PAYING THE TAX, The tax rates are as follows, DISTILLED SPIRITS per liter plus, liter administrative fee, WINE or less alcohol by volume, and APPLE CIDER or less per liter so that you can progress to the 3rd step.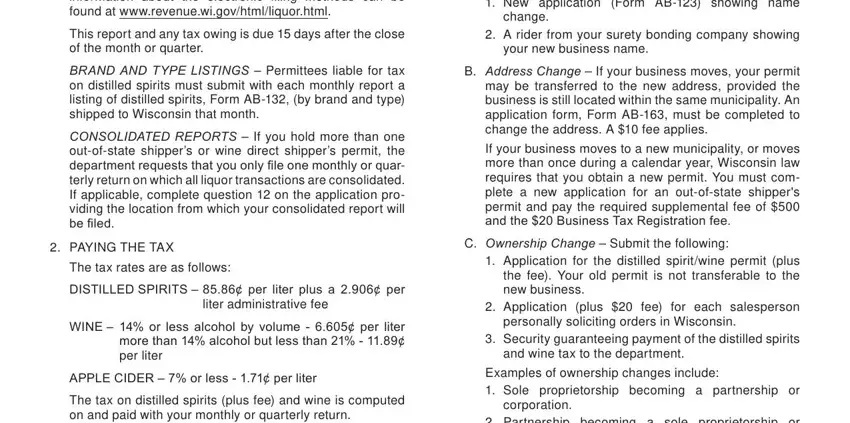 People generally make errors while completing return For outofstate shippers of in this section. Ensure that you double-check whatever you type in here.
Step 3: Make sure that your details are correct and press "Done" to continue further. Join FormsPal right now and instantly access Form Ab 123, prepared for downloading. All adjustments made by you are saved , which means you can edit the pdf at a later point anytime. We do not share or sell any details you enter whenever dealing with documents at our site.