If you would like to fill out nj certificate of dissolution and termination, you don't have to install any software - simply use our online PDF editor. FormsPal development team is constantly endeavoring to enhance the editor and enable it to be much easier for clients with its handy functions. Enjoy an ever-improving experience now! If you're seeking to get going, here is what it's going to take:
Step 1: Firstly, open the tool by pressing the "Get Form Button" at the top of this site.
Step 2: With this online PDF file editor, it is easy to accomplish more than just fill out blank form fields. Try each of the features and make your docs appear faultless with custom textual content added, or tweak the original content to perfection - all that backed up by the capability to insert your personal pictures and sign the PDF off.
Pay close attention while completing this document. Ensure every single blank field is filled in properly.
1. It is crucial to fill out the nj certificate of dissolution and termination accurately, therefore be attentive while filling out the sections that contain all of these blank fields: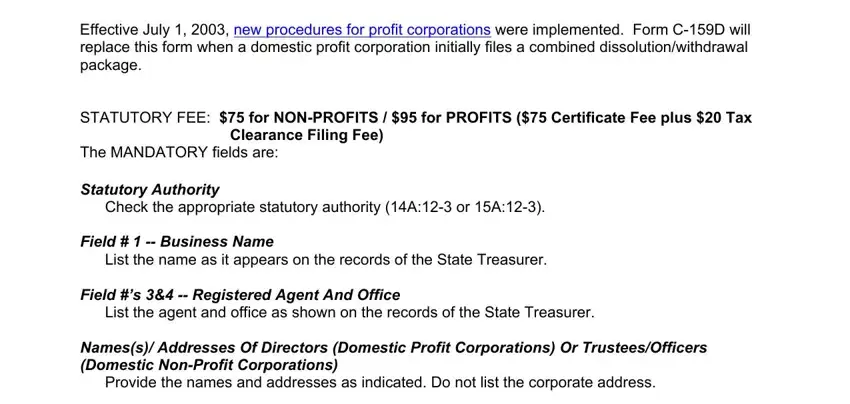 2. Once your current task is complete, take the next step – fill out all of these fields - For nonprofits with assets attach, TAX CLEARANCE ForProfit, Obtain and attach to your filing, EXECUTION DATESIGNATURE, Have all shareholders or members, and These documents should be filed in with their corresponding information. Make sure to double check that everything has been entered correctly before continuing!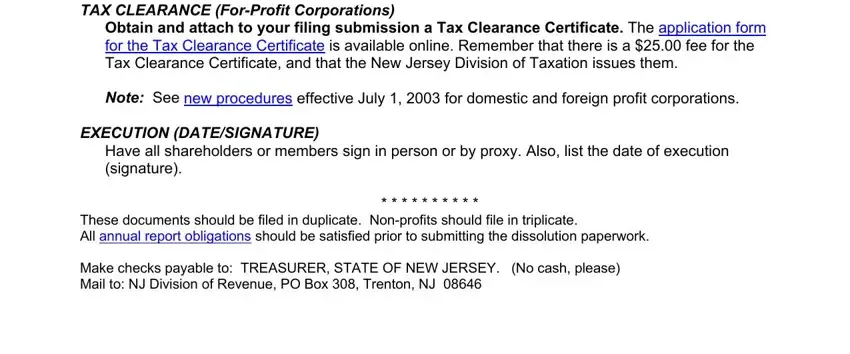 Always be really mindful when completing Have all shareholders or members and These documents should be filed in, since this is where a lot of people make mistakes.
Step 3: Be certain that your details are correct and just click "Done" to progress further. Make a free trial subscription at FormsPal and get instant access to nj certificate of dissolution and termination - downloadable, emailable, and editable inside your FormsPal account page. We don't share or sell the details you type in whenever completing documents at our website.