how to expungement order can be completed online in no time. Simply make use of FormsPal PDF tool to accomplish the job in a timely fashion. FormsPal team is aimed at providing you the ideal experience with our tool by consistently adding new features and upgrades. Our tool is now even more helpful thanks to the most recent updates! Currently, editing PDF documents is easier and faster than ever before. By taking a few easy steps, you may start your PDF editing:
Step 1: First of all, open the tool by clicking the "Get Form Button" in the top section of this site.
Step 2: Using our online PDF file editor, it is possible to do more than just fill out blanks. Edit away and make your forms look perfect with customized text added in, or adjust the file's original content to excellence - all that backed up by the capability to incorporate any type of photos and sign the PDF off.
This PDF form will require specific information to be entered, so you must take the time to provide exactly what is required:
1. When filling in the how to expungement order, ensure to incorporate all necessary blanks in the associated form section. It will help to hasten the work, allowing for your information to be processed efficiently and correctly.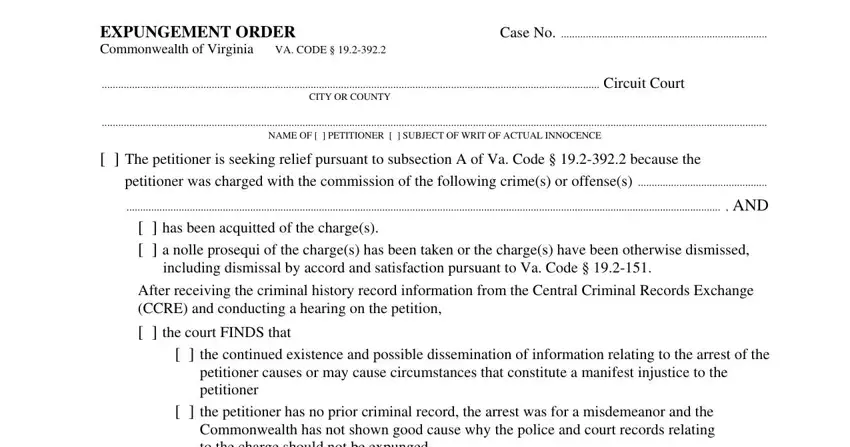 2. Now that the last array of fields is complete, you'll want to add the necessary details in the petitioner has no prior, The petitioner is seeking relief, petitioner has been granted an, The court has received the, vacating a conviction, The court ORDERS that, The police and court records, expunged pursuant to subsection, LIST CHARGES INCLUDING CIRCUIT, The clerk of this court shall, EXPUNGEMENT or writ of actual, The court FINDS that the, following charges and therefore, LIST CHARGES, and DATE allowing you to move forward to the next step.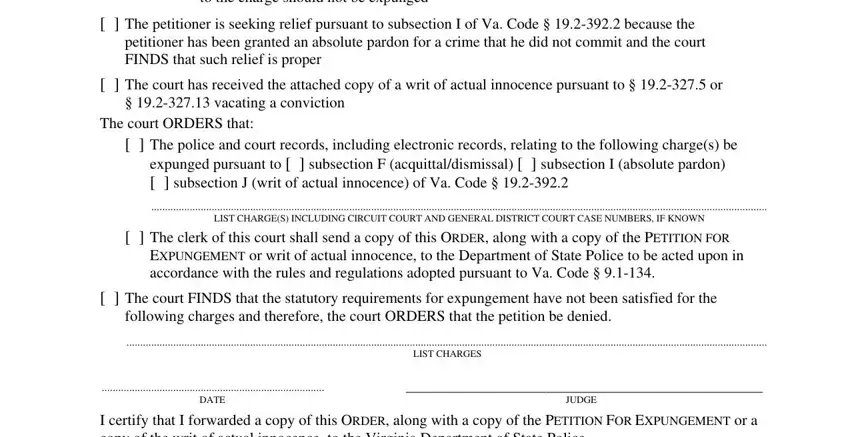 3. This next segment should also be fairly simple, I certify that I forwarded a copy, DATE, FORM CC MASTER, and CLERK - each one of these fields needs to be filled out here.

Regarding DATE and FORM CC MASTER, be sure you review things here. These two are certainly the most significant fields in the document.
Step 3: Check all the information you've typed into the blanks and press the "Done" button. Obtain the how to expungement order after you subscribe to a free trial. Quickly access the pdf file in your personal cabinet, along with any modifications and changes automatically preserved! FormsPal guarantees protected form editor devoid of personal data recording or distributing. Rest assured that your details are in good hands with us!