It is possible to fill out form h1200 ez without difficulty with the help of our PDF editor online. To maintain our editor on the forefront of convenience, we strive to put into action user-driven features and enhancements regularly. We're routinely grateful for any feedback - play a pivotal role in revolutionizing how you work with PDF docs. This is what you'd need to do to start:
Step 1: Simply hit the "Get Form Button" above on this site to see our pdf file editor. Here you'll find everything that is required to fill out your document.
Step 2: As you launch the editor, you'll notice the document prepared to be completed. Aside from filling out different blank fields, you may also perform some other actions with the file, that is writing custom textual content, editing the original text, adding illustrations or photos, placing your signature to the form, and more.
It will be an easy task to complete the document following this practical tutorial! This is what you should do:
1. Before anything else, when filling out the form h1200 ez, begin with the area containing next blank fields: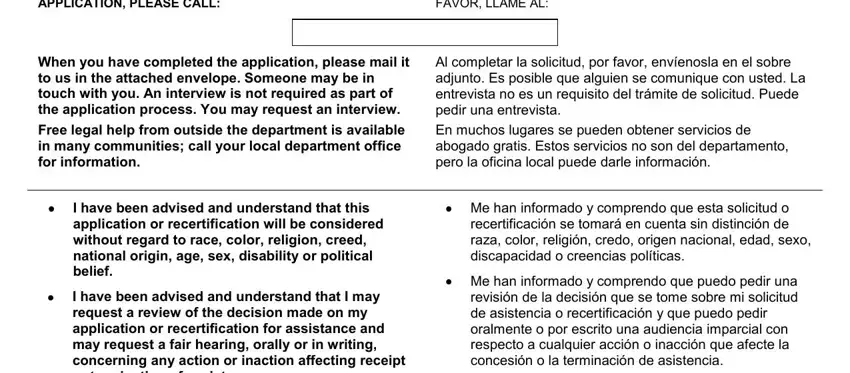 2. The subsequent part is to submit these fields: If form is being distributed by an, For HHSC use only, Solo para uso de la HHSC, Application, Recertification, Date Form Requested Date Form, Date Form Mailed Appointment Date, BJN ApplicantClient No, APPLICATION FOR ASSISTANCEAGED AND, SOLICITUD DE ASISTENCIA ADULTOS, Social Security No Núm de Seguro, Medicare Claim No Núm de, Applicants Name last first middle, Sex Sexo, and YesSí.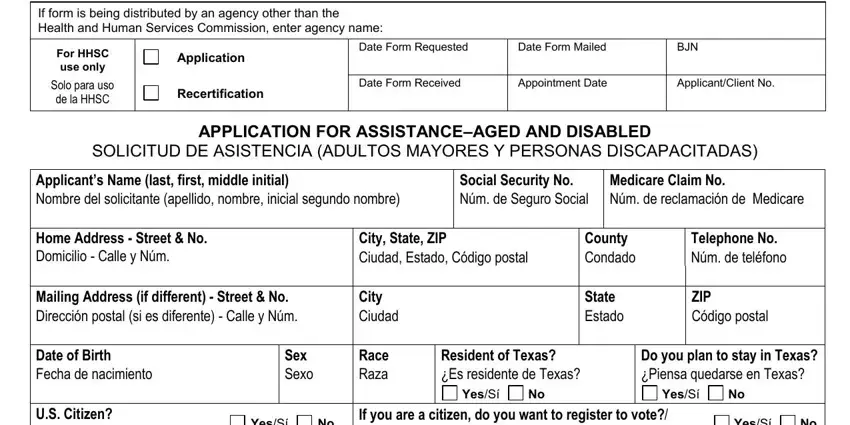 3. Completing Applicants Name last first middle, Sex Sexo, Social Security No Núm de Seguro, Medicare Claim No Núm de, City State ZIP Ciudad Estado, YesSí, US Citizen Es ciudadano de EEUU, County Condado, Telephone No Núm de teléfono, Resident of Texas Es residente de, YesSí, Where do you liveDónde vive, Own home, Vivo en casa propia, and Rent House Apartment Alquilo casa is essential for the next step, make sure to fill them out in their entirety. Don't miss any details!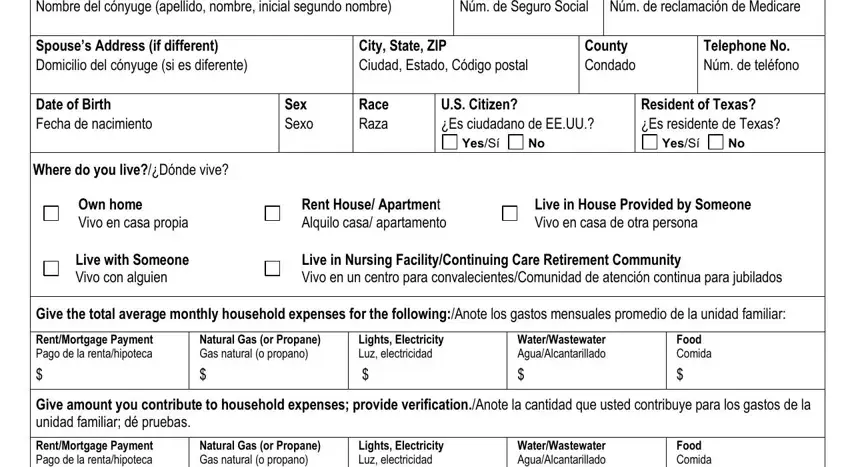 4. The next paragraph needs your involvement in the following parts: RentMortgage Payment Pago de la, Natural Gas or Propane Gas natural, Lights Electricity Luz, WaterWastewater AguaAlcantarillado, and Food Comida. Make sure you give all of the required info to go onward.

When it comes to RentMortgage Payment Pago de la and Food Comida, ensure you get them right in this section. Both these are the key fields in this form.
5. Finally, the following last segment is what you'll have to wrap up prior to closing the form. The fields in question include the following: Do you pay rent Paga renta, YesSí, Do you pay for your own food Paga, YesSí, Do you have Medicare Part A Tiene, YesSí, Does your spouse have Medicare, YesSí, Do you have Medicare Part B Tiene, YesSí, Does your spouse have Medicare, YesSí, List ALL resources owned by You or, Type Tipo, and Amount Cantidad.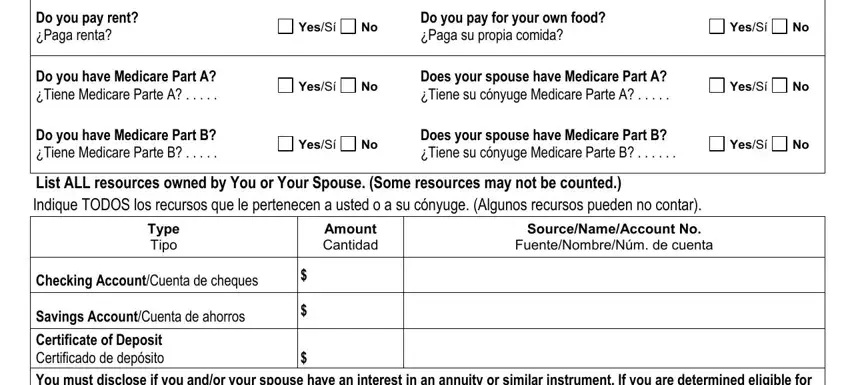 Step 3: Prior to finalizing this file, double-check that all blank fields were filled in the right way. When you establish that it is good, press "Done." Obtain the form h1200 ez the instant you subscribe to a 7-day free trial. Conveniently access the pdf form in your FormsPal account, along with any modifications and changes all kept! FormsPal ensures your data confidentiality with a protected method that never saves or distributes any type of private information involved in the process. You can relax knowing your docs are kept confidential each time you work with our services!