Any time you wish to fill out Form I 17, you won't need to download any sort of programs - just make use of our PDF editor. Our editor is consistently evolving to provide the best user experience attainable, and that's thanks to our commitment to continuous improvement and listening closely to user feedback. Here is what you'd have to do to get started:
Step 1: Hit the orange "Get Form" button above. It is going to open up our pdf editor so that you could start filling out your form.
Step 2: As you access the online editor, you will see the form prepared to be filled in. Aside from filling out various blank fields, you could also do several other actions with the PDF, namely putting on custom words, editing the original text, adding images, signing the form, and more.
In order to finalize this PDF form, ensure you provide the information you need in every single field:
1. It is advisable to fill out the Form I 17 correctly, hence be attentive while working with the sections that contain all these blank fields: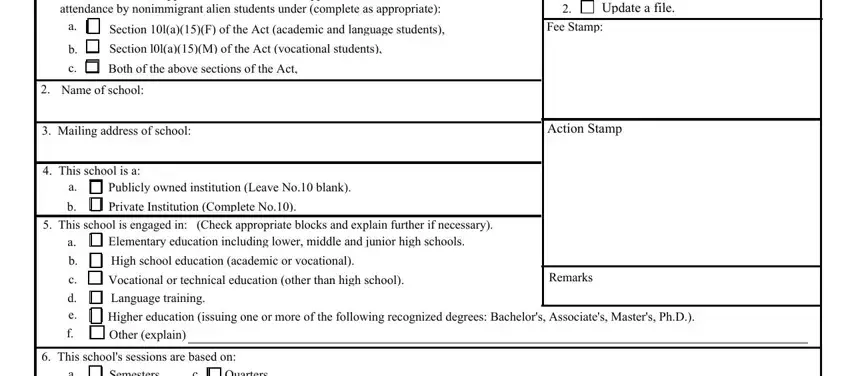 2. Soon after performing the previous part, head on to the next stage and fill out all required details in all these blanks - Semesters, Trimesters, Quarters Other explain, Provide the date and month, If there is no beginning, Date school was established ie, Location of school if different, Name address and telephone number, Petition is for, Initial approval, Continuation of approval Please, i Date of original approval, The school operates under the, The school has been approved by, and ii INS school code.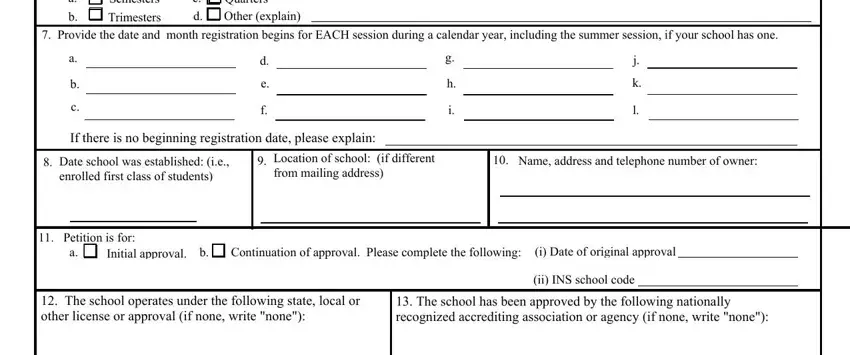 In terms of Initial approval and Date school was established ie, ensure that you don't make any mistakes in this current part. These are considered the most significant fields in this file.
3. The following step is all about Received, RetdTrans Out, Trans In, Completed, Continued on next page, and Form I Rev Y Page - complete every one of these fields.

4. This next section requires some additional information. Ensure you complete all the necessary fields - Nature of subject matter taught, Liberal Arts ie those fields of, Fine Arts ie those that exist, Professional Studies eg, Religious, Language, Vocational or Technical Training, Other Explain, List the degrees available from, Check as appropriate and explain, If the school is engaged in, does, does not, qualify its graduates for, and schools of higher educational level - to proceed further in your process!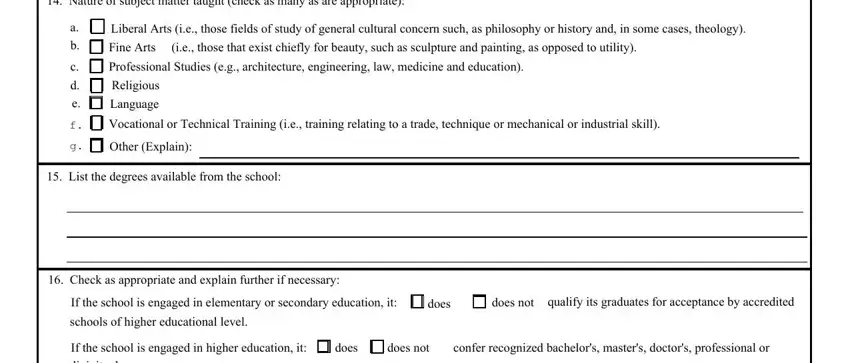 5. To conclude your form, the particular subsection features a few additional fields. Completing divinity degrees, Its degrees, are, are not, transferable to institutions of, If the school is engaged in, does, does not qualify its graduates for, Sessions are held as follows a, Day only, Night only c, Day and night, Requirements for admission, Courses of study and time, and Requirements for graduation is going to wrap up the process and you're going to be done very fast!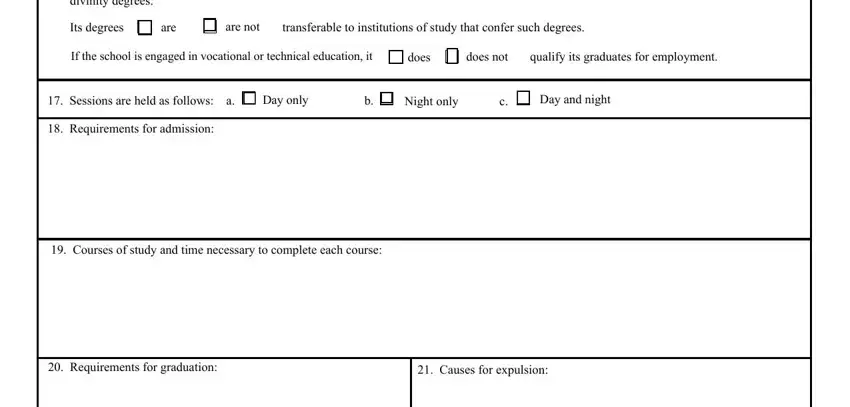 Step 3: Reread everything you have typed into the form fields and then click the "Done" button. After registering a7-day free trial account with us, you will be able to download Form I 17 or email it immediately. The PDF document will also be at your disposal through your personal account menu with your edits. FormsPal ensures your data privacy with a secure system that in no way saves or shares any sort of sensitive information used in the file. Be assured knowing your documents are kept safe any time you use our editor!