When using the online PDF tool by FormsPal, you may complete or edit lab result template right here. We at FormsPal are devoted to providing you with the absolute best experience with our editor by consistently adding new capabilities and improvements. Our tool has become a lot more useful as the result of the latest updates! So now, editing PDF documents is easier and faster than ever. If you're seeking to start, here is what it requires:
Step 1: Just click the "Get Form Button" in the top section of this page to access our pdf form editing tool. Here you'll find all that is necessary to work with your document.
Step 2: With the help of this advanced PDF file editor, you can actually accomplish more than simply fill in blanks. Try all of the functions and make your docs appear professional with custom textual content added, or adjust the file's original input to excellence - all that backed up by the capability to insert your own graphics and sign it off.
This document will involve specific details; in order to guarantee correctness, don't hesitate to take note of the tips down below:
1. Before anything else, while filling out the lab result template, beging with the area containing following fields: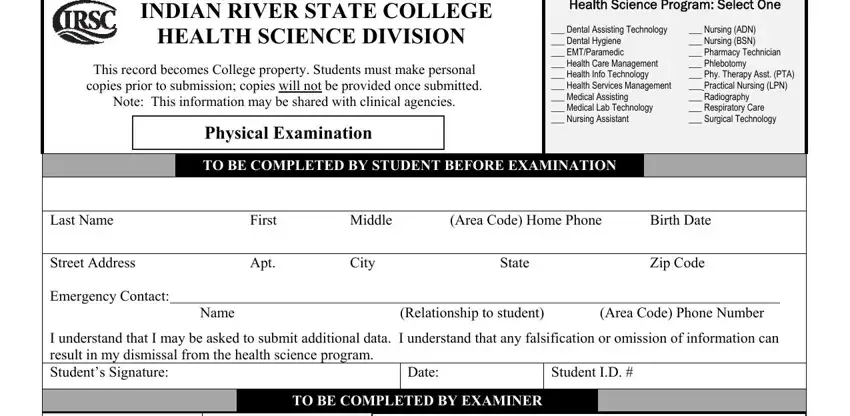 2. When the previous part is completed, proceed to type in the applicable details in these - Systems Reviewed, Normal Findings, Yes Yes Yes Yes Yes Yes Yes, No No No No No No No No, Blood Pressure Temp Height Weight, PRINT, Do you consider this person to be, capable of performing the, Yes No, Examining PhysicianNurse, PractitionerFacility Name and, and Phone.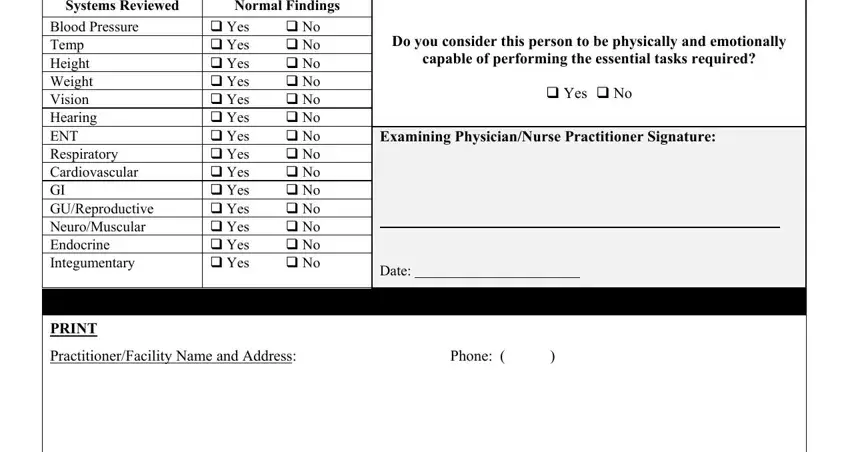 Many people generally get some things wrong while filling in No No No No No No No No in this part. Remember to revise whatever you enter right here.
3. This 3rd segment is quite simple, LABORATORY TESTS AND IMMUNIZATIONS, Student Name, PLEASE INITIAL EACH SECTION AND, Program, To be completed by Health Care, Tuberculin Skin Test, Date Administered, Quantiferon Gold Test, Date Drawn, Chest XRay, Date, Date Read, Date Read, Positive Negative, and Positive Negative - all of these fields is required to be filled in here.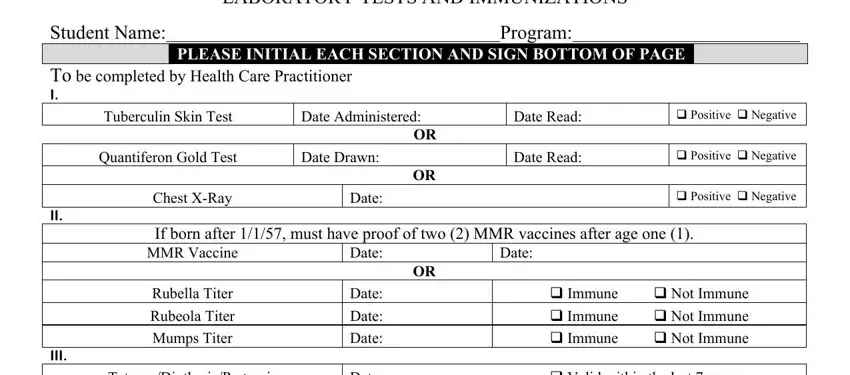 4. To move forward, the next part requires completing a couple of blanks. These comprise of TetanusDiptheriaPertussis OR, Tetanus Titer, Diptheria Titer, Pertussis Titer, Date, Date, Date, Date, Valid within the last years, Not Immune Not Immune Not Immune, Hepatitis B Vaccine Date, Date, Date, Surface Antibody Test Positive, and Hepatitis B Titer, which you'll find vital to carrying on with this particular process.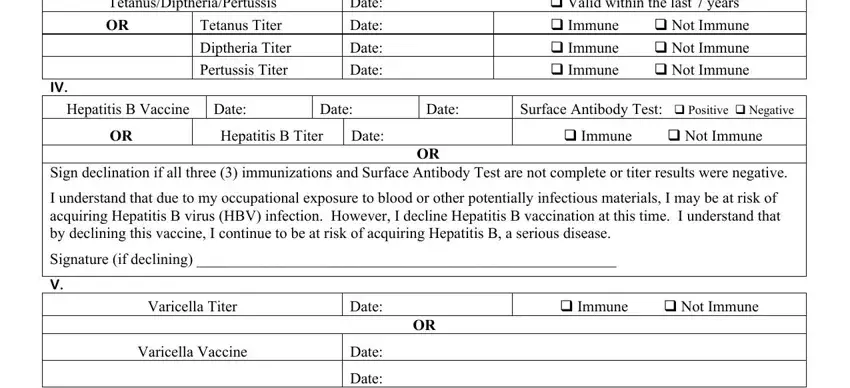 5. As a final point, the following final part is precisely what you have to complete prior to submitting the form. The blanks here are the following: I certify that the above tests, IRSC is an EAEO educational, and IRSC A Revised.

Step 3: Prior to finalizing your form, make sure that all blanks have been filled out as intended. The moment you determine that it's correct, click on "Done." Sign up with FormsPal right now and immediately gain access to lab result template, available for downloading. Every last modification made is conveniently preserved , helping you to customize the file further if needed. FormsPal ensures your information confidentiality with a protected system that never saves or shares any private data used in the file. You can relax knowing your docs are kept confidential whenever you work with our tools!