By using the online PDF tool by FormsPal, you can easily complete or alter Form St 121 2 here. The editor is consistently maintained by us, receiving new functions and becoming greater. With a few easy steps, you are able to begin your PDF journey:
Step 1: Hit the "Get Form" button above. It'll open our editor so you can start completing your form.
Step 2: With the help of our advanced PDF tool, you can actually do more than merely fill in forms. Try each of the features and make your documents appear great with custom text incorporated, or adjust the file's original content to excellence - all that comes along with the capability to add stunning images and sign the file off.
For you to fill out this document, be sure to provide the necessary details in each and every blank field:
1. First, when completing the Form St 121 2, start with the form section that features the next blank fields: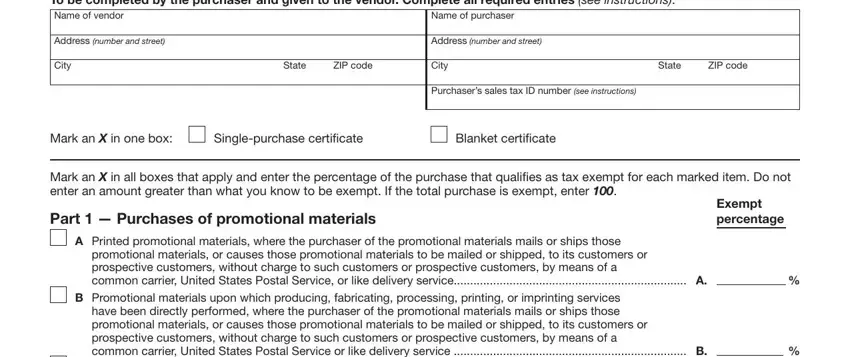 2. Once this selection of fields is done, proceed to enter the applicable details in all these: B Promotional materials upon which, common carrier United States, C Promotional materials mailed, behalf of the purchaser to its, Part Purchases of services to, D Producing fabricating processing, exempt under Part A or B D, E Information services or the, Part Purchases of the service of, F Storage provided by the same, the purchaser of the storage, G Storage provided by the same, exempt promotional materials G, Part Purchases of mechanicals, and H Mechanicals layouts artwork.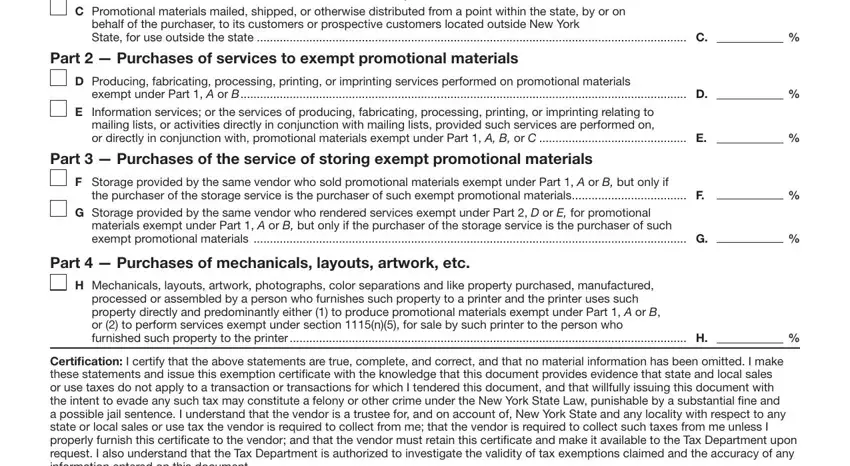 A lot of people generally make some mistakes while filling out the purchaser of the storage in this part. Be certain to double-check what you enter here.
3. The following part focuses on Certification I certify that the, Signature of purchaser or, Print name and title, Date, Misuse of this exemption, and sanctions in addition to the - fill out each of these blank fields.

Step 3: Go through what you have inserted in the form fields and then click on the "Done" button. Get your Form St 121 2 when you join for a 7-day free trial. Easily use the document in your FormsPal account, with any modifications and changes all saved! When using FormsPal, you can certainly complete documents without needing to be concerned about information breaches or entries getting shared. Our protected software helps to ensure that your private information is maintained safely.