You'll find nothing difficult concerning completing the georgia board of nursing license reinstatement when you use our PDF tool. By simply following these easy steps, you can obtain the ready file within the shortest time period feasible.
Step 1: On this web page, click the orange "Get form now" button.
Step 2: The form editing page is presently open. Include text or enhance current details.
If you want to create the georgia board of nursing license reinstatement PDF, provide the content for each of the sections: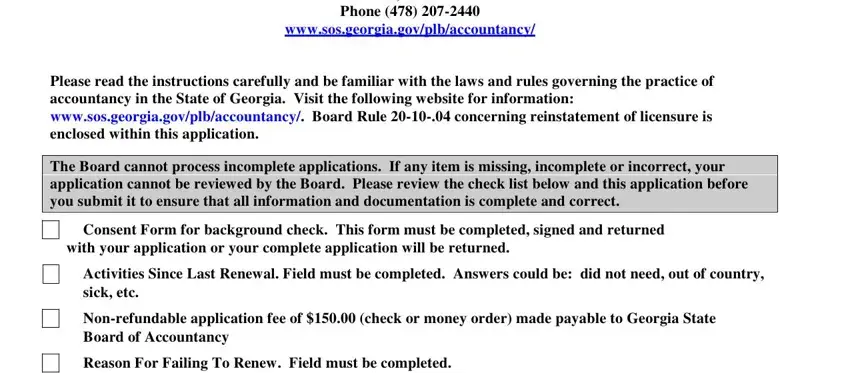 Type in the necessary information in the area ForBoardUseOnly, DateofReview, Approved, Disapproved, ForBoardUseOnly, FeePaidCheck, DateApplicant, Receipt, GEORGIASTATEBOARDOFACCOUNTANCY, ColiseumDriveMaconGeorgia, wwwsosstategausplbaccountancy, ReinstatementFeeNonRefundable, LicenseNoDateLicenseLapsed, PLEASEPRINTORTYPE, and NameonLicense.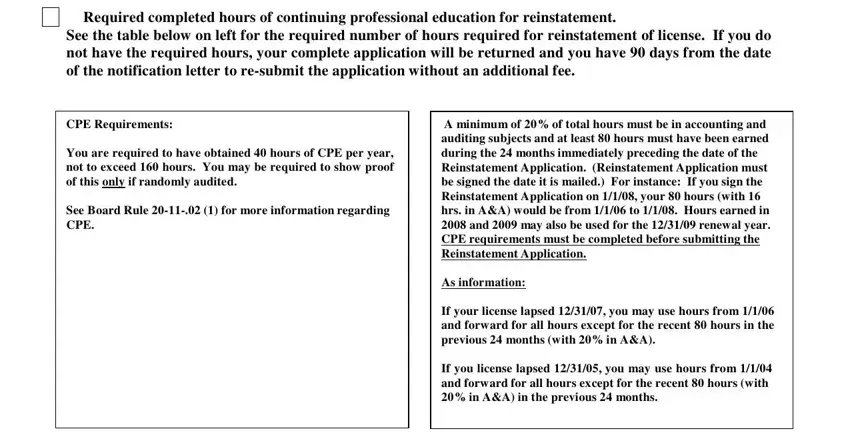 Put together the key information in the PhysicalAddress, MailingAddress, ifdifferentthanStreetaddress, TelephoneNumberDay, PresentEmployer, BusinessAddress, Internetemailaddress, StreetPOBox, AptNo, CityStateZip, TelephoneNumberEvening, NumberandStreet, City, StateZip, and ACTIVITIESSINCELASTRENEWAL field.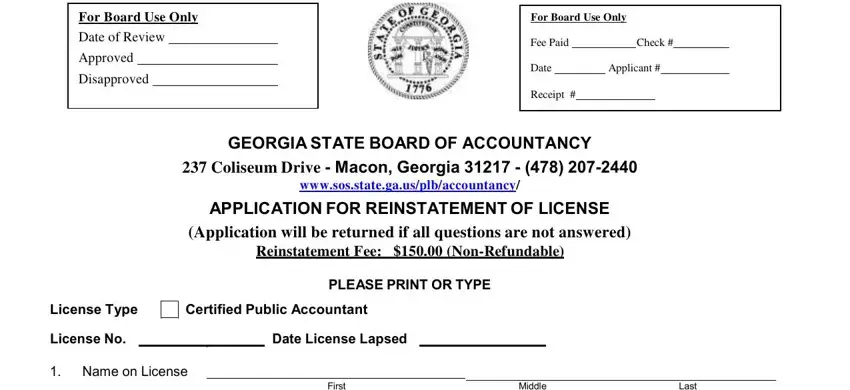 The field will be used to put down the rights or obligations of both parties.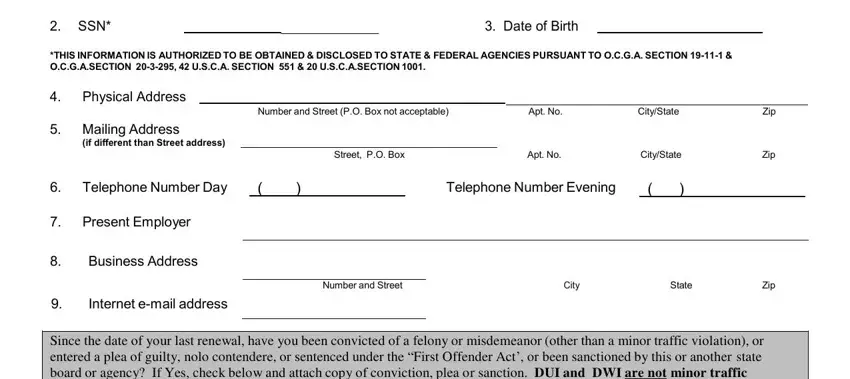 End by checking the next sections and preparing them accordingly: REASONFORFAILINGTORENEW.

Step 3: As soon as you press the Done button, your prepared document can be simply transferred to any of your gadgets or to email provided by you.
Step 4: Make a copy of each separate file. It will certainly save you some time and enable you to stay away from misunderstandings later on. Keep in mind, the information you have isn't going to be shared or viewed by us.