You can fill out transcripts s hesser online instantly with our PDFinity® PDF editor. To have our editor on the cutting edge of convenience, we work to implement user-oriented features and improvements regularly. We are routinely pleased to get feedback - assist us with reshaping PDF editing. If you are looking to begin, this is what it's going to take:
Step 1: Simply click on the "Get Form Button" in the top section of this webpage to open our pdf form editing tool. Here you'll find everything that is necessary to fill out your file.
Step 2: After you access the editor, you'll notice the form ready to be completed. Aside from filling in different blank fields, you could also do several other actions with the PDF, including writing any textual content, modifying the initial text, inserting illustrations or photos, putting your signature on the document, and more.
When it comes to blanks of this precise form, here's what you should do:
1. When filling in the transcripts s hesser online, make sure to include all necessary blank fields in the corresponding form section. It will help expedite the process, enabling your information to be handled swiftly and accurately.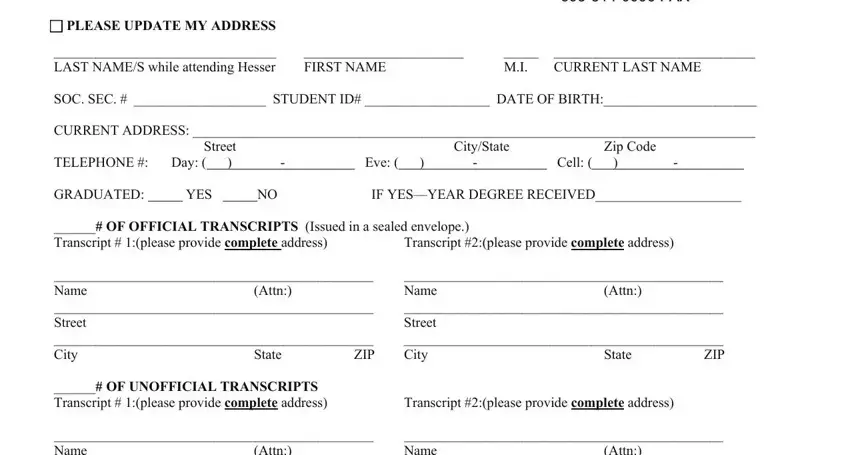 2. When the prior part is filled out, proceed to type in the relevant information in all these - LAST NAMES while attending Hesser, Name Street City ZIP, State, State, CreditDebit Card circle VISA MC or, Acct Exp, Payment Options, Hold Transcript For Current, released, denied, initials, and date.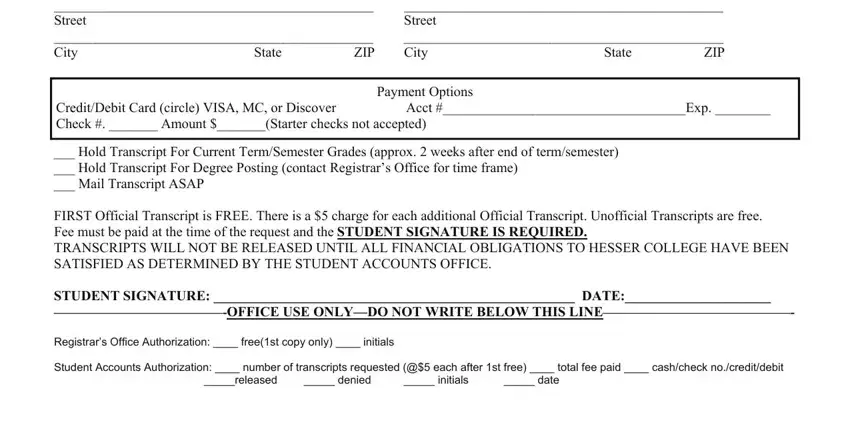 People who work with this document frequently make some errors when completing Hold Transcript For Current in this section. Remember to double-check whatever you type in right here.
Step 3: Go through the information you've typed into the form fields and then press the "Done" button. After setting up afree trial account at FormsPal, you'll be able to download transcripts s hesser online or email it right away. The PDF document will also be readily accessible in your personal account menu with your each and every change. We do not sell or share any details you provide while filling out forms at FormsPal.