Handling PDF files online is certainly super easy using our PDF tool. You can fill in on request transfer application here and use a number of other options we provide. In order to make our editor better and easier to use, we consistently design new features, with our users' feedback in mind. Getting underway is easy! All you have to do is stick to these basic steps below:
Step 1: Just click on the "Get Form Button" in the top section of this site to get into our pdf file editing tool. Here you'll find everything that is needed to work with your document.
Step 2: The editor offers you the capability to customize PDF documents in a variety of ways. Improve it with any text, adjust original content, and add a signature - all possible within a few minutes!
So as to finalize this form, make certain you provide the required details in every field:
1. The on request transfer application will require certain details to be typed in. Ensure that the subsequent fields are complete: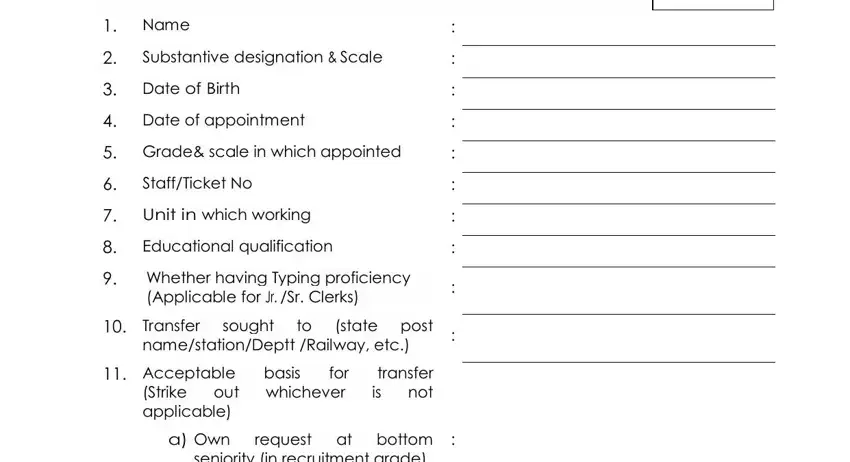 2. Right after this selection of blanks is done, proceed to type in the relevant information in these - request at bottom seniority in, b Mutual Transfer against call for, volunteers, a If transfer under a state, your special condition if any ie, b If, transfer under b attach one copy, Special remarks if any, Residential address, Date, and Signature.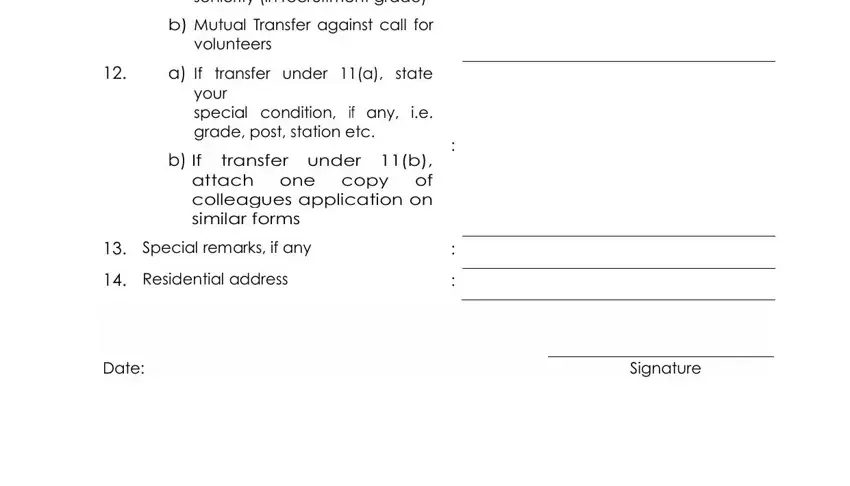 3. The next section is usually pretty straightforward, FOR OFFICE USE ONLY, Forwarding File No Date forwarded, Remarks of immediate supervisors, Signature Name Designation, Proceedings pending if any, this, that, the service particulars, furnished by the employee, Certified application have been, and Signature Name Designation - each one of these form fields must be filled out here.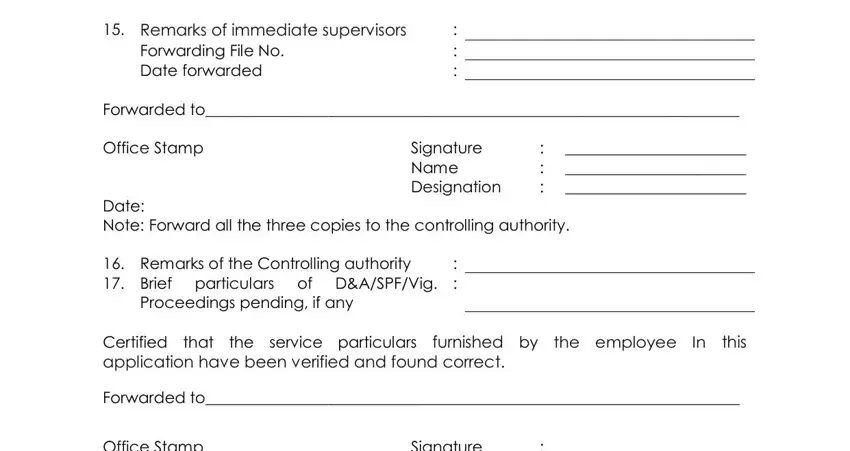 Those who use this PDF generally make some mistakes while filling out Remarks of immediate supervisors in this area. Be sure to re-examine what you enter right here.
4. Your next subsection will require your involvement in the following areas: Certified application have been, Signature Name Designation, Date put up HODs approval, CPOs file No Accepting, Date, communicated forwarding office, Put up to GM P for approval of, InterRailway basis, and transfer on Railway. Be sure you give all of the required information to go onward.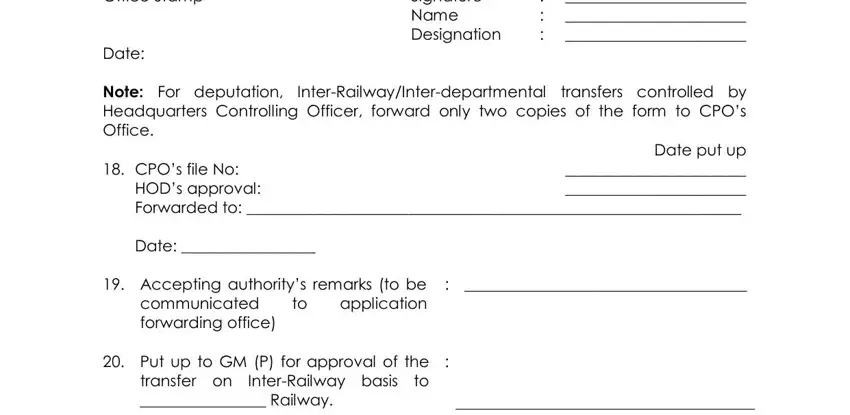 5. And finally, this last portion is precisely what you'll have to complete before using the form. The blanks at issue are the following: General Manager P, and Cadre Office.

Step 3: Right after you have looked once again at the details in the blanks, just click "Done" to finalize your form. Make a 7-day free trial plan at FormsPal and get immediate access to on request transfer application - download or edit from your personal account. FormsPal guarantees secure form editor devoid of personal information record-keeping or sharing. Rest assured that your details are safe here!