Using PDF forms online can be surprisingly easy using our PDF tool. Anyone can fill out Mclean Hospital Form 1668 here painlessly. Our editor is continually evolving to grant the very best user experience achievable, and that is thanks to our dedication to continuous enhancement and listening closely to user opinions. Getting underway is effortless! What you need to do is take the following easy steps down below:
Step 1: Click on the "Get Form" button in the top area of this page to get into our editor.
Step 2: Once you launch the tool, there'll be the form prepared to be filled out. Other than filling in various blank fields, you might also perform various other actions with the file, particularly writing custom textual content, modifying the original textual content, adding images, placing your signature to the PDF, and much more.
Filling out this PDF typically requires attentiveness. Make certain each blank field is filled in correctly.
1. While filling out the Mclean Hospital Form 1668, make certain to include all necessary blanks within the associated area. It will help speed up the process, allowing for your information to be processed efficiently and accurately.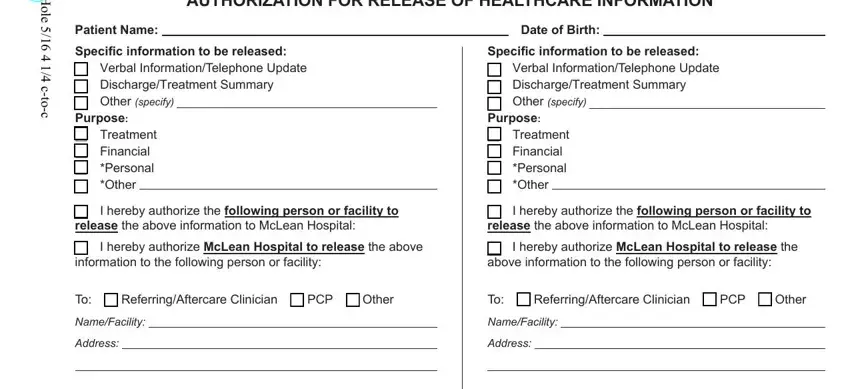 2. After completing the previous part, head on to the next part and fill out the necessary particulars in all these blank fields - Information should be sent to, Attention Name of McLean staff, Mental Health Information I, I understand that, cid I may withdraw my, cid I may refuse to sign this, for benefi ts will not be affected, cid Information released on this, YES Please check yes for the, Alcohol and Drug Abuse Treatment, treatment that is protected by, HIV Information To the extent, is protected by MGL Ch f, Details of Domestic Violence, and Details of Sexual Assault.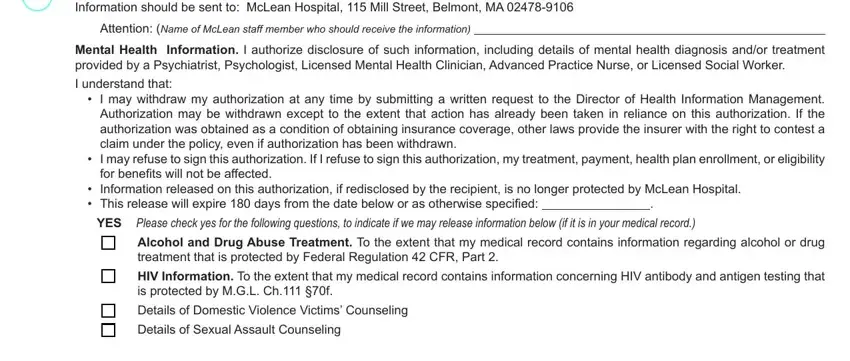 3. Completing Patient or Patient Representative, Signature of Patient if or older, Printed Name of Patient or, Date, Form revised, and White Send to Medical Records is essential for the next step, make sure to fill them out in their entirety. Don't miss any details!

Always be extremely careful while completing Patient or Patient Representative and Form revised, as this is where a lot of people make mistakes.
Step 3: Just after looking through the fields, press "Done" and you are done and dusted! Join us today and easily access Mclean Hospital Form 1668, set for downloading. All alterations you make are preserved , allowing you to modify the document later anytime. FormsPal guarantees risk-free form editing with no personal information record-keeping or any type of sharing. Be assured that your information is safe with us!