Any time you want to fill out medicaid application new york, there's no need to download any kind of software - just make use of our online PDF editor. Our editor is consistently developing to give the best user experience achievable, and that is due to our commitment to continuous development and listening closely to customer feedback. In case you are looking to get going, here is what it takes:
Step 1: Simply hit the "Get Form Button" at the top of this webpage to launch our pdf editing tool. Here you will find everything that is required to fill out your file.
Step 2: Once you access the online editor, you will see the form all set to be filled out. In addition to filling out various blanks, you may also perform several other things with the form, specifically putting on custom text, changing the initial textual content, adding graphics, placing your signature to the PDF, and much more.
It will be straightforward to complete the form using this practical guide! Here's what you want to do:
1. Whenever filling out the medicaid application new york, make certain to complete all essential blanks in its relevant form section. It will help to expedite the work, allowing your details to be processed promptly and correctly.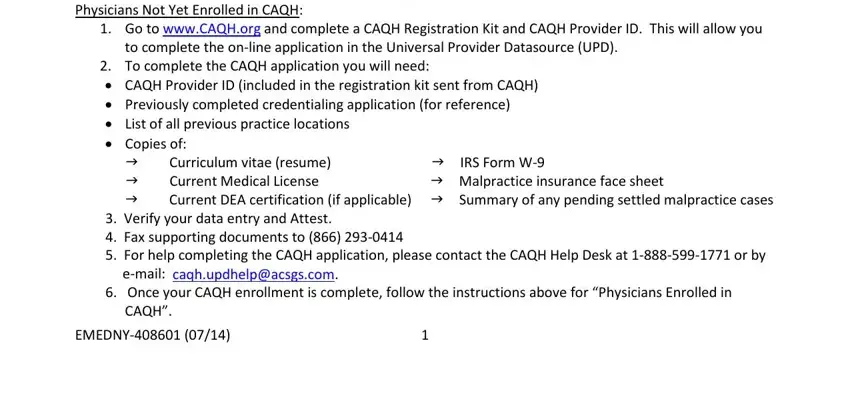 2. Once your current task is complete, take the next step – fill out all of these fields - not currently enrolled, Revalidation enrolled required to, If Applicant was previously, Applicant Name exactly as it, Date of Birth MMDDYYYY, SSN, NPI Individual, NPI Groupif affiliated with a Group, Are you enrolled in Medicare Yes, Specialty, License, CAQH Provider ID REQUIRED, State of Licensure if not New York, Limited License Yes No, and CONTACT ADDRESS for questions with their corresponding information. Make sure to double check that everything has been entered correctly before continuing!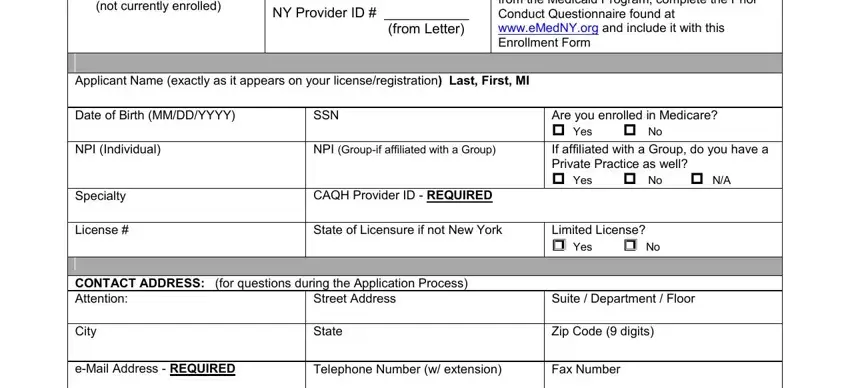 3. Throughout this step, have a look at If additional space is needed copy, Completion is required by CFR, NPI, Home Address Street, City State, Zip Code digits, SSN, Date of Birth MMDDYYYY, Ownership in Applicant if required, Name of Individual or Entity, of Ownership, NPI, Address Home Address if individual, City State, and Zip Code digits. All these need to be taken care of with highest accuracy.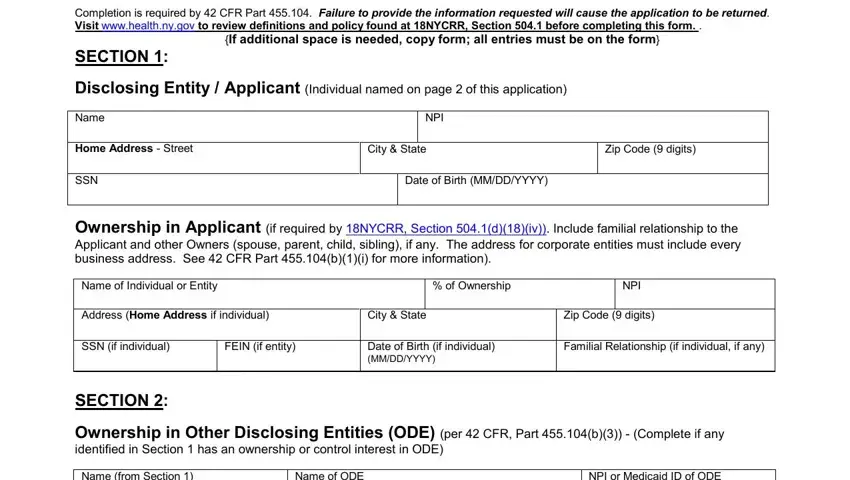 4. This next section requires some additional information. Ensure you complete all the necessary fields - NOTE If you answered Yes to any of, Conduct Questionnaire available at, Do you including any entity in, Yes No If yes indicate amount, If no this enrollment will be, and EMEDNY - to proceed further in your process!

Be extremely careful while filling out NOTE If you answered Yes to any of and If no this enrollment will be, since this is the section in which many people make a few mistakes.
5. Because you draw near to the completion of the file, you'll find a few extra requirements that need to be fulfilled. Notably, As a Medicaid Provider you agree, including but not limited to Part, In addition pursuant to CFR Part, following regarding business, As a Medicaid Provider you agree, regulations of other New York, For those providers for whom the, certified via the Office of the, Unannounced site visits by, As a Medicaid Provider you agree, enrollment agreement including, The Department may deny or, and executive compensation bonuses must all be done.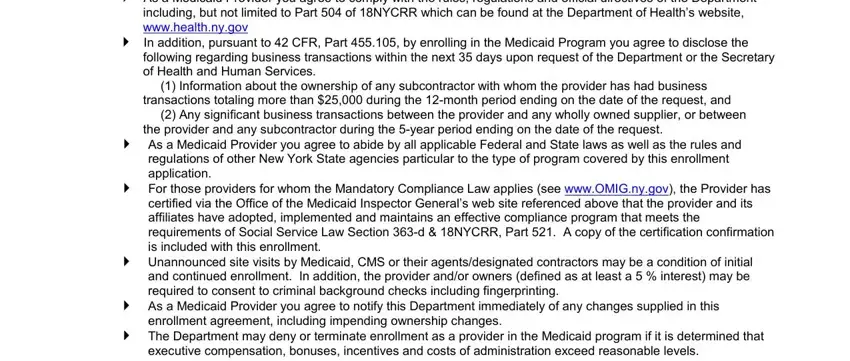 Step 3: Immediately after going through the entries, hit "Done" and you are good to go! Join FormsPal today and instantly access medicaid application new york, set for downloading. All modifications you make are saved , enabling you to modify the pdf further if necessary. With FormsPal, you're able to fill out documents without worrying about personal information breaches or records being distributed. Our protected software makes sure that your private information is kept safe.