gov can be filled out online with ease. Just try FormsPal PDF editing tool to complete the job fast. In order to make our editor better and easier to work with, we constantly develop new features, taking into account feedback from our users. To start your journey, consider these simple steps:
Step 1: Hit the orange "Get Form" button above. It'll open up our pdf tool so that you can start filling out your form.
Step 2: This tool provides you with the capability to customize PDF documents in various ways. Modify it by adding personalized text, adjust original content, and include a signature - all when you need it!
It is straightforward to complete the form using this detailed tutorial! This is what you must do:
1. Fill out the gov with a number of essential fields. Get all the necessary information and be sure absolutely nothing is overlooked!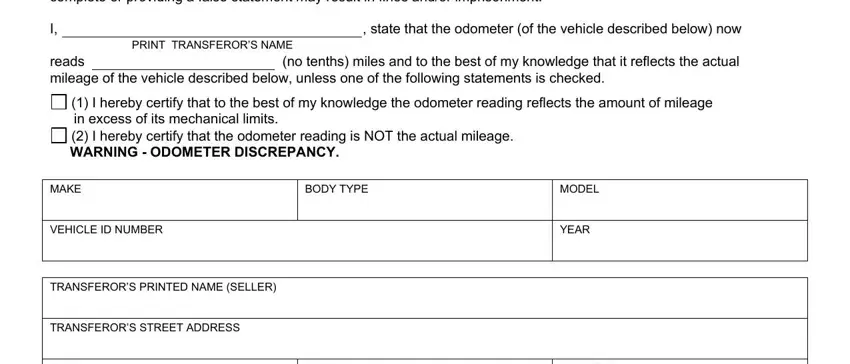 2. Now that the previous section is complete, you'll want to insert the required specifics in CITY, STATE, ZIP CODE, DATE OF STATEMENT, TRANSFERORS SIGNATURE SELLER, PRINTED NAME OF TRANSFEROR, TRANSFEREES PRINTED NAME BUYER, TRANSFEREES STREET ADDRESS, CITY, STATE, ZIP CODE, TRANSFEREES SIGNATURE BUYER, PRINTED NAME OF TRANSFEREE, RECEIPT OF COPY ACKNOWLEDGED, and wwwbmvohiogov BMV so that you can proceed further.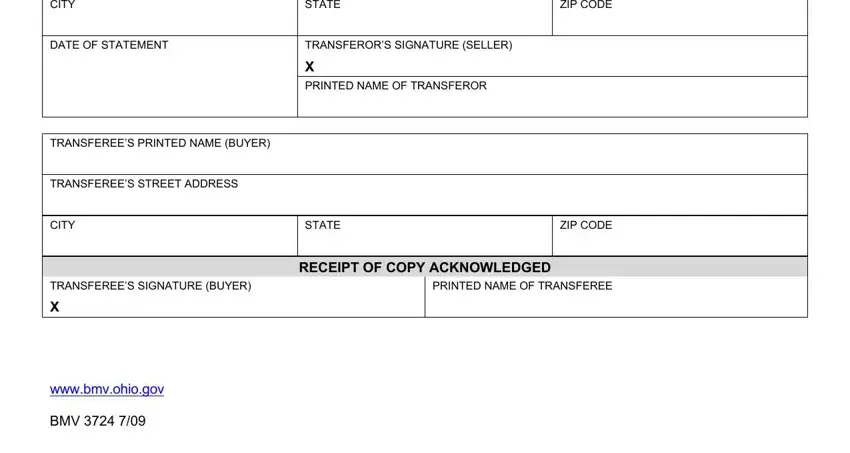 People who use this PDF often make errors when completing ZIP CODE in this section. You should revise whatever you type in here.
Step 3: Right after you have reread the information entered, click "Done" to conclude your form at FormsPal. Sign up with FormsPal today and instantly get access to gov, ready for downloading. Each and every modification made is conveniently preserved , allowing you to modify the pdf later on if required. FormsPal is dedicated to the confidentiality of all our users; we make sure that all personal information put into our tool continues to be confidential.