Working with PDF forms online is certainly simple with our PDF editor. Anyone can fill in Optional Form 306 here within minutes. Our team is aimed at making sure you have the absolute best experience with our editor by regularly adding new capabilities and upgrades. With these updates, working with our editor becomes better than ever before! All it requires is a few easy steps:
Step 1: Press the "Get Form" button above. It will open our tool so that you could start filling in your form.
Step 2: Using this handy PDF tool, you are able to accomplish more than just complete blank form fields. Try each of the features and make your docs look high-quality with custom textual content added in, or modify the file's original content to excellence - all that backed up by the capability to insert stunning graphics and sign the file off.
Filling out this PDF requires focus on details. Ensure every blank is filled out properly.
1. Start completing your Optional Form 306 with a selection of major fields. Collect all the important information and ensure absolutely nothing is forgotten!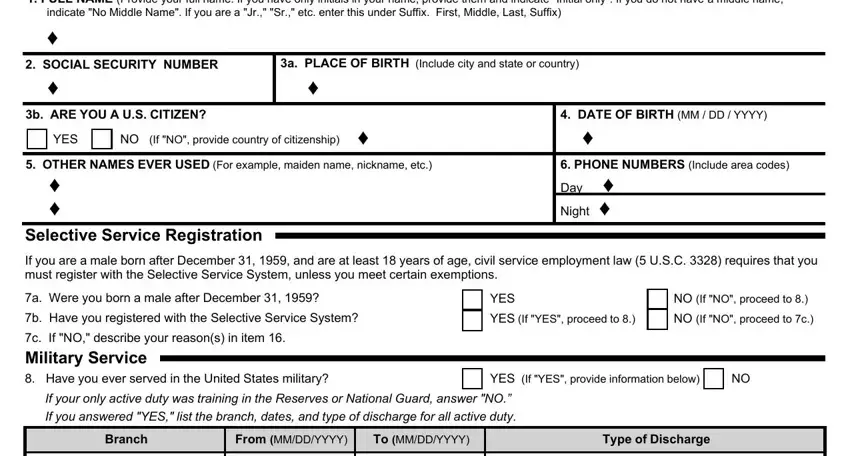 2. Your next stage is to complete the following blank fields: Background Information For all, For questions and your answers, YES, Includes felonies firearms or, Have you been convicted by a, YES use item to provide the date, Are you currently under charges, the charges place of occurrence, During the last years have you, would be fired did you leave any, YES, YES, YES, and YES.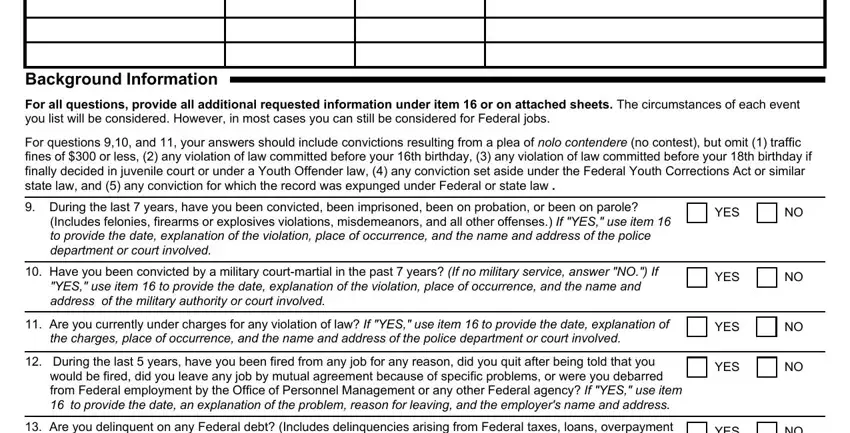 3. Completing Additional Questions Do any of, Include father mother husband wife, YES, Do you receive or have you ever, Federal civilian or District of, YES, Continuation Space Agency, Certifications Additional, and APPOINTEE If you are being is essential for the next step, make sure to fill them out in their entirety. Don't miss any details!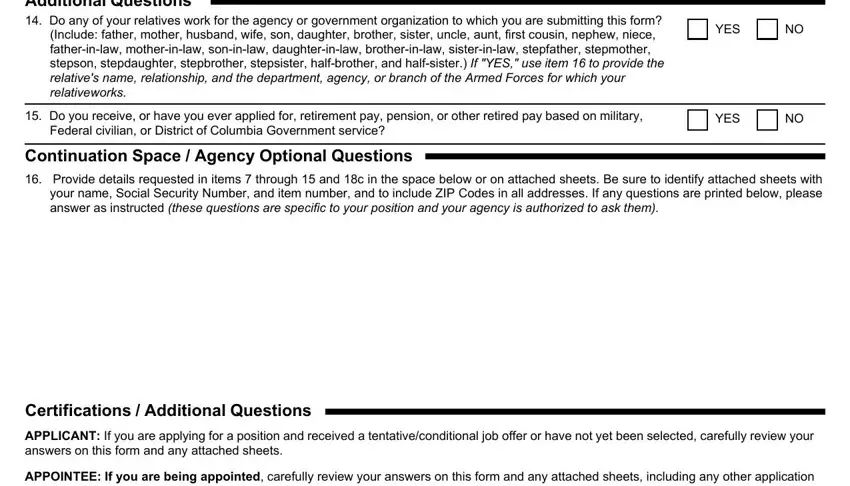 4. The subsequent part requires your information in the following areas: I certify that to the best of my, a Applicants Signature, Date, Appointing Officer, Enter Date of Appointment or, b Appointees Signature, MM DD YYYY, MM DD YYYY, Date, MM DD YYYY, Appointee Only respond if you, previous Federal employment may, a When did you leave your last, Date MM DD YYYY, and b When you worked for the Federal. Remember to give all requested details to go forward.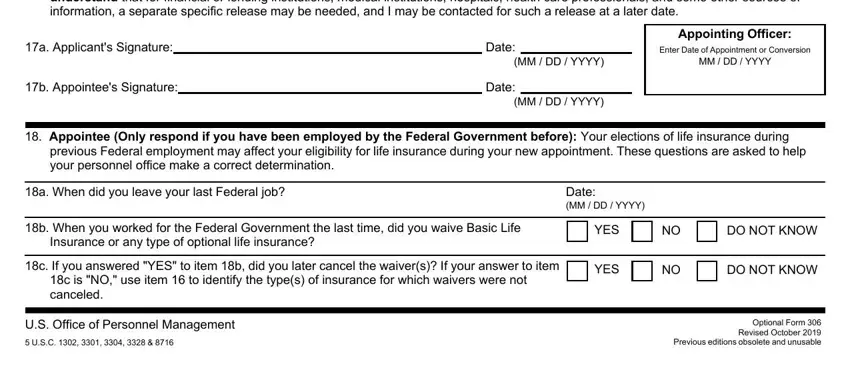 Always be really attentive when filling out Date and previous Federal employment may, because this is the section in which a lot of people make a few mistakes.
Step 3: Before moving forward, it's a good idea to ensure that all blank fields are filled out properly. The moment you are satisfied with it, press "Done." Make a 7-day free trial account at FormsPal and gain instant access to Optional Form 306 - available in your FormsPal account. With FormsPal, you can easily fill out documents without having to get worried about database leaks or data entries being distributed. Our secure system helps to ensure that your private details are maintained safe.