Any time you would like to fill out monroe county dog license, you won't have to install any programs - simply try our online PDF editor. The tool is constantly improved by us, getting new awesome functions and turning out to be better. Should you be seeking to get started, this is what it's going to take:
Step 1: First, access the tool by pressing the "Get Form Button" in the top section of this webpage.
Step 2: Using our advanced PDF editor, you'll be able to accomplish more than simply fill out blank fields. Edit away and make your documents appear faultless with customized text incorporated, or tweak the original input to excellence - all that comes with an ability to insert your personal pictures and sign the document off.
It is simple to complete the document following our detailed guide! Here's what you need to do:
1. Fill out your monroe county dog license with a group of essential blanks. Gather all the required information and make certain absolutely nothing is forgotten!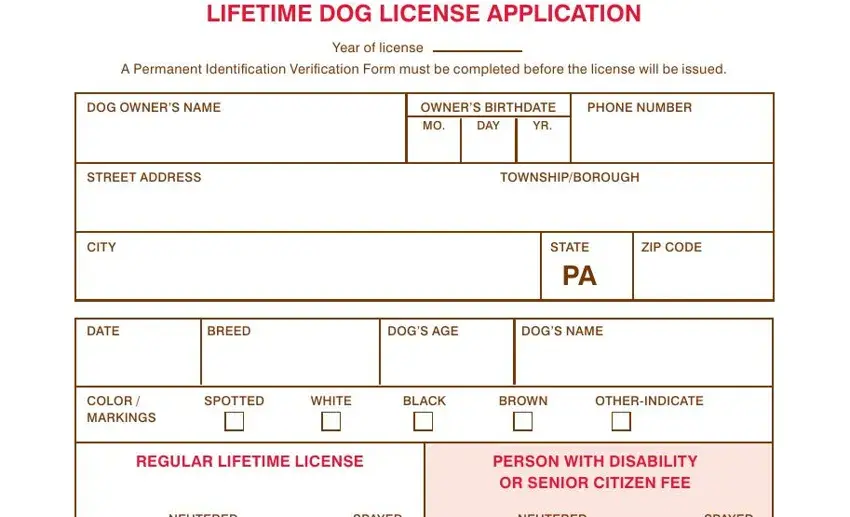 2. Soon after completing this section, go to the next step and fill out the essential details in all these blank fields - ALL PRICES INCLUDE SERVICE FEES, ALL PRICES INCLUDE SERVICE FEES, ALLOWED BY LAW, ALLOWED BY LAW, PLEASE NOTE If you are applying, I HEREBY VERIFY THAT I AM THE, APPLICATION I MAKE THIS STATEMENT, RELATING TO UNSWORN FALSIFICATION, SIGNATURE OF DOG OWNERAPPLICANT, IF APPLICANT IS A MINOR SIGNATURE, and MAIL TO COUNTY TREASURERS OFFICE.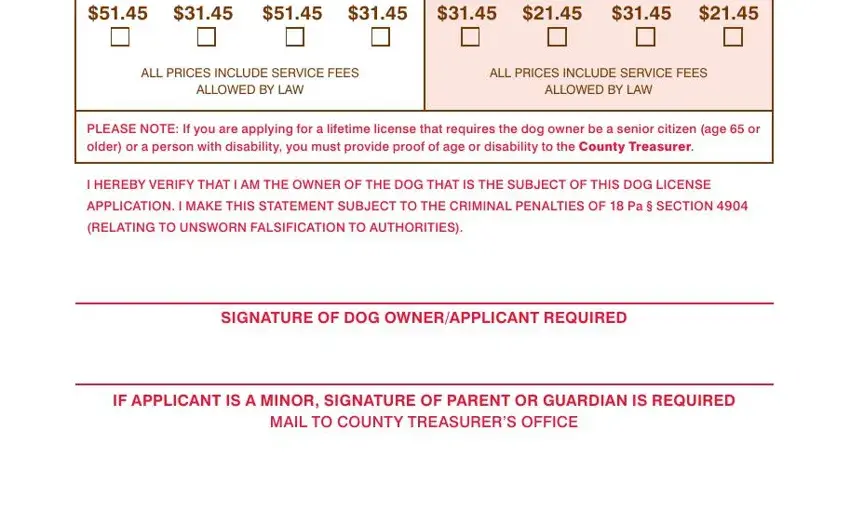 People who use this document often make mistakes while filling out RELATING TO UNSWORN FALSIFICATION in this part. Ensure you double-check everything you enter right here.
Step 3: Check everything you have entered into the blanks and click the "Done" button. Sign up with us right now and easily use monroe county dog license, available for download. Each edit you make is handily preserved , letting you change the form at a later time anytime. We don't sell or share the information you provide while filling out forms at FormsPal.