Through the online PDF tool by FormsPal, you can easily fill in or alter prenatal record sample here. Our tool is consistently evolving to present the very best user experience possible, and that's because of our resolve for continual development and listening closely to testimonials. With a few basic steps, it is possible to begin your PDF journey:
Step 1: Click the "Get Form" button in the top part of this webpage to get into our PDF tool.
Step 2: When you launch the editor, you'll see the form all set to be filled out. In addition to filling out different blanks, you might also do other actions with the Document, particularly putting on any text, editing the initial textual content, inserting images, putting your signature on the form, and much more.
This form will require particular info to be entered, hence make sure you take your time to type in what is asked:
1. The prenatal record sample requires particular information to be entered. Be sure that the next blanks are complete: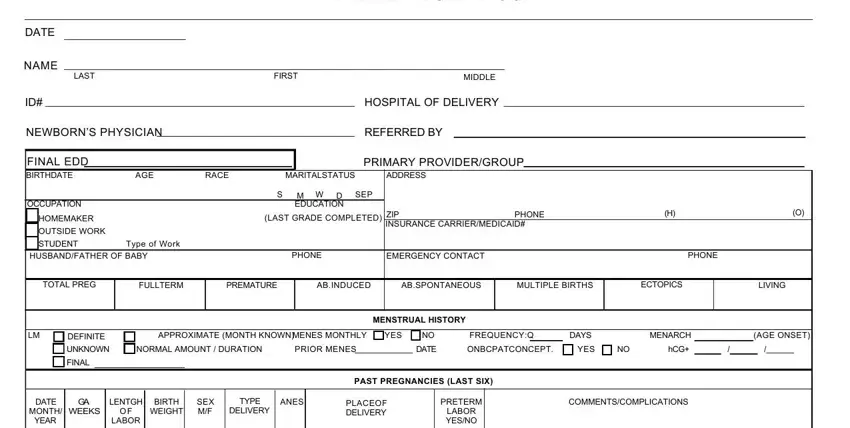 2. After this part is completed, you're ready to include the essential details in ONeg Pos, DETAIL POSITIVE REMARKS INCLUDE, ONeg Pos, DETAIL POSITIVE REMARKS INCLUDE, PAST MEDICAL HISTORY, DIABETES, HYPERTENSION, HEART DISEASE, AUTO IMMUNE DISORDER, KIDNEY DISEASEUTI, NEUROLOGICEPILEPSY, PSYCHIATRIC, HEPATITISLIVER DISEASE, VARICOSITIESPHLEBITIS, and THYROID DYSFUNCTION in order to move on further.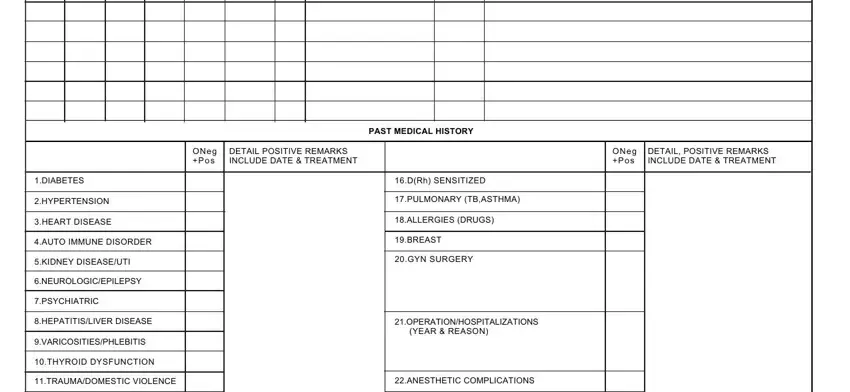 3. Completing HISTORY OF BLOOD TRANSFS, TOBACCO, ALCOHOL, STREET DRUGS, COMMENTS, HISTORY OF ABNORMAL PAP, UTERINE ANOMALY DES, INFERTILITY, RELEVANT FAMILY HISTORY, OTHER, AMTDAY PREPREG, AMTDAY PREPREG, YEARS, and USE is essential for the next step, make sure to fill them out in their entirety. Don't miss any details!

4. The fourth subsection comes next with these fields to type in your information in: SYMPTOMS SINCE LMP, PATIENTS AGE OR OLDER, THALASSEMIA ITALIAN GREEK, BACKGROUND MCV, NEURAL TUBE DEFECT, CONGENITAL HEART DEFECT, DOWN SYNDROME, TAYSACHSEGJEWISHCAJUNFRENCHCANADIAN, SICKLE CELL DISEASE OR TRAITAFRICAN, HEMOPHILIA, MUSCULAR DYSTROPHY, CYSTIC FIBROSIS, HUNTINGTON CHOREA, COMMENTSCOUNSELING, and YES.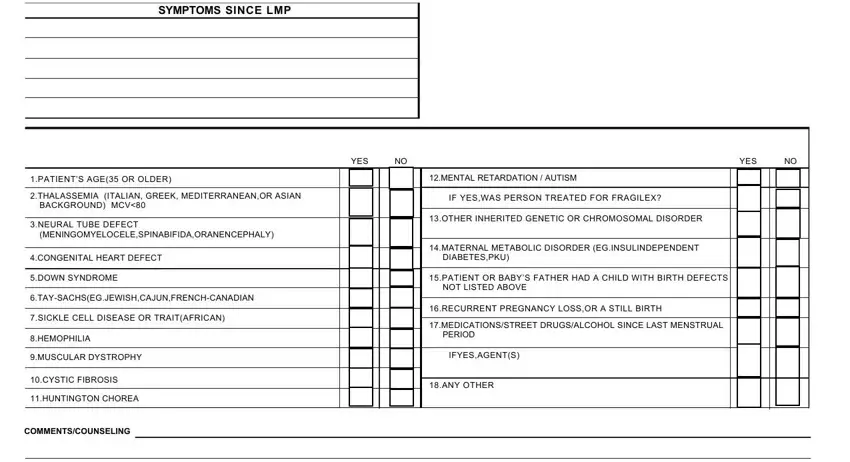 5. While you come near to the finalization of this file, you will find just a few extra requirements that should be satisfied. Notably, INFECTION HISTORY, HIGH RISK HEPATITIS B IMMUNIZED, LIVE WITH SOMEONE WITH TB OR, YES, YES, RASH OR VIRAL ILLNESS SINCE LAST, HISTORY OF, PATIENT OR PARTNER HAS HISTORY, OTHERSEE COMMENTS, COMMENTS, DATE, HEENT, FUNDI, TEETH, and THYROID should all be filled in.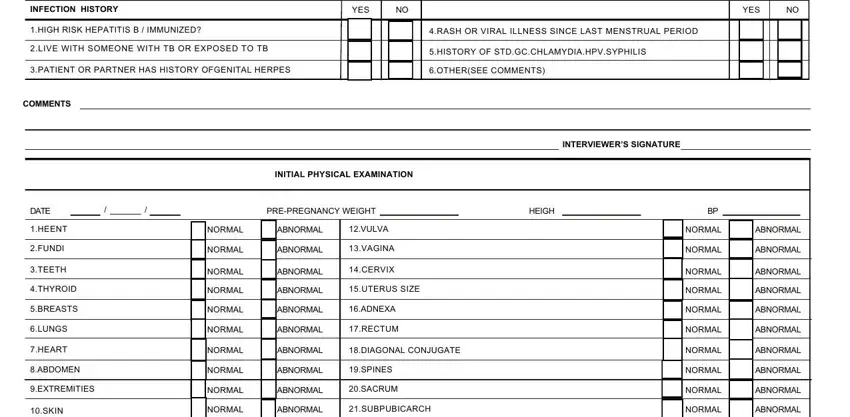 Concerning COMMENTS and OTHERSEE COMMENTS, be certain you review things in this section. Those two are the key ones in this PDF.
Step 3: Ensure that your information is right and then click on "Done" to proceed further. Try a 7-day free trial plan at FormsPal and gain instant access to prenatal record sample - download, email, or edit inside your FormsPal account. We don't sell or share any information you type in when dealing with documents at our site.