You may fill out repayment request effortlessly with our PDFinity® PDF editor. FormsPal team is always working to expand the tool and make it much easier for people with its multiple functions. Enjoy an ever-evolving experience now! Here is what you'd have to do to begin:
Step 1: Access the PDF file inside our tool by hitting the "Get Form Button" at the top of this page.
Step 2: As you open the tool, you will get the document all set to be filled in. Aside from filling in different fields, you may also perform various other actions with the form, that is writing custom textual content, modifying the original textual content, adding illustrations or photos, putting your signature on the PDF, and more.
This PDF form will require specific information to be filled in, hence make sure you take some time to type in precisely what is asked:
1. Fill out the repayment request with a selection of necessary blanks. Note all the important information and make certain not a single thing neglected!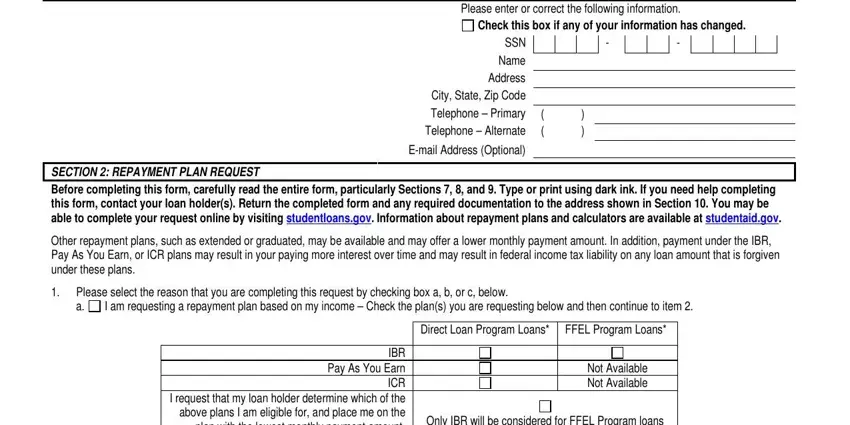 2. After performing this step, go to the subsequent part and fill out the essential particulars in these fields - For Direct Loan borrowers your, b c, I am submitting annual, Check this box if you owe eligible, to repay under the IBR Pay As You, You must promptly submit to your, SECTION SPOUSAL INFORMATION, You file a joint federal income, Spouses SSN, Spouses Name, Spouses Date of Birth, If you file a joint federal income, My spouse and I wish to repay our, If you complete this section your, and Page of.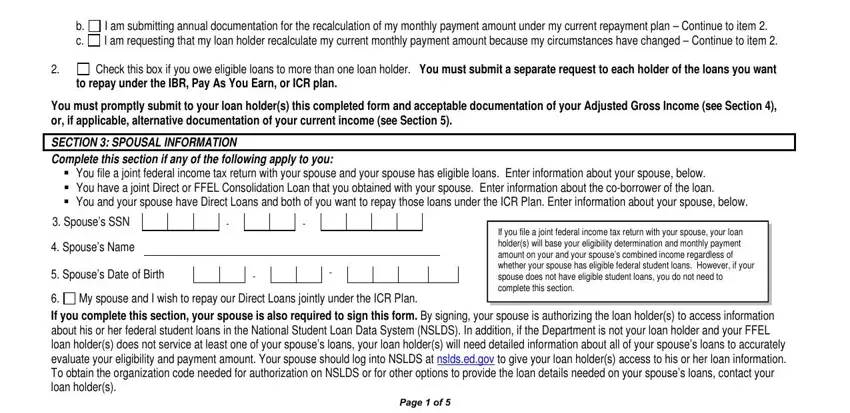 3. Completing SECTION FAMILY SIZE AND FEDERAL, Enter your family size as defined, Note If you do not enter your, Yes Continue to Item No Skip to, Is your current income or your, Yes Continue to Section No, You can find your Adjusted Gross, To be completed if you did not, Yes Provide documentation of this, your taxable income, If you are married and completed, Yes Provide documentation of your, hisher taxable income, and You must provide documentation of is essential for the next step, make sure to fill them out in their entirety. Don't miss any details!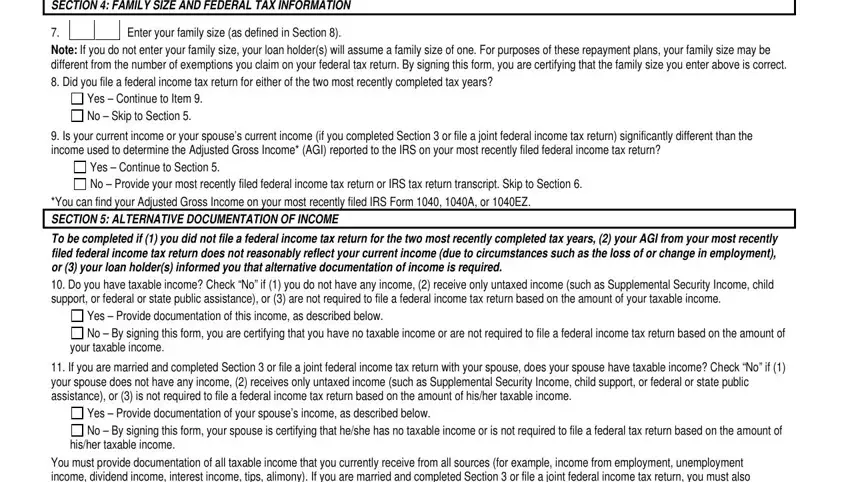 4. This next section requires some additional information. Ensure you complete all the necessary fields - I certify that all of the, knowledge and belief, Borrowers Signature Spouses, Date, Date, and Page of - to proceed further in your process!

It is easy to make an error while filling out your Date, hence make sure to reread it before you send it in.
5. This form has to be completed by going through this area. Here you will notice a comprehensive set of fields that need to be filled in with correct information for your form usage to be accomplished: Use this form to request the IBR, You must provide your loan holders, Return the completed form and any, SECTION DEFINITIONS, Direct Consolidation Loans, Eligible loans for the IBR plan, Eligible loans for the ICR plan, or a Direct PLUS Consolidation, Eligible loans for the Pay As You, and Family size includes you your.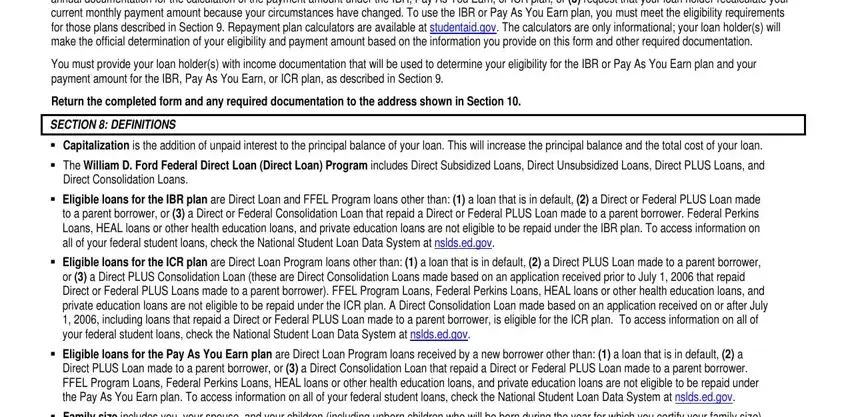 Step 3: Proofread the details you've typed into the blanks and hit the "Done" button. Sign up with FormsPal today and easily gain access to repayment request, available for download. All modifications made by you are saved , so that you can change the file further anytime. FormsPal is committed to the privacy of all our users; we make sure that all personal data entered into our tool is confidential.