Using PDF files online is definitely super easy with this PDF tool. Anyone can fill out Steuben County Driver Diversion Program Form here painlessly. To keep our editor on the cutting edge of efficiency, we aim to adopt user-oriented capabilities and improvements regularly. We're routinely looking for suggestions - assist us with revampimg PDF editing. Here's what you will need to do to start:
Step 1: Click the "Get Form" button in the top area of this webpage to access our tool.
Step 2: The editor enables you to modify your PDF form in a range of ways. Transform it by writing customized text, adjust what's originally in the document, and include a signature - all when it's needed!
This form will need particular data to be filled out, therefore ensure you take your time to type in precisely what is requested:
1. Firstly, once filling in the Steuben County Driver Diversion Program Form, begin with the section that has the next blank fields: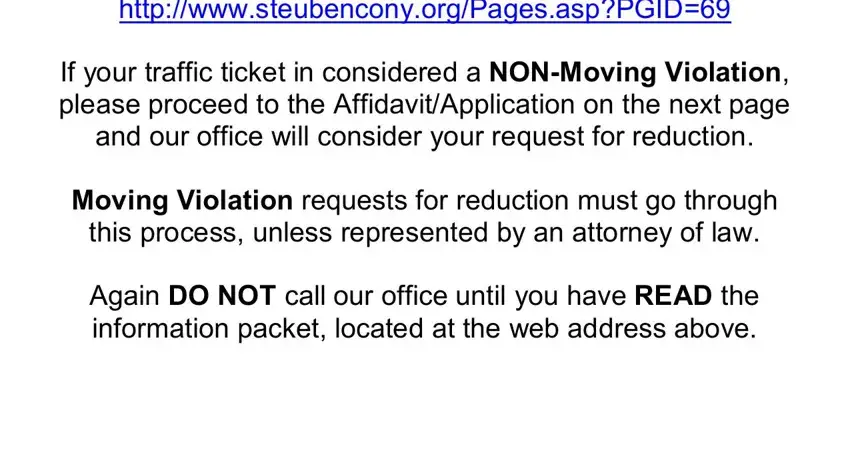 2. Once your current task is complete, take the next step – fill out all of these fields - Name, Address, EmailPhone, Town of Offenses Occurred What was, This traffic ticket is a NONMoving, ADMINISTRATION FEE Please COMPLETE, I the defendant born on request, Steuben County Driver Safety, I further understand that there is, or one hundred and fifty dollars, Application Questions Please, False statements made in the, Have you been convicted of, Involuntary Manslaughter within, and Have you been convicted of any with their corresponding information. Make sure to double check that everything has been entered correctly before continuing!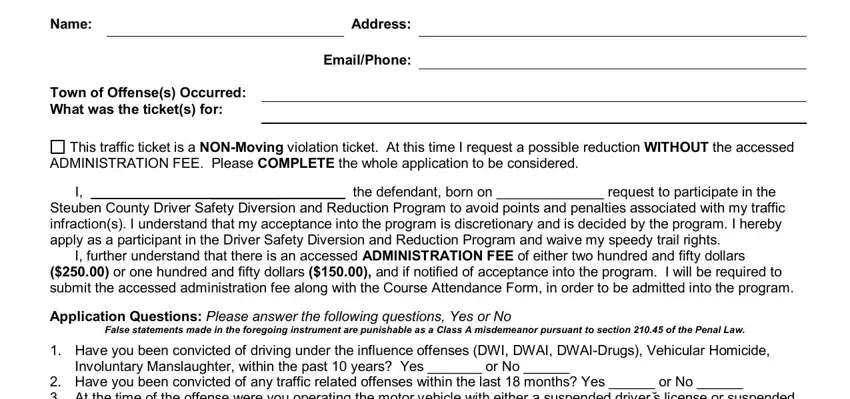 3. Within this stage, look at Have you been convicted of any, insurance Yes or No, Were you involved in an accident, claim report of all payouts made, The defendant states that at the, At this time I would like to, Mitigating Circumstances, All Defendants must send, This application completed A, httpdmvnygovdmvrecordsgetmyown, A selfaddressed stamped envelope, To Steuben County District, Attn Driver Safety Diversion and, You will be notified by mail or, and DO NOT call the DAcids Office in. Each one of these need to be filled in with highest precision.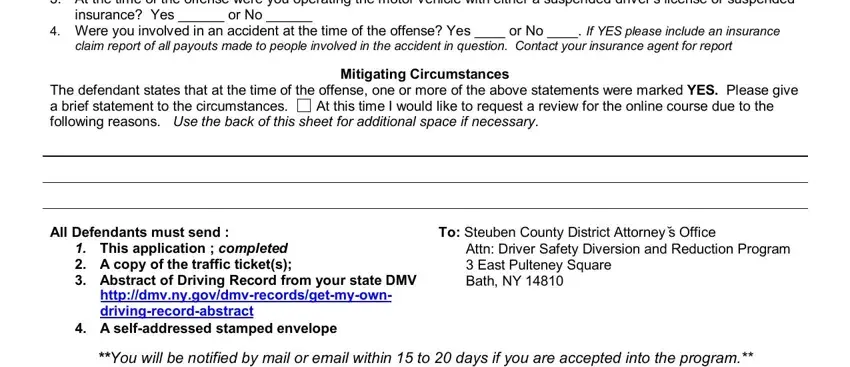 4. Filling out False statements made in the, SIGNATURE OF DEFENDANT, PRINT NAME OF DEFENDANT, and SCDADSDP Application Form Revised is key in this next section - be sure to take the time and fill out each field!

When it comes to PRINT NAME OF DEFENDANT and False statements made in the, ensure that you get them right in this current part. Those two are thought to be the key fields in this file.
Step 3: Right after you've glanced through the details you filled in, just click "Done" to finalize your form at FormsPal. Go for a 7-day free trial option with us and get instant access to Steuben County Driver Diversion Program Form - which you can then use as you wish from your personal account page. We don't share or sell the details that you provide when filling out documents at our website.