If you desire to fill out texas policy declarations form, you don't have to install any sort of programs - simply make use of our PDF tool. We at FormsPal are committed to giving you the absolute best experience with our editor by consistently introducing new capabilities and enhancements. Our editor has become even more helpful thanks to the latest updates! Now, filling out documents is a lot easier and faster than ever. By taking several simple steps, you are able to start your PDF editing:
Step 1: Click on the orange "Get Form" button above. It will open our pdf tool so that you could begin filling out your form.
Step 2: As you start the file editor, you'll notice the document prepared to be completed. Apart from filling in various fields, you may also do various other things with the file, namely adding any text, changing the original textual content, inserting images, placing your signature to the PDF, and more.
Pay close attention while completing this pdf. Ensure that all required blank fields are completed properly.
1. You need to fill out the texas policy declarations form properly, hence pay close attention while filling in the parts including these blanks: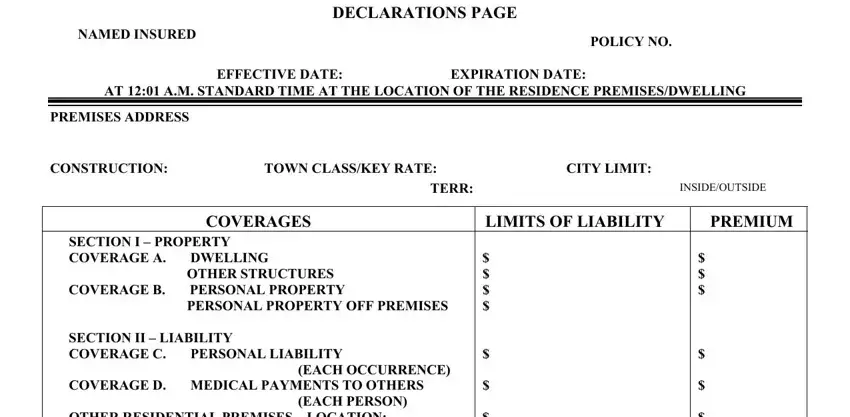 2. Once your current task is complete, take the next step – fill out all of these fields - OTHER RESIDENTIAL PREMISES, BASIC PREMIUM, INCREASED LIABILITY, LIMITS, DEDUCTIBLES ANY ONE OCCURRENCE, SECTION I ONLY, LIMITS, WINDHAIL IN SECO ND TIER COUNTIES, AMOUNT OF DEDUCTIBLE, TOTAL POLICY PREMIUM, DEDUCTIBLE ADJUSTMENT, PREMIUM, MORTGAGE HOLDER INFORMATION, THE INTERESTS OF LOSS PAYEES, and ARE AUTOMATICALLY with their corresponding information. Make sure to double check that everything has been entered correctly before continuing!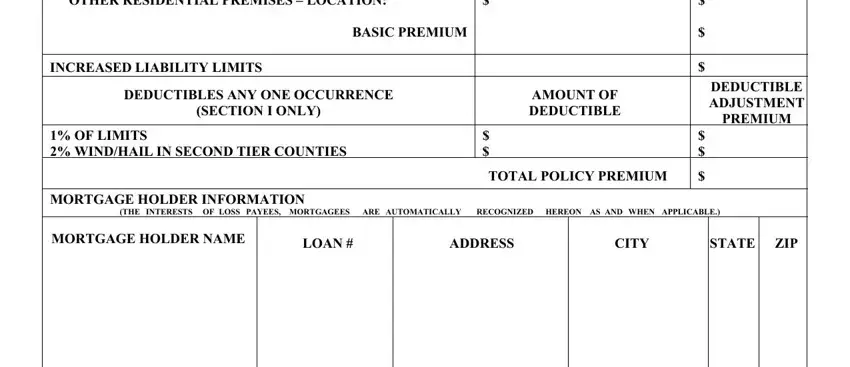 When it comes to BASIC PREMIUM and DEDUCTIBLES ANY ONE OCCURRENCE, make sure you take a second look in this current part. Both of these could be the most important fields in this file.
Step 3: Just after taking one more look at your form fields you have filled out, click "Done" and you are done and dusted! Go for a free trial option at FormsPal and acquire immediate access to texas policy declarations form - readily available from your personal account. At FormsPal.com, we endeavor to make sure that your details are stored secure.