Working with PDF documents online is definitely very easy with this PDF tool. Anyone can fill out Title Xix Form here painlessly. To keep our editor on the cutting edge of efficiency, we strive to integrate user-oriented capabilities and enhancements on a regular basis. We're routinely thankful for any feedback - join us in revolutionizing PDF editing. Here's what you will have to do to get going:
Step 1: Access the PDF doc inside our editor by clicking on the "Get Form Button" at the top of this page.
Step 2: As soon as you launch the editor, you will notice the document all set to be filled in. Apart from filling out various blank fields, you may as well do many other things with the file, such as putting on any text, modifying the initial textual content, adding graphics, placing your signature to the form, and a lot more.
Be attentive when completing this form. Ensure that all necessary areas are done accurately.
1. It's essential to fill out the Title Xix Form properly, therefore take care when filling in the segments including all these blanks: 2. The subsequent stage would be to fill out the following fields: Section A Requested Durable, Client Name, Name, Address, TPI, QRP name, Client Information, Medicaid number, Supplier Information, Date of birth, Telephone, Fax number, NPI, Taxonomy, and QRP TPI.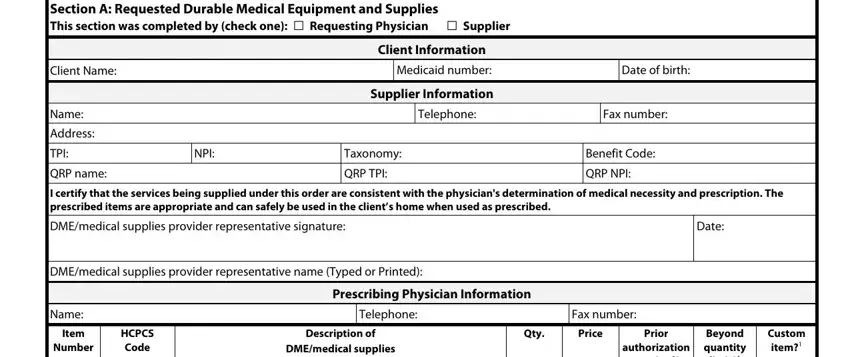 3. Completing Beyond quantity limit, required, Y N Y N Y N Y N Y N Y, If Yes additional documentation, Section B Diagnosis and Medical, Item, Number, From, Section A, Diagnosis, Brief Diagnosis Descriptor, Complete justification for, medical necessity for requested, Refer to Section A footnote, and Each item requested in Section A is essential for the next step, make sure to fill them out in their entirety. Don't miss any details!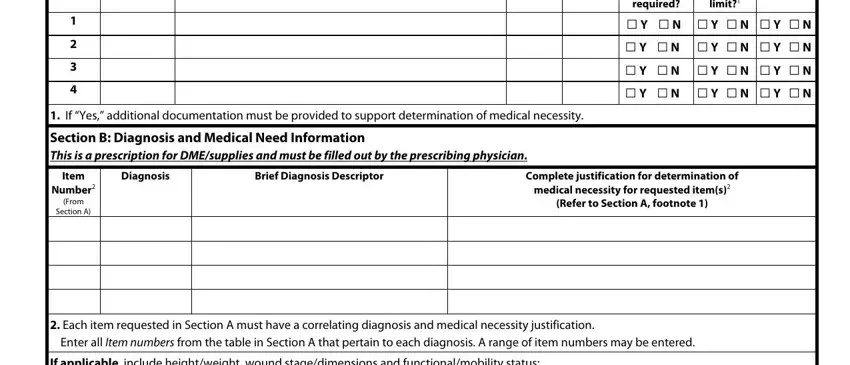 People generally make errors while filling out Refer to Section A footnote in this part. You need to go over what you enter here.
4. The next section requires your attention in the subsequent places: If applicable include heightweight, Note The Date last seen and, Duration of need for DME month s, Duration of need for supplies, By signing this form I hereby, Signature and attestation of, Date, Prescribing physician TPI, NPI, License number, Signature stamps and date stamps, Page of, and Revised Date Effective Date. Always enter all requested info to go onward.

Step 3: Proofread all the information you have entered into the form fields and click on the "Done" button. Right after getting afree trial account here, it will be possible to download Title Xix Form or send it via email directly. The PDF file will also be accessible through your personal account with your every single edit. With FormsPal, you can certainly complete forms without needing to worry about data breaches or records being distributed. Our protected system makes sure that your personal details are kept safely.