Should you would like to fill out transfer military tsp to civilian tsp, you don't need to install any sort of applications - just try using our online PDF editor. To make our tool better and more convenient to work with, we constantly come up with new features, with our users' feedback in mind. This is what you would have to do to start:
Step 1: Hit the orange "Get Form" button above. It is going to open our pdf editor so that you can start completing your form.
Step 2: After you launch the file editor, you will find the document prepared to be filled in. Apart from filling in various blank fields, you could also perform many other things with the PDF, namely writing custom words, modifying the original text, inserting graphics, signing the form, and more.
It is actually an easy task to complete the form with our detailed guide! This is what you have to do:
1. Begin filling out your transfer military tsp to civilian tsp with a group of essential blanks. Get all of the important information and ensure not a single thing omitted!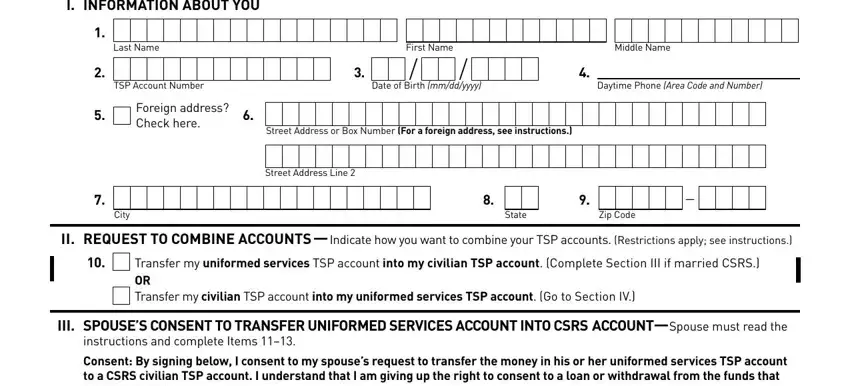 2. Your next step is to fill out the next few fields: Consent By signing below I consent, Spouses Name Last First Middle, Spouses Signature, Date Signed mmddyyyy, Notary Please complete the, day of, Month, Year, Date mmddyyyy, Notarys Signature, seal, Notarys Printed Name, Jurisdiction, Notarys Phone Number, and Participant If you cannot obtain.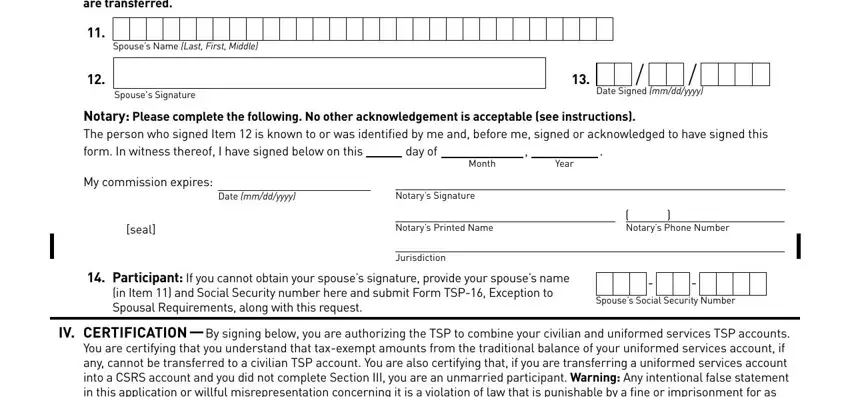 3. This third section should be relatively easy, IV CeRTIFICATION By signing below, Participants Signature, Do Not Write Below This Line, P I I S P I I S, Date Signed mmddyyyy, and FORM TSP PREVIOUS EDITIONS - each one of these blanks needs to be filled out here.

It's easy to make a mistake while filling in the P I I S P I I S, hence make sure to go through it again before you decide to submit it.
Step 3: As soon as you've looked over the information in the blanks, simply click "Done" to conclude your FormsPal process. Right after getting a7-day free trial account with us, you'll be able to download transfer military tsp to civilian tsp or send it via email right off. The file will also be at your disposal in your personal account with your each modification. FormsPal is focused on the confidentiality of all our users; we always make sure that all information going through our tool is kept protected.