vehicle application form louisiana can be filled in online without any problem. Just make use of FormsPal PDF editing tool to get the job done quickly. To make our tool better and more convenient to work with, we consistently come up with new features, bearing in mind suggestions from our users. For anyone who is seeking to get started, here's what it will require:
Step 1: Access the form inside our tool by clicking the "Get Form Button" in the top part of this webpage.
Step 2: After you access the PDF editor, you will see the form prepared to be filled out. In addition to filling in different fields, it's also possible to do many other actions with the form, specifically adding your own text, modifying the initial text, adding graphics, placing your signature to the document, and a lot more.
Pay attention while completing this document. Make certain every single field is filled in correctly.
1. You will want to fill out the vehicle application form louisiana correctly, thus be careful while filling out the sections containing all these blank fields: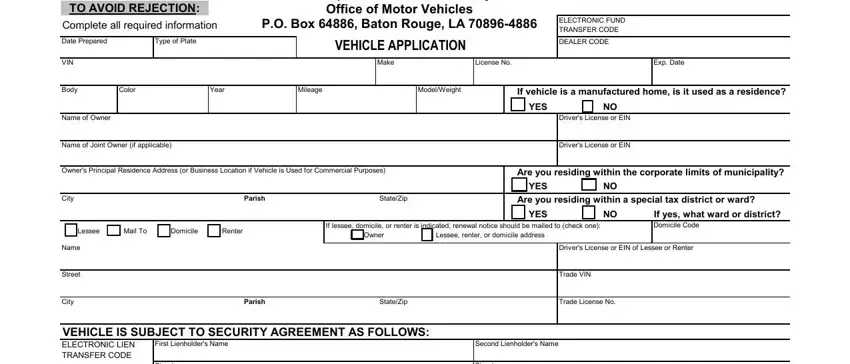 2. The subsequent step is usually to fill in these particular blank fields: Street, CityStateZip, New Used Title Fee, Date Acquired, Tax Date, Previous Title No, State, Cost of Vehicle, Lic Pen Credit, Handling Fee, Rebate, Street, CityStateZip, Less Trade, and Tax Value.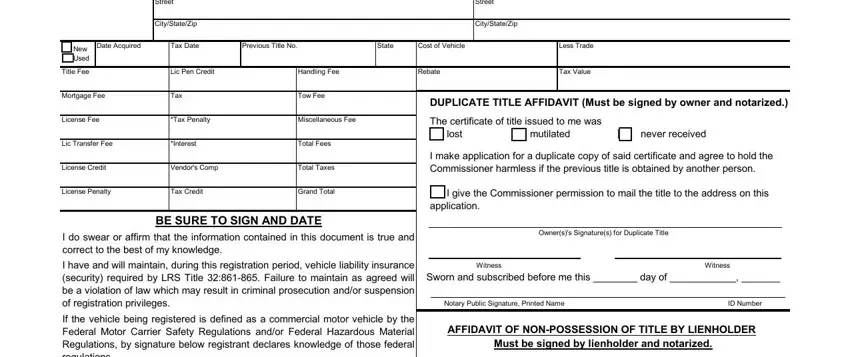 Those who use this document often make mistakes when filling in State in this section. Be certain to go over whatever you enter right here.
3. In this stage, review I do swear or affirm that the, Applicants Signature Date, I hereby swear or affirm that, CoApplicants Signature Date, Lienholders Signature, PROOF OF LIABILITY INSURANCE MUST, PROVIDED FOR BY LAW BEFORE THIS, TO AVOID PENALTY AND INTEREST, Witness Witness, Sworn and subscribed before me, File must be submitted within, Notary Public Signature Printed, and RECEIVEDREJECTION DATES. These are required to be completed with highest awareness of detail.

4. To go forward, this fourth section will require filling in several blanks. Included in these are CONVERSION Old License Plate, New License Plate Number Use, TRANSFER OF PLATE License plate, YEAR MAKE VIN, and transferred to the vehicle, LOST STOLEN OR REPLACEMENT, PLATE, STICKER, License Plate Number, TITLE CORRECTION, Error, Correct To, FARM USE STATEMENT, E I do declare that I am a bona, and Owners Signature F OUT OF STATE, which you'll find essential to moving forward with this particular form.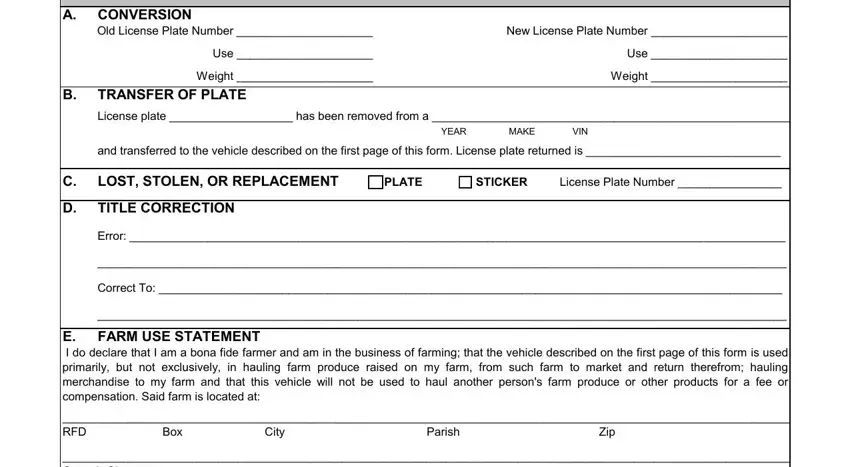 5. To wrap up your document, this particular subsection includes a few extra fields. Filling out Owners Signature F OUT OF STATE, Printed name of owner, was domiciled in Louisiana on, declare that the, MAKE, MODEL, VIN, DISCLOSURE OF SALVAGE, swear under penalties of perjury, Printed name of owner, the title covering the vehicle, in accordance with, MAKE Louisiana RS has been, Reconstructed Vehicle, and Salvaged Vehicle should wrap up everything and you will be done before you know it!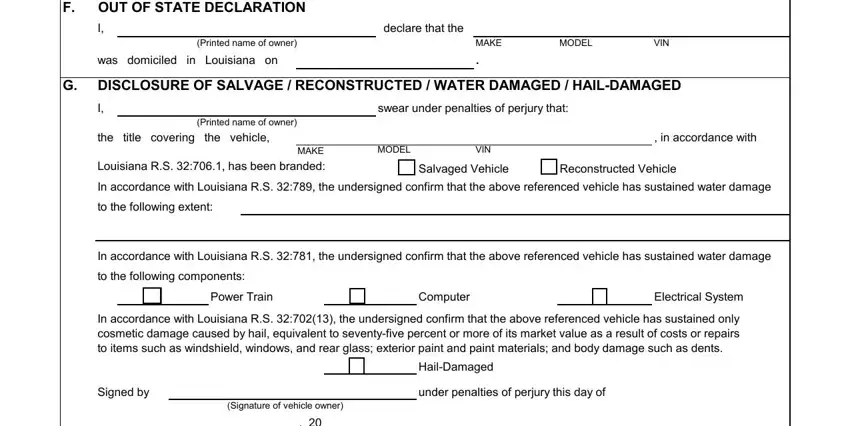 Step 3: Make certain your information is right and then click on "Done" to progress further. After setting up a7-day free trial account with us, you'll be able to download vehicle application form louisiana or email it right away. The PDF form will also be readily available through your personal account with your modifications. FormsPal is committed to the privacy of all our users; we make sure that all personal information entered into our tool is kept confidential.