With the online editor for PDFs by FormsPal, you may fill in or alter nj voter registration form here and now. To have our tool on the forefront of practicality, we strive to adopt user-oriented features and improvements regularly. We're routinely grateful for any feedback - join us in revampimg PDF editing. All it requires is several easy steps:
Step 1: Just hit the "Get Form Button" at the top of this webpage to open our pdf editor. This way, you will find all that is needed to work with your document.
Step 2: The editor offers the capability to modify your PDF in many different ways. Transform it with any text, adjust original content, and add a signature - all close at hand!
This PDF doc requires some specific details; to ensure accuracy, please be sure to heed the subsequent tips:
1. It is recommended to fill out the nj voter registration form correctly, so be careful while filling out the areas containing these particular blank fields: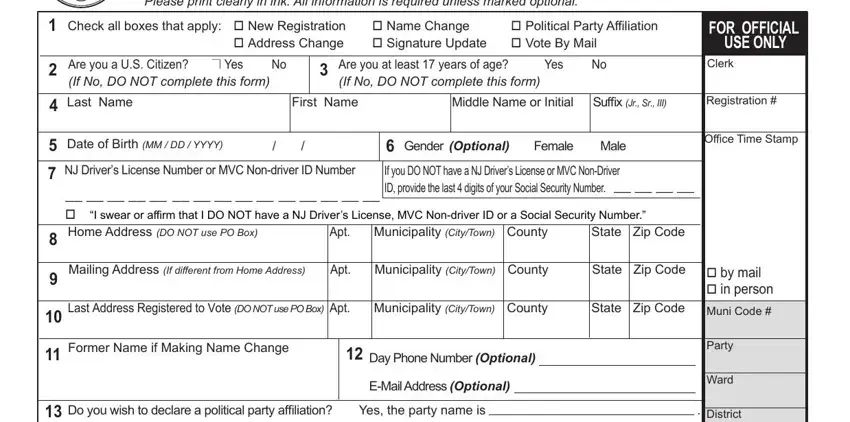 2. Your next stage is usually to fill in these fields: Do you wish to declare a political, o No I do not wish to be, Municipality CityTown, District, Apt, State, Zip Code, Declaration I swear or affirm, l I will have resided in the State, l I understand that any false or, Signature of Registrant Sign or, Date MM DD YYYY, If applicant is unable to complete, and Important Instructions for.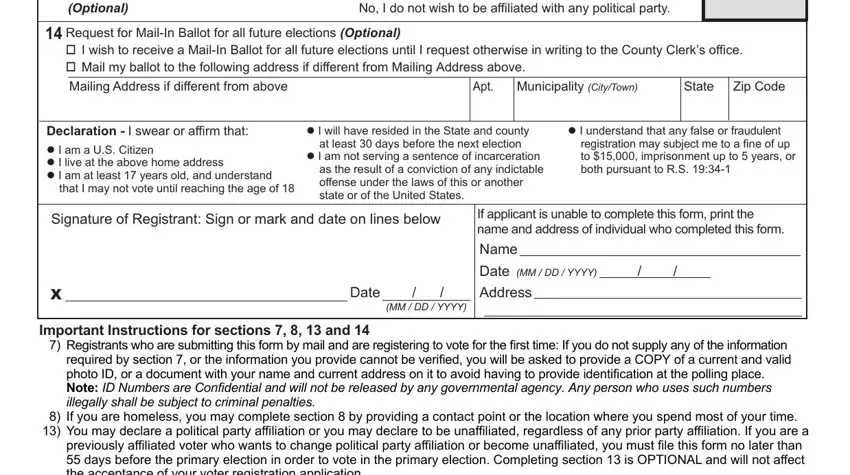 It is possible to make errors while completing your Apt, consequently make sure to go through it again prior to when you send it in.
3. Throughout this part, look at Important Instructions for, MailIn Ballots for all future, o voting if you have a disability, o polling place accessibility, and NJ Division of Elections. All these will need to be completed with highest awareness of detail.

Step 3: When you've reread the information in the file's blanks, simply click "Done" to complete your form. After registering a7-day free trial account with us, it will be possible to download nj voter registration form or email it promptly. The PDF file will also be readily available through your personal account with all your edits. FormsPal is focused on the confidentiality of all our users; we make certain that all personal information entered into our system is kept confidential.