Once you open the online PDF editor by FormsPal, you'll be able to complete or modify adit right here and now. To make our editor better and easier to utilize, we continuously come up with new features, with our users' feedback in mind. With some simple steps, you are able to begin your PDF editing:
Step 1: Hit the "Get Form" button above. It will open our editor so you could begin completing your form.
Step 2: As soon as you launch the PDF editor, you will get the document prepared to be completed. Besides filling in different blank fields, it's also possible to perform some other actions with the Document, particularly putting on custom text, modifying the original textual content, adding images, placing your signature to the PDF, and a lot more.
As for the blanks of this specific PDF, here's what you should consider:
1. First, when filling in the adit, begin with the form section that includes the following fields: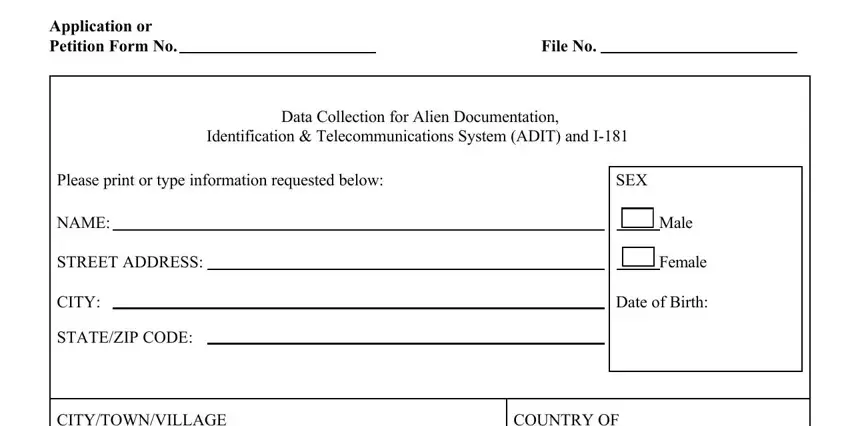 2. Once this section is filled out, go to enter the applicable information in all these - CITYTOWNVILLAGE OF BIRTH, COUNTRY OF NATIONALITY, COUNTRY OF BIRTH, COUNTRY OF LAST RESIDENCE, MARITAL STATUS, Single, Married, Widowed, Divorced, Separated, OCCUPATION, MOTHERS FIRST NAME, FATHERS FIRST NAME, DO NOT WRITE BELOW THIS LINE, and Year adm to US or year cng to.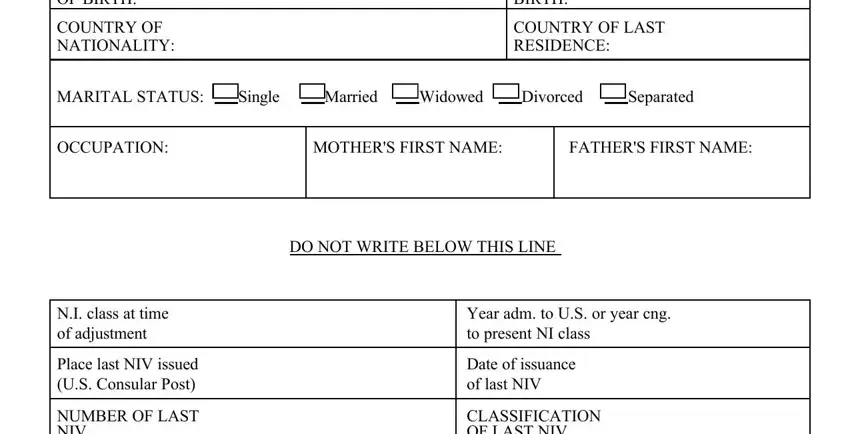 As for MARITAL STATUS and MOTHERS FIRST NAME, be sure you review things here. These are the key fields in the file.
Step 3: Soon after going through the entries, click "Done" and you're good to go! Join FormsPal today and immediately obtain adit, ready for download. All modifications you make are preserved , enabling you to change the document at a later point when necessary. When using FormsPal, you'll be able to complete documents without the need to get worried about personal data leaks or entries being distributed. Our secure software ensures that your personal information is kept safe.