You are able to complete 1604cf form excel effectively with the help of our online PDF editor. The tool is consistently updated by our staff, getting cool functions and becoming even more versatile. To start your journey, consider these easy steps:
Step 1: Access the PDF in our tool by clicking on the "Get Form Button" above on this webpage.
Step 2: With the help of this handy PDF editing tool, you could do more than merely fill out blank form fields. Try all of the features and make your docs seem professional with customized textual content put in, or modify the original input to perfection - all that backed up by an ability to incorporate stunning graphics and sign the file off.
This PDF form will require some specific details; to ensure accuracy and reliability, you need to take note of the suggestions hereunder:
1. To get started, while completing the 1604cf form excel, start with the section that includes the following blank fields: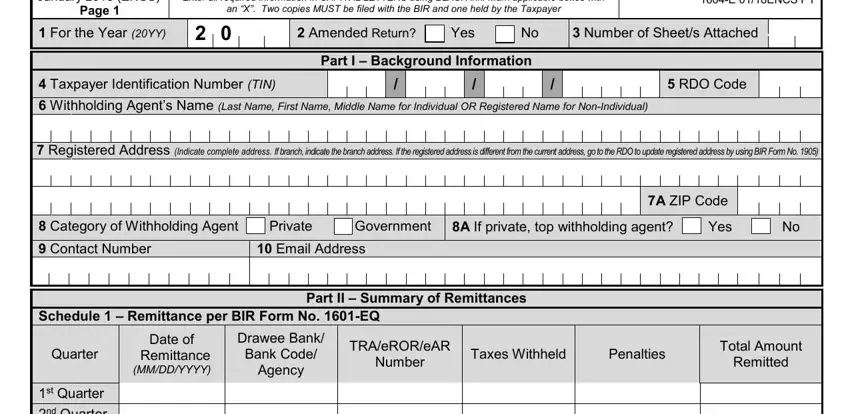 2. The subsequent stage would be to submit all of the following blank fields: nd Quarter, rd Quarter, th Quarter, TOTAL Schedule Remittance per, Month, January, February, March, April, May, June, July, August, September, and October.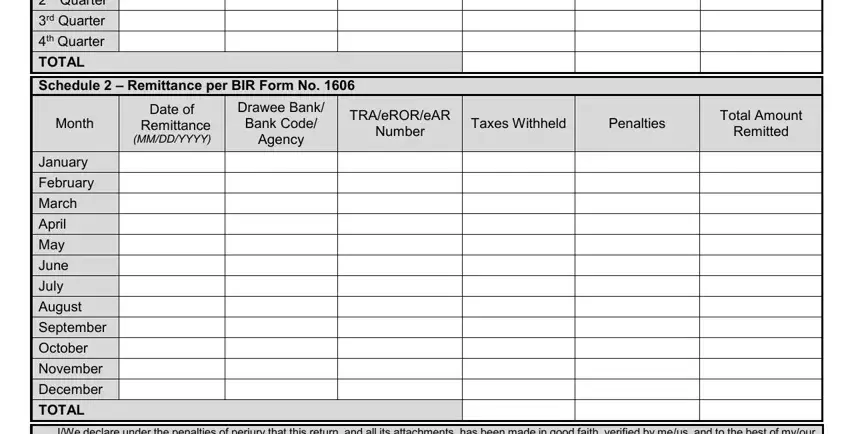 3. The following step should also be pretty straightforward, IWe declare under the penalties of, For NonIndividual, Signature over Printed Name of, Signature over Printed Name of, Indicate TitleDesignation and TIN, or RepresentativeTax Agent, Tax Agent Accreditation No, NOTE The BIR Data Privacy is in, Date of Issue MMDDYYYY, and Date of Expiry MMDDYYYY - these fields needs to be filled in here.

It's easy to make errors while filling in your Signature over Printed Name of, for that reason make sure that you go through it again before you send it in.
4. The form's fourth part comes with all of the following empty form fields to consider: Page , TIN, Withholding Agents Name Last Name, Schedule Alphalist of Payees, Part III Alphabetical List of, SEQ No, TIN, Name of Payees, Last Name First Name Middle Name, IndividualRegistered Name for Non, ATC, Individual, Amount of Income, Payment, and Tax Rate.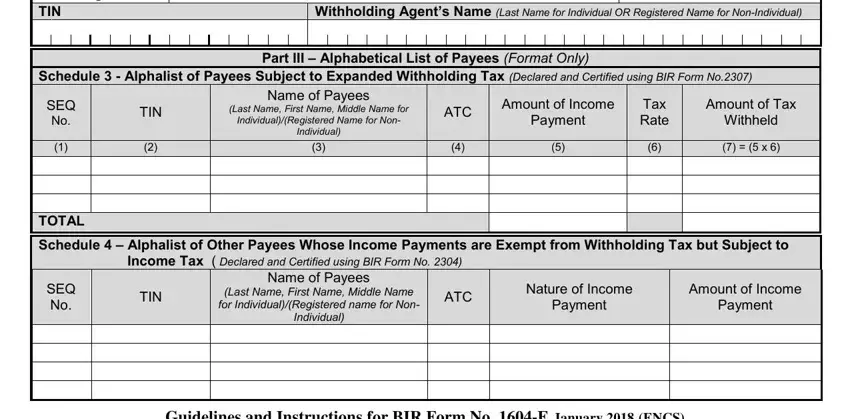 Step 3: Right after rereading your fields and details, hit "Done" and you're all set! Make a free trial option at FormsPal and gain instant access to 1604cf form excel - readily available inside your FormsPal account page. We don't share or sell any information you type in when working with documents at our website.