Working with PDF documents online is always quite easy with our PDF editor. Anyone can fill out SSI here within minutes. To maintain our editor on the leading edge of convenience, we strive to adopt user-driven capabilities and enhancements on a regular basis. We're at all times pleased to get suggestions - join us in revolutionizing how you work with PDF forms. With a few simple steps, you may begin your PDF editing:
Step 1: Simply click on the "Get Form Button" above on this webpage to access our pdf form editing tool. Here you will find everything that is necessary to work with your document.
Step 2: Once you launch the PDF editor, you'll notice the document ready to be filled out. Other than filling in different blank fields, you may as well do many other actions with the Document, that is adding any textual content, modifying the original text, inserting images, signing the PDF, and more.
This document will involve specific information; to ensure accuracy and reliability, please heed the recommendations further on:
1. You need to complete the SSI correctly, thus be attentive when filling in the parts comprising all of these fields:
2. The next part would be to fill out these blanks: Other, What are your charges, Who else was involved, Magisterial District Judge, Next Court Date, Type Check one, Current bail amount for all charges, Time, Preliminary Hearing, Waived Preliminary Hearing, Arraignement, PreTrial Conference, Plea, Trial, and Do you have any other pending.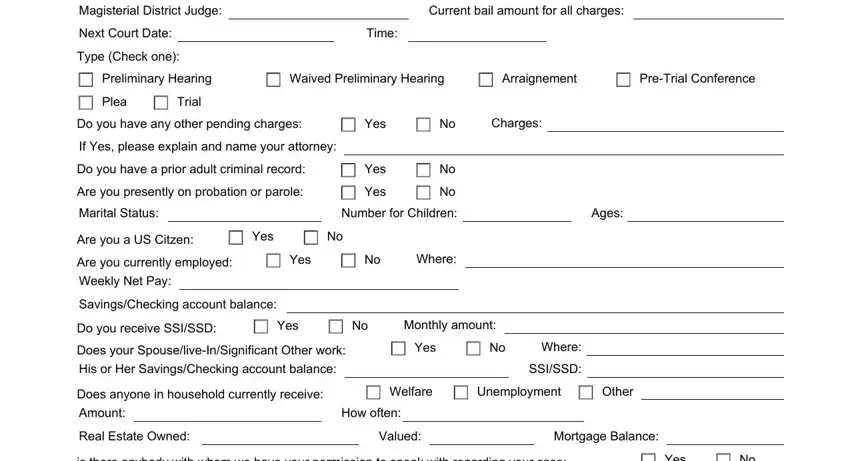 3. Completing Does your SpouseliveInSignificant, His or Her SavingsChecking account, Yes, Where, SSISSD, Does anyone in household currently, Welfare, Unemployment, Other, Amount, Real Estate Owned, How often, Valued, Mortgage Balance, and is there anybody with whom we have is essential for the next step, make sure to fill them out in their entirety. Don't miss any details!

4. Filling out COMMONWEALTH OF PENNSYLVANIA, Criminal Action, Case No, ALL QUESTIONS MUST BE ANSWERED AND, COMMONWEALTH OF PENNSYLVANIA, SS , I am the petitioner in the above, I have read the foregoing petition, my own knowledge except as to, and This affidavit is made to inform is paramount in the fourth section - always be patient and fill out each blank area!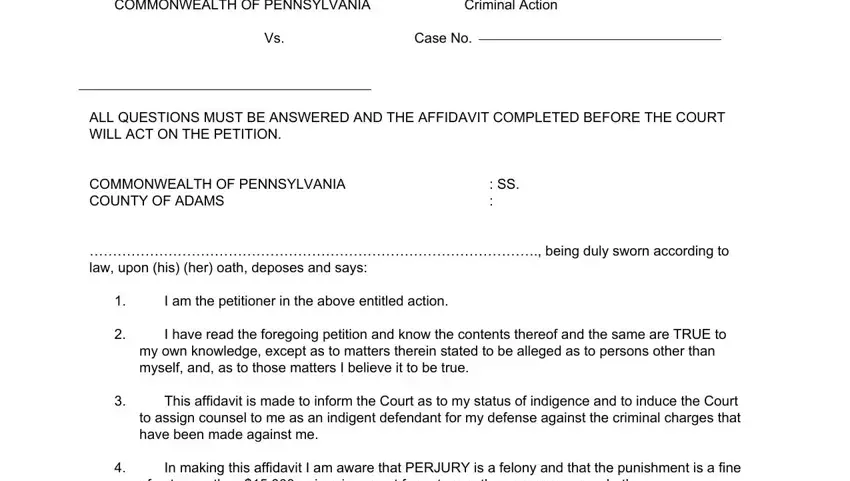 Always be extremely careful while filling in Criminal Action and ALL QUESTIONS MUST BE ANSWERED AND, since this is where a lot of people make some mistakes.
5. When you approach the end of the document, there are actually just a few more points to do. Notably, Signature of Defendant must be done.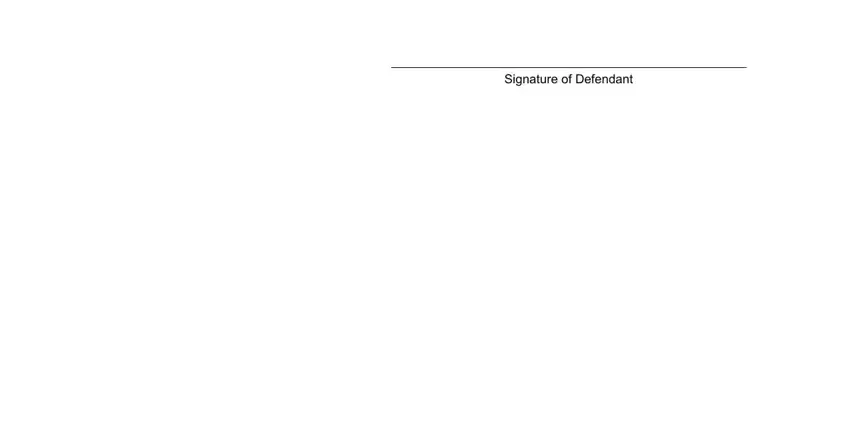 Step 3: As soon as you have looked once again at the information provided, simply click "Done" to finalize your form at FormsPal. After creating a7-day free trial account at FormsPal, it will be possible to download SSI or send it via email immediately. The file will also be at your disposal via your personal account with all of your edits. We don't share any details you type in when filling out forms at our website.