You can easily complete the fort worth alarm permit file using this PDF editor. The following actions will let you quickly prepare your document.
Step 1: On the page, choose the orange "Get form now" button.
Step 2: You can now edit your fort worth alarm permit. You should use the multifunctional toolbar to include, remove, and transform the content material of the file.
Type in the content requested by the application to fill in the form.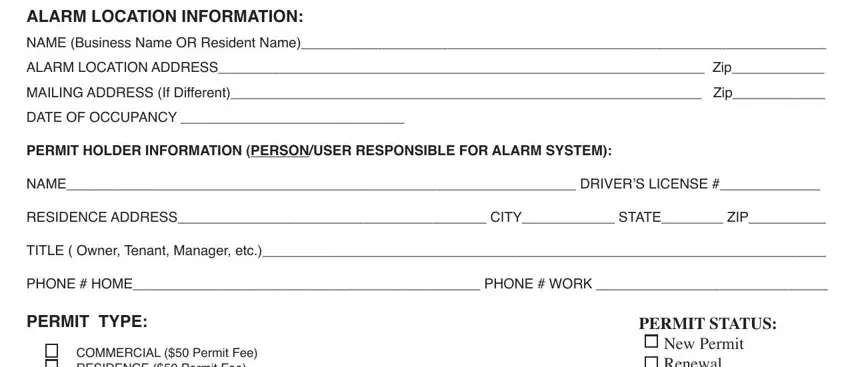 Fill in the PERMIT STATUS: New Permit Renewal, COMMERCIAL ($50 Permit Fee), ALARM COMPANY NAME AND PHONE NO:, ALARM TYPE: Burglary, SUBMIT A SEPARATE PERMIT, EXPIRATION DATE, DATE RECEIVED, PERMIT NUMBER, USE, ONLY, I have carefully read the, DATE , Signature of Applicant, Permit Please contact our of, ice for alarm, and Revised 03, 09 field with all the information asked by the software.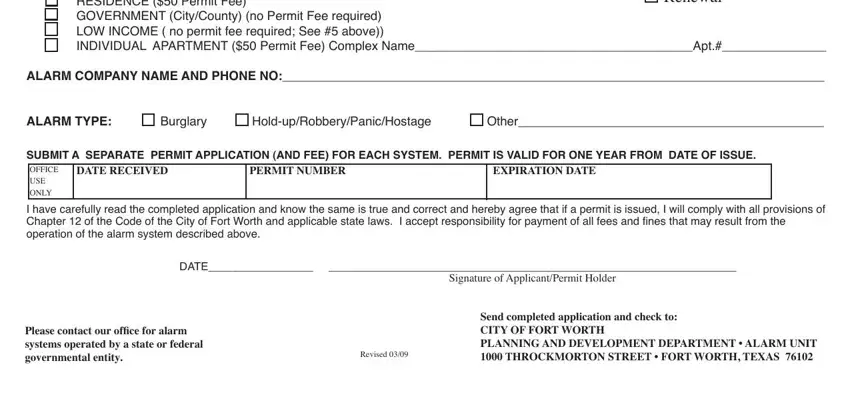 Step 3: When you click the Done button, your ready document can be transferred to all of your gadgets or to electronic mail stated by you.
Step 4: Create copies of your file. It will protect you from future problems. We cannot view or publish your data, for that reason be assured it is secure.