Using PDF forms online is easy with this PDF editor. Anyone can fill in Alaska Form 02 1890 here painlessly. Our team is always working to develop the editor and ensure it is even easier for users with its handy functions. Enjoy an ever-improving experience now! All it takes is a couple of simple steps:
Step 1: First, open the pdf tool by pressing the "Get Form Button" above on this site.
Step 2: The editor offers you the ability to customize nearly all PDF forms in a range of ways. Change it by including personalized text, correct what's already in the PDF, and include a signature - all when you need it!
As for the blanks of this precise document, here is what you should do:
1. Begin filling out your Alaska Form 02 1890 with a selection of major blanks. Get all the important information and be sure not a single thing neglected!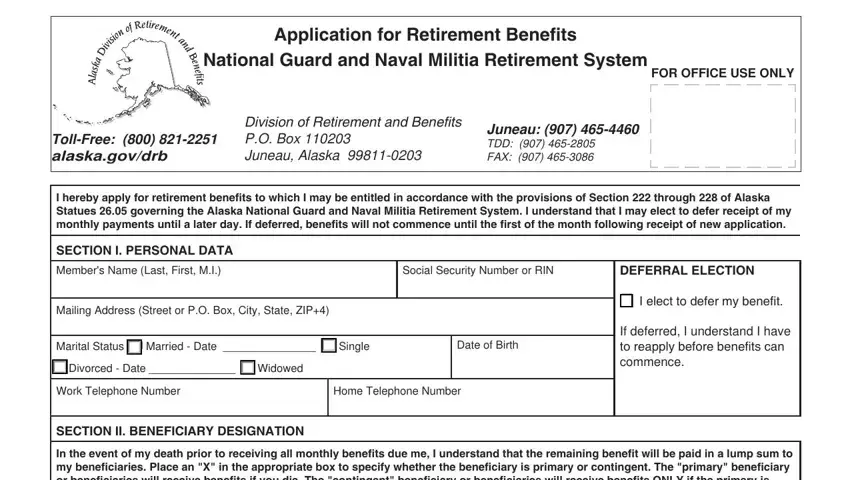 2. Immediately after this section is done, go on to type in the applicable information in all these: SECTION II BENEFICIARY DESIGNATION, r Primary, Name Last First MI, Relationship, Date of Birth, Percentage, Mailing Address Street or PO Box, Social Security Number, Check whether the beneiciary is, Name Last First MI, Name Last First MI, r Primary r Contingent Mailing, Relationship, Date of Birth, and Percentage.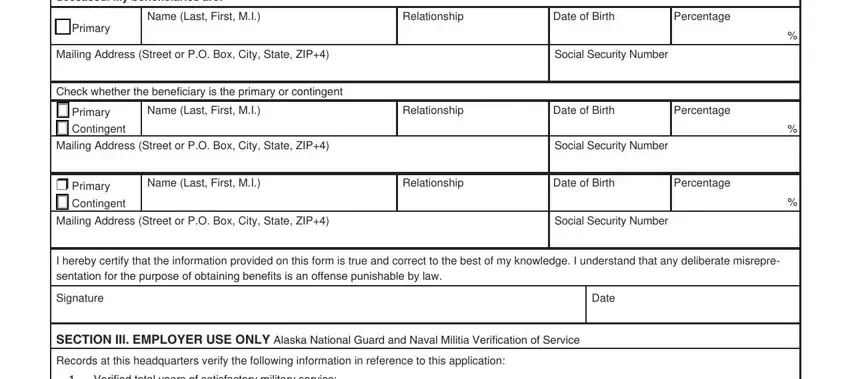 Be extremely attentive when filling in Name Last First MI and Mailing Address Street or PO Box, since this is where most users make mistakes.
3. This next step is generally easy - fill in every one of the blanks in Veriied total years of, Type of retirement r Voluntary, r Involuntary Reason , Total Alaska National Guard and, Individual is qualiied for months, Months, Years, Month, Day, Year, Date Sent to the Division of, Certifying Oficer Title, Date, Rev , and gpublicationsformsmiscellaneousindd to conclude the current step.

4. Filling in SPOUSES CONSENT, I entitled to the death beneits, am the spouse of , I understand that I may be, Signature Your signature must be, Date, I understand that if dies I am, QDRO CONSENT, By signing this consent I agree to, Relationship, Date, Signature Witnessed By a Notary or, NOTARY SEAL OR, POSTMASTER, and On this day of personally is essential in the fourth part - be sure to don't rush and fill in every blank area!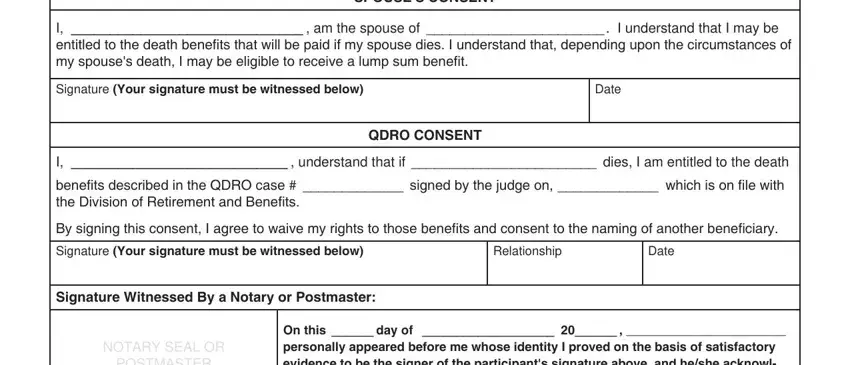 Step 3: Check what you have typed into the blanks and then press the "Done" button. Make a 7-day free trial subscription at FormsPal and get instant access to Alaska Form 02 1890 - which you'll be able to then use as you want inside your personal cabinet. When using FormsPal, you can certainly fill out forms without stressing about information leaks or entries getting shared. Our secure platform ensures that your private data is maintained safely.