You'll be able to fill out vpk child eligibility certificate without difficulty using our PDFinity® editor. Our editor is continually developing to present the very best user experience possible, and that's due to our dedication to continual development and listening closely to user comments. Starting is simple! All that you should do is adhere to these basic steps below:
Step 1: Firstly, access the editor by pressing the "Get Form Button" in the top section of this site.
Step 2: This editor enables you to customize your PDF file in a variety of ways. Change it by including personalized text, correct existing content, and put in a signature - all when you need it!
So as to finalize this form, be sure you provide the information you need in every single blank field:
1. While filling in the vpk child eligibility certificate, make sure to complete all of the important blank fields within the associated area. This will help to expedite the work, making it possible for your information to be handled swiftly and appropriately.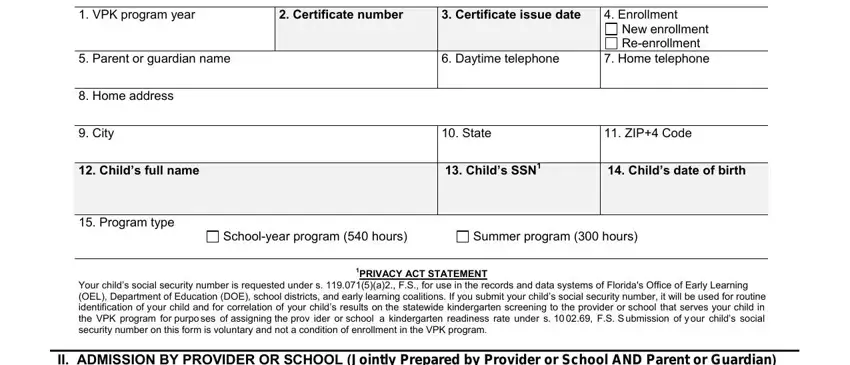 2. Just after filling in the previous section, go to the subsequent step and enter the necessary details in these blank fields - II ADMISSION BY PROVIDER OR SCHOOL, Daytime telephone, Fax, Name of provider or school, The provider or school certifies, Provider or school signature, Date, Date child will begin attendance, VPK class eg A B C I certify that, Date, III ENROLLMENT SUBMISSION AND, TO PROVIDER OR SCHOOL Your, TO CONTACT THE COALITION FOR, IS YOUR CONFIRMATION NUMBER, and NOTICE TO PRIVATE PROVIDER OR.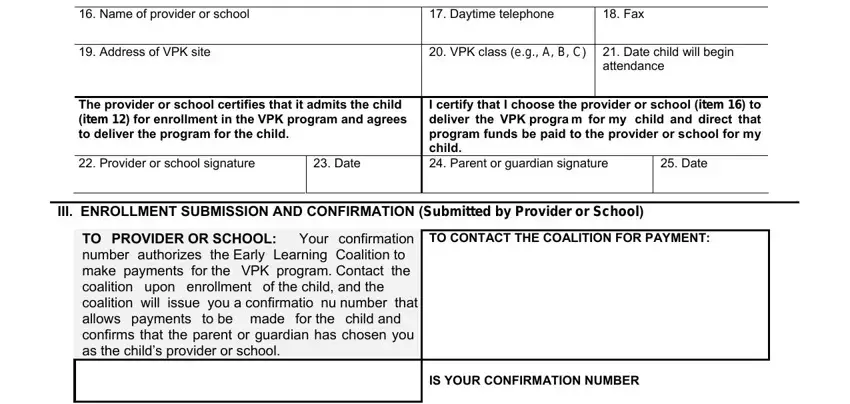 Always be very attentive while completing Daytime telephone and Date, as this is where a lot of people make errors.
Step 3: After proofreading your entries, hit "Done" and you are good to go! Join FormsPal now and instantly obtain vpk child eligibility certificate, ready for download. All changes you make are saved , which enables you to customize the document later on if needed. FormsPal ensures your data confidentiality by having a secure system that in no way records or distributes any type of personal information involved. Feel safe knowing your paperwork are kept confidential whenever you work with our services!