Any time you want to fill out dps dr 1, you won't have to install any kind of software - simply try using our online PDF editor. To retain our tool on the forefront of convenience, we work to put into operation user-driven features and improvements regularly. We're routinely looking for suggestions - join us in reshaping PDF editing. To get the ball rolling, consider these basic steps:
Step 1: Firstly, access the tool by clicking the "Get Form Button" above on this site.
Step 2: This editor lets you change your PDF form in a range of ways. Transform it with personalized text, adjust original content, and put in a signature - all within a few mouse clicks!
This PDF form requires specific details; in order to guarantee consistency, remember to consider the next steps:
1. You will want to complete the dps dr 1 correctly, so be attentive when working with the segments comprising all of these blank fields: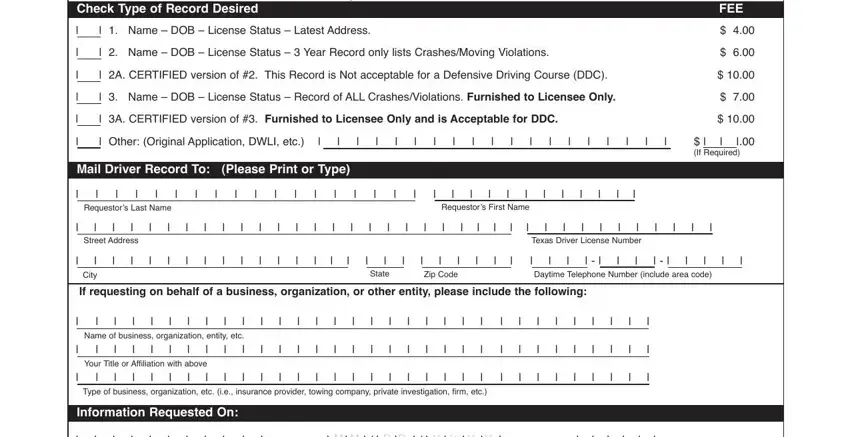 2. When the last part is finished, you should include the needed specifics in , M M Date of Birth, D D, Y Y Y Y, , , , Requestor if you do not meet one, hereby certify that I granted, record inclusive of the personal, Signature of License ID Card, Date, State and Federal Law Requires, and I certify that I have read and in order to go further.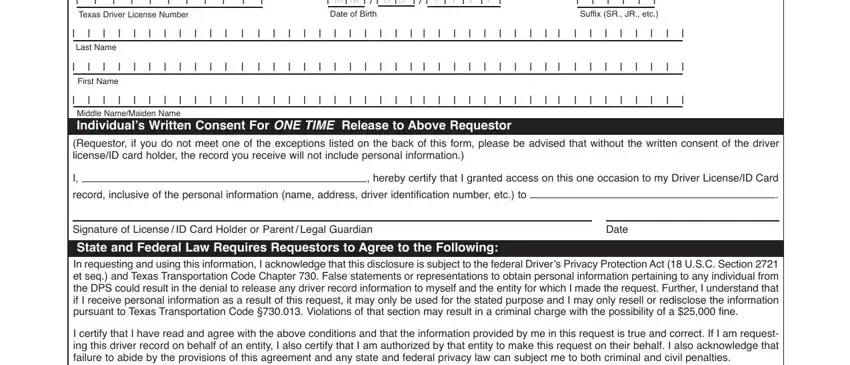 3. Completing Signature of Requestor, Date, If you are not requesting a copy, and DLID holder you must provide the is essential for the next step, make sure to fill them out in their entirety. Don't miss any details!

Those who use this document frequently get some things wrong when filling out If you are not requesting a copy in this part. You need to read twice everything you type in here.
4. The next part requires your information in the subsequent places: You must meet one or more of the, For use in connection with any, For use by a government agency in, in carrying out its functions, For use in connection with a, For use in the normal course of, For use in conjunction with a, before any self regulatory body, For use in research or in, used to contact any individual, and For use by an insurer or. Just be sure you fill out all requested details to move further.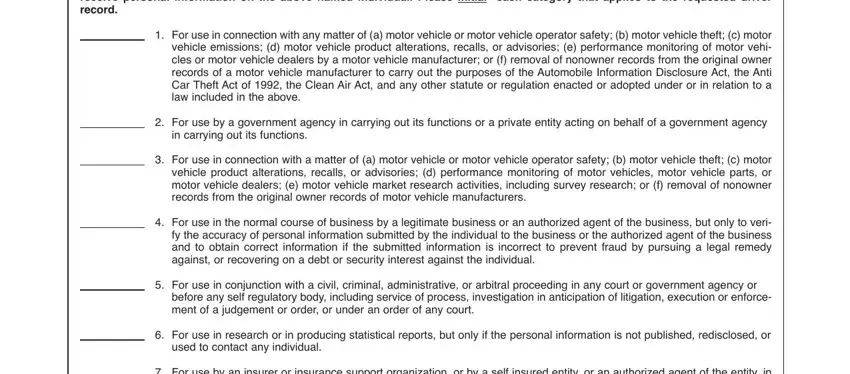 5. The very last notch to conclude this form is essential. You must fill out the required form fields, particularly For use by an insurer or, connection with claims, For use in providing notice to an, For use by a licensed private, page, For use by an employer or an, er of a commercial driver license, For use in connection with the, For use by a consumerreporting, pose permitted under the Act, For any other purpose, Please state specific statutory, For use in the preventing, release of personal information, and Below is an example of how numbers, before submitting. Failing to do so can produce a flawed and possibly incorrect document!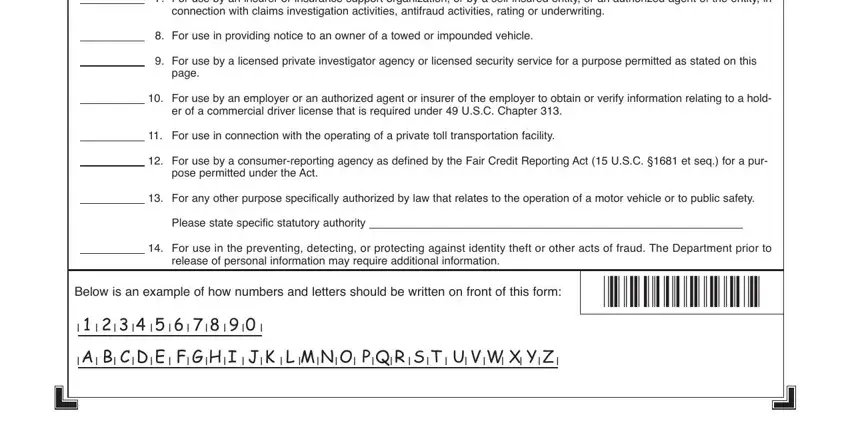 Step 3: Proofread the information you have typed into the blanks and press the "Done" button. Make a 7-day free trial subscription at FormsPal and gain instant access to dps dr 1 - with all transformations kept and available in your FormsPal account page. FormsPal is devoted to the personal privacy of our users; we make sure all information used in our tool continues to be confidential.